Dean's Award
Basel Alomair, '11 Ph.D. Electrical & Computer Engineering
Professor and Founding Director, National Center for Cybersecurity Technologies, King Abdulaziz City for Science and Technology (KACST)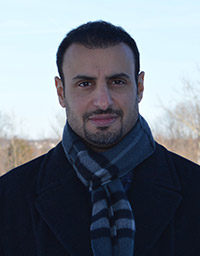 For anyone who sends text messages or email over a public network, Basel Alomair has helped make information safer against hackers. A pioneer in the field of cybersecurity for large-scale systems, Alomair's award-winning and patented work to build cryptographic schemes is used by numerous companies to protect millions of consumers.
While studying at the UW, Alomair developed efficient security algorithms and protocols for private communications in public or unsecured wireless networks. His groundbreaking work to develop novel schemes for authentication led to patents and commercialization through UW's CoMotion. His technical contributions have received multiple awards from the Institute of Electrical and Electronics Engineers (IEEE). His work to develop a truly privacy-preserving protocol received a U.S. patent and led to the prestigious IEEE/IFIP William C. Carter Award for significant contribution to the field of dependable computing. His algorithm for secure authentication resulted in a new generalization of a theoretical equation by 18th century mathematician Etienne Bezout, for which Basel received the UWEE Outstanding Research Award. His Ph.D. dissertation resulted in a total of 18 scientific publications and multiple patents, earning him the Distinguished Dissertation Award from the Center for Information Assurance & Cybersecurity at the UW.
At King Abdulaziz City for Science and Technology, Alomair has focused on optimizing dynamics and control to ensure the security of complex networks and computer systems, earning him the Early Career Award in Cybersecurity by the NSA/DHS Center of Academic Excellence in Information Assurance Research. Alomair's impact is widely felt across Saudi Arabia, where he is helping to develop new security protocols, file patents and implement them into national communications systems.
At the same time, he has advocated for gender diversity in STEM by supporting progress for female researchers in Saudi Arabia. As the founder of the National Center for Cybersecurity Technologies (C4C), the first of its kind in Saudi Arabia, Alomair has helped to advance cybersecurity research and educate the next generation of cybersecurity experts, creating opportunities for women to advance in the field. Under his leadership, the C4C was the first technical center to allow men and women to perform research together, with several women from the C4C going on to hold leadership positions at the national level.
Distinguished Achievement in Industry
Phil Spencer, '90 B.S. Human Centered Design and Engineering
CEO, Microsoft Gaming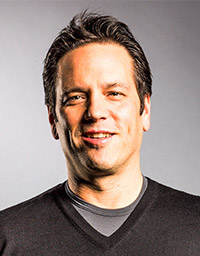 As video games become one of the world's most popular forms of entertainment, reaching billions of people, players around the world appreciate Phil Spencer for helping lead gaming to its current success. As CEO of gaming at Microsoft, Spencer has made a profound impact on the industry. He has played a key role in launching and growing multiple generations of Xbox consoles, as well as online services that connect people across the globe. He has also worked to make the gaming community safer and more inclusive for all players.
After joining Microsoft in 1988 as an intern, Spencer held numerous technical roles at the company, including leading the development of Microsoft CD-ROM titles such as Encarta and Microsoft Works. After managing Microsoft Game Studios EMEA, he led Microsoft Game Studios globally before becoming Head of Xbox in 2014. He was named Executive Vice President, Gaming in 2017. An advocate for cross-platform play, he ensured backward compatibility of the Xbox platform and led Microsoft's acquisitions of Mojang—the developer behind Minecraft—and ZeniMax Media, known for Bethesda Softworks. In addition to supporting the growth of PC gaming, Spencer's teams have introduced the Xbox Game Pass subscription service, an accessible adaptive Xbox controller and an innovative cloud gaming platform.
Video games can nurture relationships and problem-solving skills, but they also present challenges to safety and privacy on a global platform. Spencer has made player safety and accessibility a core value at Xbox, supporting the launch of systems, controls and reporting tools designed to make gaming safer for families and diverse communities. In 2020, Xbox partnered with Sony and Nintendo to develop a new framework of safety principles to help protect players online.
Spencer frequently plays online with others for fun and to understand players' experiences and priorities. With more than 900,000 followers on Twitter, Spencer uses his public platform to express his commitment to diversity, equity and inclusion in the gaming community. He is also helping to educate the next generation of technology leaders, working with UW engineering students on capstone projects and serving as a commencement speaker for the Department of Human Centered Design & Engineering.
Distinguished Achievement in Academia
Stefan Savage, '02 Ph.D. Computer Science and Engineering
Professor, Computer Science and Engineering, University of California, San Diego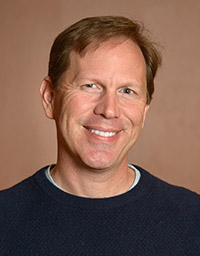 Computing systems are integral to our lives, providing us access to bank accounts, keeping us connected to friends, family and coworkers, and powering the cars we drive. Stefan Savage recognizes that these interconnected systems also expose us to large-scale attacks from worms, viruses, botnets and illicit transactions, and he's devised groundbreaking ways to keep us safer from internet attackers. His work challenges traditional investigation methods and redefines academic approaches to network security, privacy and reliability.
Savage's work crosses practical computer and network security, distributed systems and networking with social sciences to place internet attacks within integrated technological, societal and economic systems. For his research on spam email, he identified weaknesses within the financial systems enabling attacks, and worked with government entities, financial institutions and brand holders to put solutions into practice. The results received significant attention from the New York Times and other outlets, and his work was used by the International Anti-Counterfeiting Coalition to address counterfeit sales.
Savage has also helped improve the safety of modern cars, which rely on numerous computer systems. His team demonstrated that brief physical access to a vehicle allows attackers to take control with just a remote laptop and a compact disc. Thanks to Savage's work, automobile manufacturers now make cybersecurity a priority in vehicle development and design. He's currently working to make air travel safer, exploring the security implications of airplane computers.
In addition to his research accomplishments, Savage is a dedicated mentor and educator. He is the Irwin Mark and Joan Klein Jacobs Chair of Information and Computer Science at the University of California San Diego, and serves as the co-director for UCSD's Center for Network Systems. He is the recipient of numerous significant awards including membership in the American Academy of Arts and Sciences, the MacArthur Fellowship, ACM Prize in Computing and the Alfred P. Sloan Fellowship.
Entrepreneurial Excellence
Victor Wong, '89 B.S. Electrical & Computer Engineering
Founder, vfxNova Digital Productions Ltd.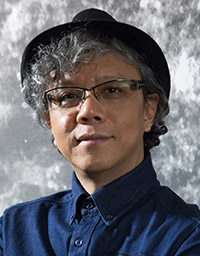 Victor Wong is a cross-media artist and digital arts pioneer whose thirty-year career has fused new technologies with traditional media. As the founder of a groundbreaking visual effects company, he helped establish Hong Kong as a global leader in entertainment technology, including creating the first CGI TV commercial in China.
After receiving a bachelor's degree in electrical engineering at the UW, Wong returned to Hong Kong to apply his engineering skills to the film and video industries. He had the foresight to create Hong Kong's first computer graphics and visual effects house, vfxNova. His company developed the hardware and software necessary to advance CGI for the film industry, and the technology was applied to hundreds of feature films, television productions, commercials and blockbuster video games. Today, vfxNova employs more than 150 artists and engineers with design houses in Hong Kong, Tokyo, Los Angeles and Foshan.
Over the years, Wong has produced 800 TV advertisements and participated in the production of visual effects for more than 100 films including "Iron Man," "Men in Black 3" and "The Nightmare Before Christmas 3D." Following his success in mainstream film and advertising, Wong combined his interests in technology and art to create A.I. Gemini, a robot that uses artificial intelligence to generate traditional Chinese ink paintings. A.I. Gemini's works are valued at over $1 million with collectors worldwide.
Wong has applied his engineering background to create art that entertains and inspires—including the next generation of visual artists. He founded a VFX education center which has trained close to 1,000 CGI artists. He's the recipient of numerous international awards from the New York Festival Awards, Tokyo JIAA Advertising Awards, Hong Kong Film Awards and the Golden Horse Awards. Thanks to his innovative and entrepreneurial vision, Wong's impact is felt around the world.
Distinguished Service
Rao Varanasi, '68 Ph.D. Aeronautics and Astronautics
Chief Engineer, Structures Engineering, The Boeing Company (ret.)
Usha Varanasi, '68 Ph.D. Chemistry
Director, Northwest Fisheries Science Center, NOAA (ret.)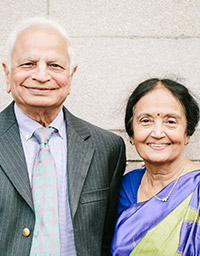 Rao and Usha Varanasi have dedicated their time and energy to make the world a safer, healthier and more inclusive place. Through their accomplished professional careers, as well as their philanthropy and service, they have made an impact in advancing human safety and environmental well-being, while creating opportunities for future generations.
After receiving his Ph.D. from the UW in aeronautics and astronautics, Rao Varanasi served the aerospace engineering profession with his 45-year career in The Boeing Company culminating as a chief engineer for structures at the commercial airplanes division. An expert on aircraft safety, design and maintenance, Rao helped the Federal Aviation Administration and the European Aviation Safety Administration to issue important safety regulations for the certification and maintenance of commercial airplanes. He also consulted with major domestic and international airlines and their regulatory agencies to develop customized means of compliance for safety regulations.
When Usha Varanasi enrolled as a graduate student at Caltech in 1961, she was one of seven female students in the program and the first Indian woman. She later went on to receive her Ph.D. in chemistry at the UW, then served as the first female science director at NOAA fisheries to advance coastal pollution research, improve living marine resources and ecosystems, and inform regulatory and public policy decisions.
Individually, Rao and Usha have brought their expertise to the UW as volunteers and mentors. Rao serves as an affiliate professor in the William E. Boeing Department of Aeronautics and Astronautics and a member of the department's Visiting Committee. In these roles, he has contributed to student curricula and strategic goals for future growth, and was named the department's Distinguished Alumnus in 2019. Usha held affiliate professor positions in the chemistry department, the School of Aquatic and Fishery Sciences and the School of Law, and served on boards for the College of the Environment and the College of Arts & Sciences. Outside of the UW, she is an elected fellow of the American Association for the Advancement of Science and Washington State Academy of Sciences. During the last decade, she served as an adviser to NOAA fisheries and India's Ministry of Earth Sciences to encourage scientist exchanges and training.
Countless students have been impacted by the Varanasis' generosity. At the UW, the couple has established multiple named scholarships and fellowships in science, engineering and the humanities along with supporting leadership and diversity programs to recruit and retain outstanding students. Beyond financial support, the Varanasis offer students their time, mentorship and guidance. In recognition of their commitment and generosity to the UW, the Varanasis were recognized as UW Laureates in 2017.
Rao and Usha Varanasi video profile
Early Career
Justine Sherry, '10 B.S. Computer Science and Engineering
Assistant Professor, Computer Science, Carnegie Mellon University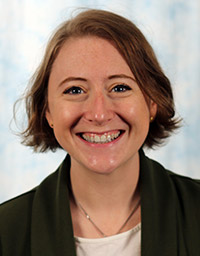 Our internet-connected world requires computer networks that ensure speed, reliability, fairness and security, but the internet was not designed to guarantee any of these properties. Justine Sherry is working to modernize the internet's aging infrastructure and meet the needs of today and the future. Since graduating with a bachelor's degree from the UW in 2010, Sherry has become a global expert in the design and implementation of networked systems that can handle the scale and complexity of modern internet demands.
Historically, internet infrastructure has relied on inflexible and specialized hardware. Computers known as middleboxes are essential to manage network traffic, but can be difficult to deploy, maintain and provision. In 2012, Sherry designed a way to move middlebox services to the cloud—a predecessor to Network Functions Virtualization, which has become a $12 billion industry. Today, Sherry is also examining resource allocation across network traffic to highlight unfair practices for network bandwidth. She demonstrated that an algorithm developed by Google can degrade the internet experience for some users, a finding that received widespread coverage in The Telegraph and other publications.
As a member of the U.S. Department of Defense's DARPA Information Science and Technology (ISAT) group, Sherry is helping to guide computer-focused research for the country. For one ISAT study, Sherry assessed the health of internet services and identified risks for future outages, bringing together key stakeholders from industry and academia to identify solutions.
In addition to her groundbreaking research, Sherry is a committed and passionate educator. As an assistant professor of computer science at Carnegie Mellon University, Sherry mentors students in research, including almost two dozen undergraduates. She's an advocate for equity in the field and was involved in drafting the first anti-harassment policy for ACM's SIGCOMM. Sherry has received numerous awards, including a VMware Systems Research Award and best paper awards from SIGCOMM and NSDI, the premier venues for research in computer networking.