Programs to prepare K-12 students and train educators for success in science, technology, engineering and math (STEM).
College of Engineering programs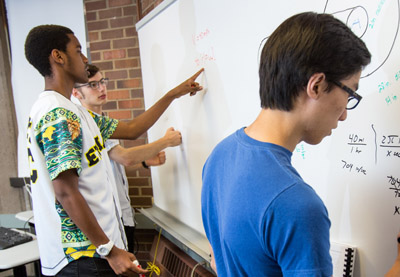 Washington high school juniors participate in a two and a half week summer session. Participants prepare for college-level math and engineering in a supportive, challenging, and fun learning community that prepares them for a bright future in engineering.
A free 2-day event in the spring oriented toward 4th through 8th grade students. UW engineering students and faculty share their work with students, teachers, families and the community, featuring hands-on activities that demonstrate the exciting work of engineers.
Our Engineering Ambassadors are available to visit your K-14 classroom to educate your students on the possibilities in engineering. Engineering Ambassadors are happy to discuss majors, coursework, scholarships and college life. They can also provide a customized campus tour.
Other engineering and UW summer programs
Summer program that introduces high school students to neural engineering, neuroethics, scientific communication, basic computer coding, and the latest developments in brain-computer interfaces.
Summer camps that introduce middle and high school students to computer science and engineering topics in a fun, inclusive week of learning. Camp topics include coding, design, leadership, and robotics.
DO-IT Scholars prepares Washington State high school students with disabilities for success in college and careers. Scholars attend summer study sessions at the University of Washington campus to experience college life and work on self advocacy skills.
A one-week workshop for high school students to experience many aspects of materials science and engineering, which has relevance in physical sciences, engineering and medicine. High school program » | Middle school program »
Half-day workshops introduce K-12 students to human centered design & engineering. Students brainstorm user needs, develop use-case scenarios, and create interaction designs for an application.
Hands-on enrichment opportunities for children and teens, including full-day camps, academies, and intensives as well as half-day short courses.
Other resources
Teach with Code Studio Courses from Code.org for students in grades K-12 and professional learning for teachers.
Engineering is Elementary Lesson plans and ideas for educators for teaching engineering concepts to young students. A project of the Museum of Science, Boston.
Engineer Girl Website designed to bring national attention to the exciting opportunities that engineering presents for girls and women. A service of the National Academy of Engineering.
Neuroscience for Kids A website that lets kids explore the nervous system. Provides child-friendly materials and lesson plans for teachers.
Washington NASA Space Grant Consortium Professional development for K-12 teachers and other educators throughout the state.