The Interdisciplinary Engineering Building
The Interdisciplinary Engineering Building (IEB) will provide an academic home for all undergraduate engineering students, advancing engineering education at the UW and adding new, state-of-the-art spaces for students to learn and collaborate. In addition, the IEB will relieve pressure on departmental facilities across the College, and provide flexible space to strengthen connections between the UW and industry and expand career opportunities for students. The new building will also house programming for diversity, equity and inclusion.
The state has provided design and construction funding of $50 million; now, we seek to match these funds with private philanthropic investments to meet the estimated project cost of $102 million.
Site preparation began in spring 2022, groundbreaking took place in September 2022, and building construction began in early 2023, with occupancy scheduled for 2025.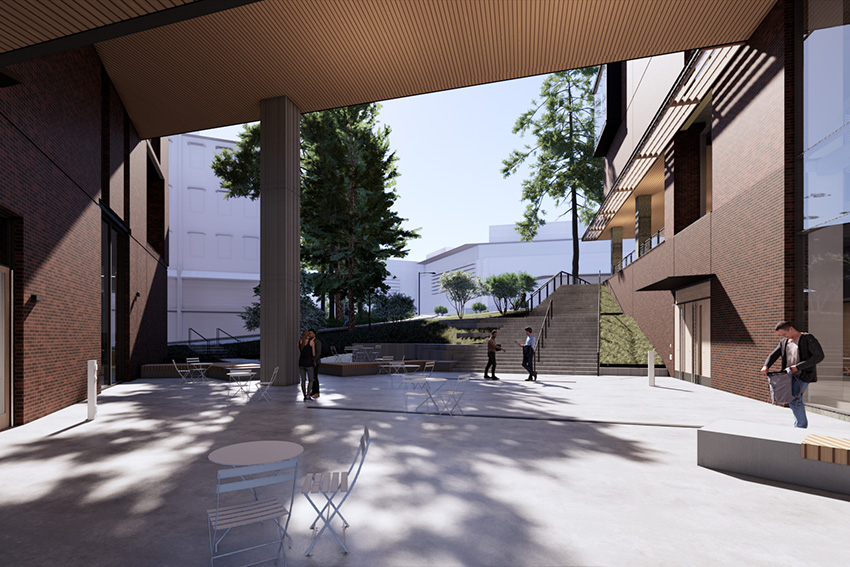 Vision
The IEB will be the primary academic home for first- and second-year students, a place for teaching and cross-disciplinary interactions and for partnering with industry. The building will coalesce the College into a stronger and more welcoming community, particularly for groups historically underrepresented in engineering, as well as physically reshape the engineering campus at the UW to drive connectivity.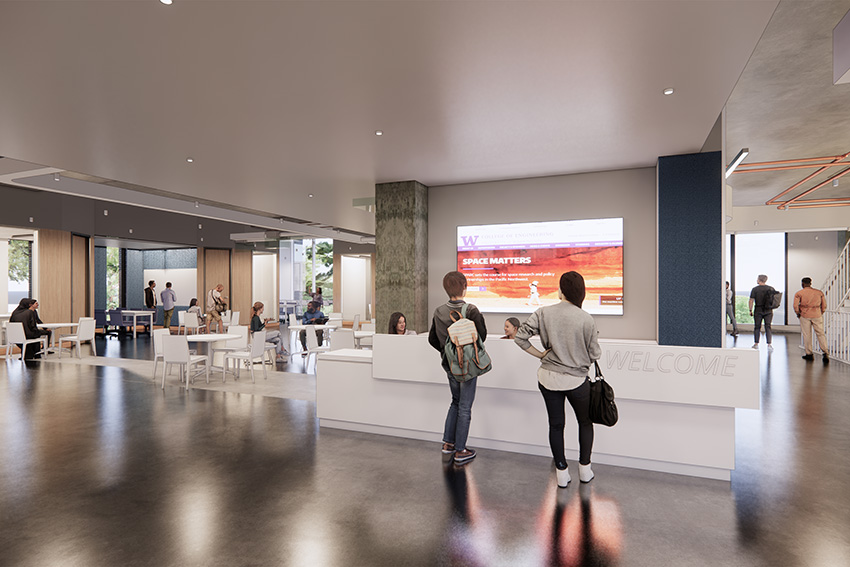 Mission
Help UW Engineering grow in terms of numbers and to be more inclusive, collaborative, innovative and adaptable, with programs supported by facilities rivaling those of our peer institutions.
Serve as a home base, central to the on-campus student experience and offering the spaces needed for students to solve major societal challenges.
Embody our commitment to engaging students in the full range of engineering disciplines while supporting project-based, interdisciplinary learning and diversity.
Provide a silo-free learning environment to prepare students for industry and entrepreneurial careers.
Watch the building's progress with our live feed
Project development
Inclusive design
The IEB is a physical demonstration of UW Engineering's commitment to inclusivity and a student-first experience. More than 450 students participated in the building design survey. In partnership with the College of Engineering's Associate Dean for Diversity, Equity and Inclusion, 23 affinity group leaders participated in a workshop to identify primary themes for the building: access, representation, resources and values, in addition to 14 subthemes. This is translated into the decisions for the building and building management, throughout the design-build phases of construction.
Sustainable design
The IEB will break new ground in sustainable design on the UW campus.

20%
lighting power density reduction

30%
water use reduction from low-flow fixtures

Heat loss reduction
through window-to-wall ratio and high air tightness using building envelope
Other sustainable design features include:
Rooftop solar array.
Adopted Population Health Red List plan to eliminate chemicals of concern.
Materials sourced with a carbon footprint lower than the industry average.
Focus on supply chain equity, working with suppliers to support Buy Clean, Buy Fair.
Building spaces
Learn about the spaces on each level of the IEB by hovering and clicking on the information icon.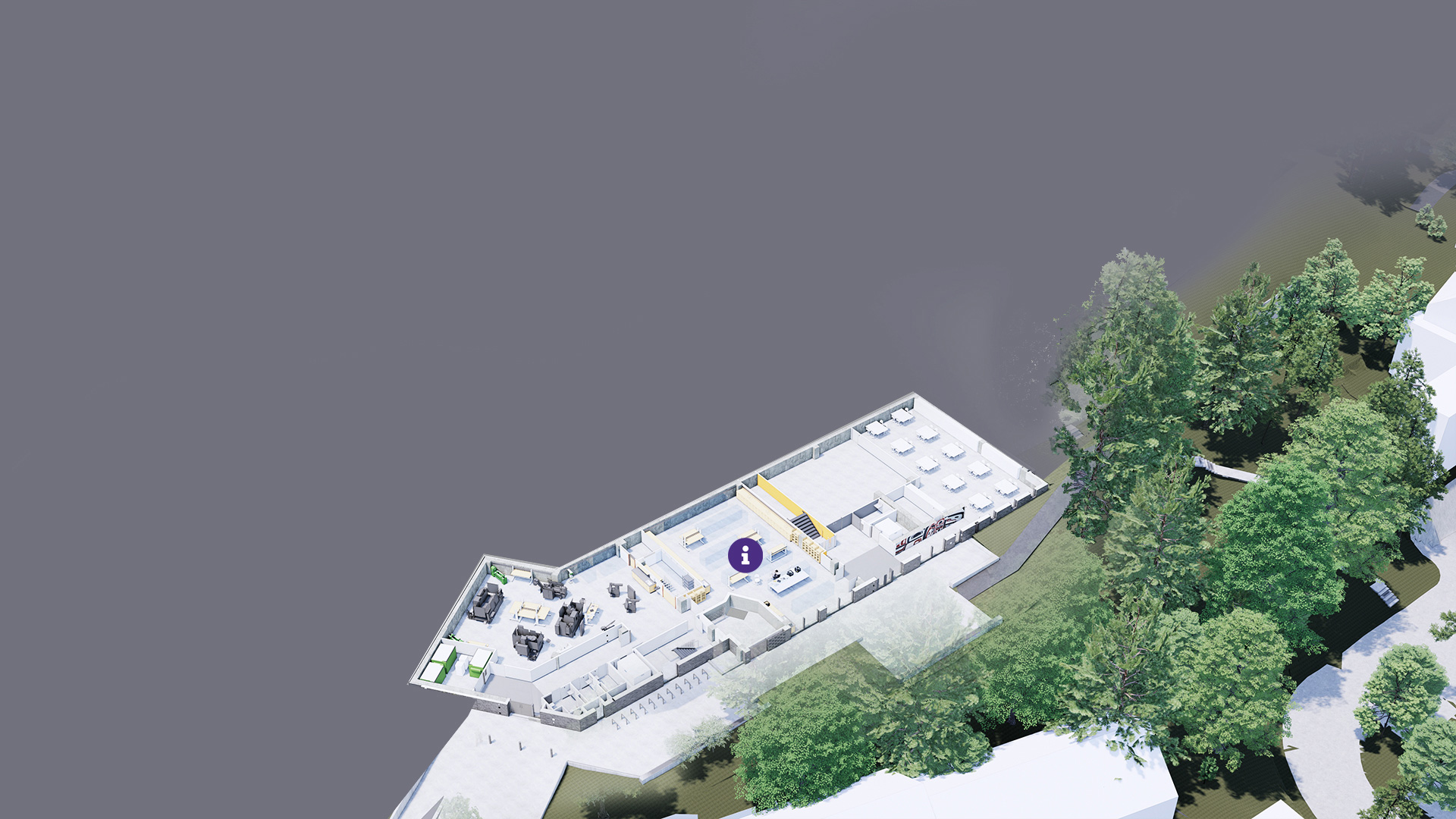 Level G2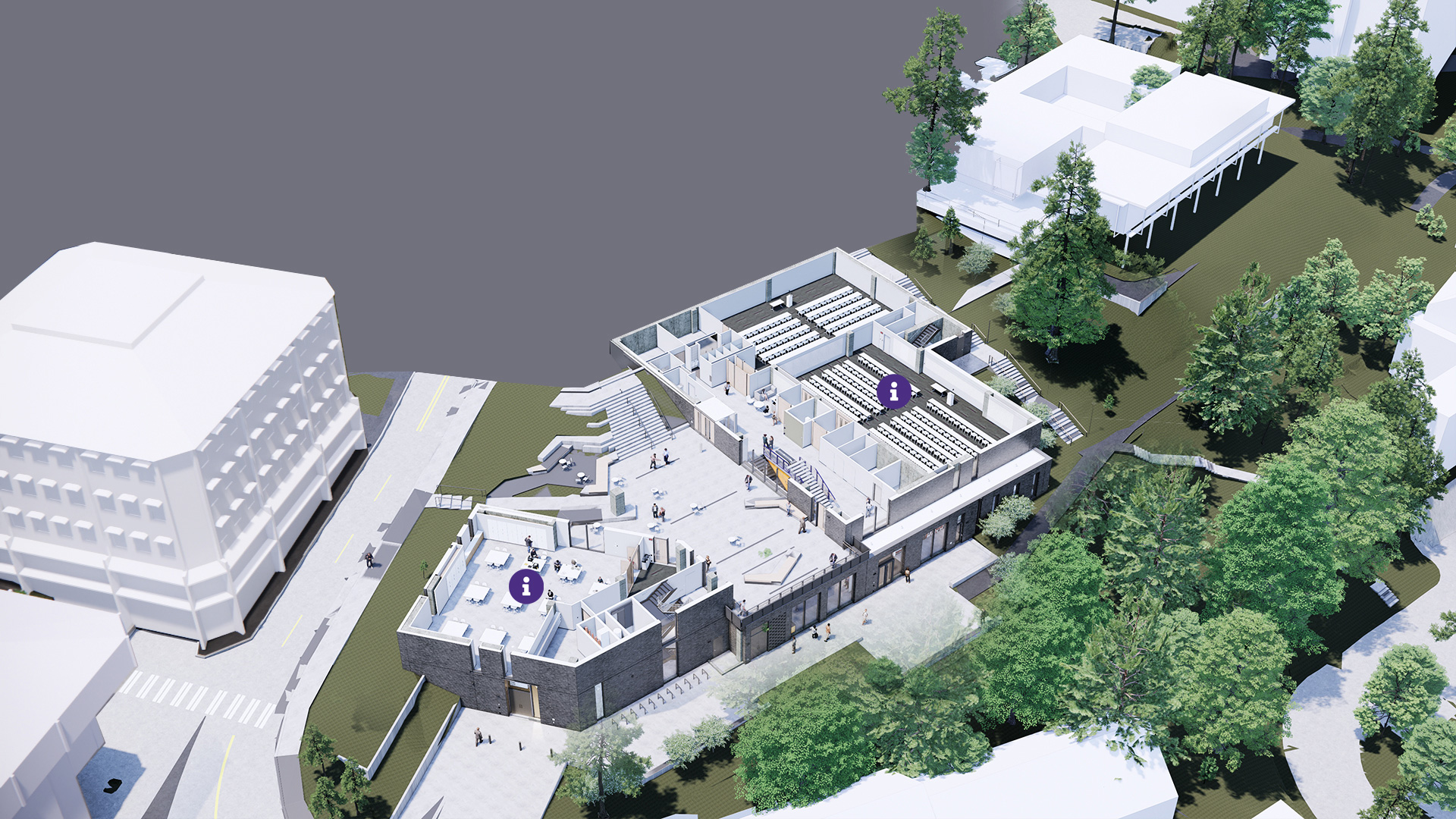 Level G1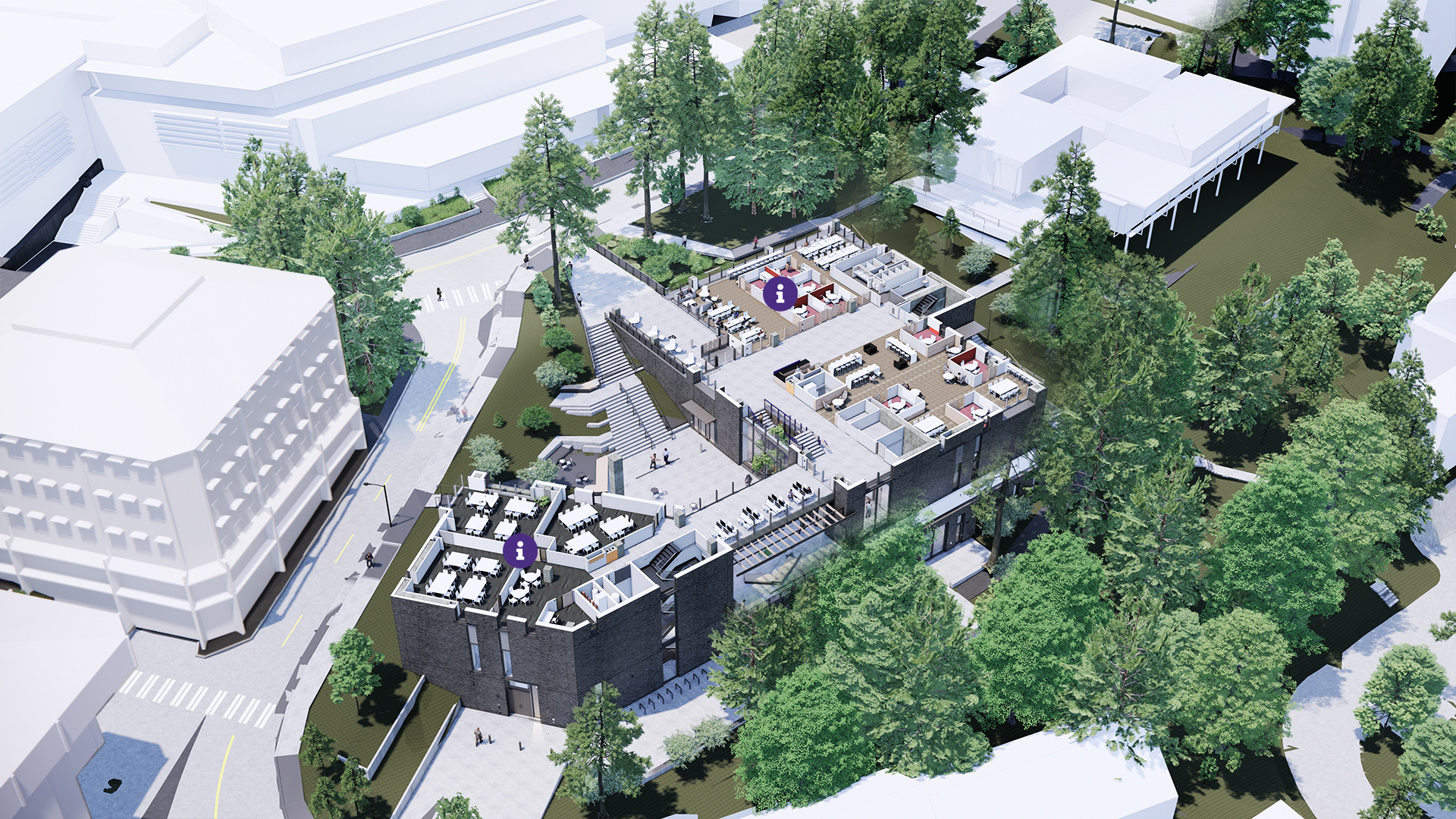 Level 1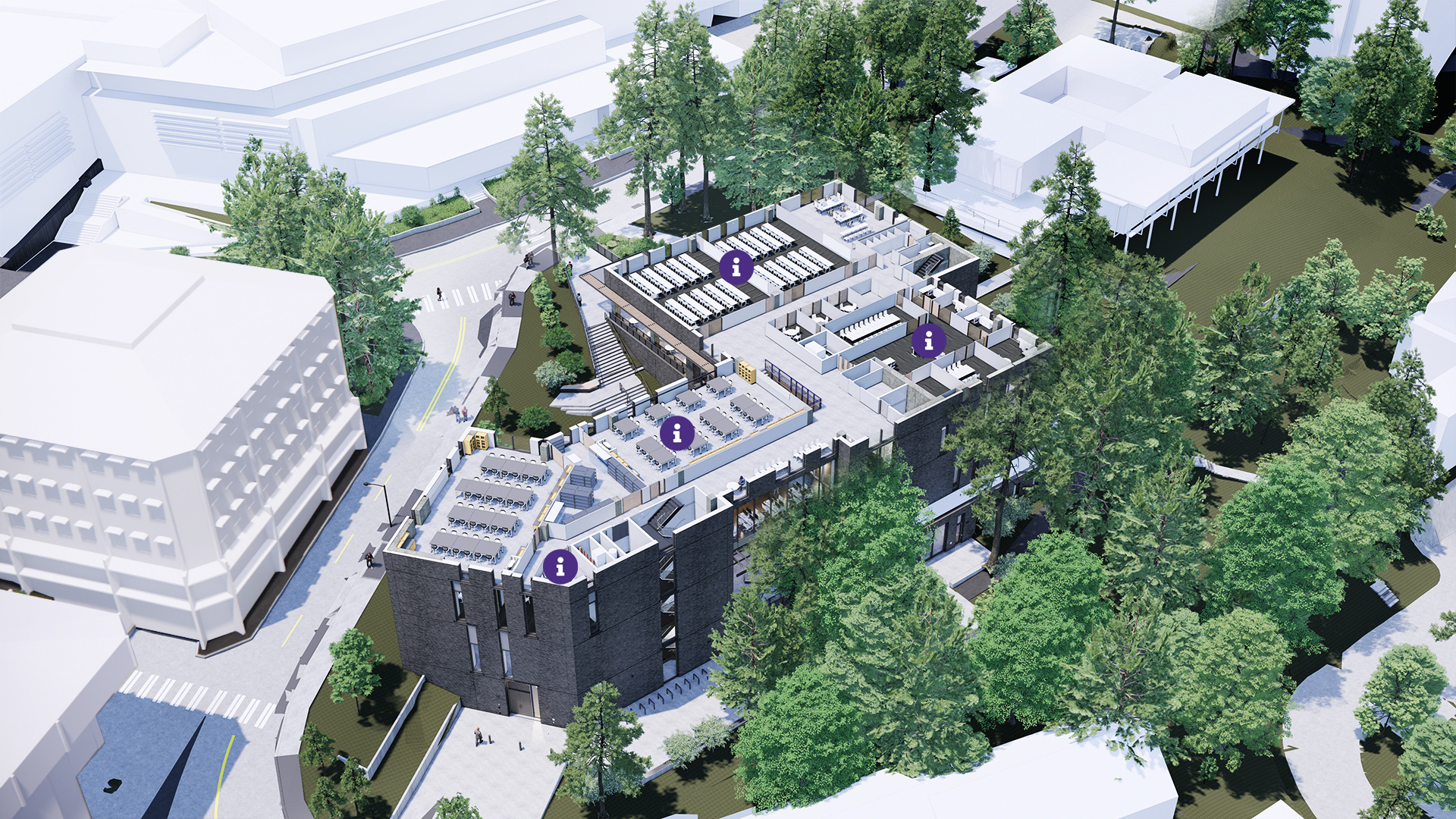 Level 2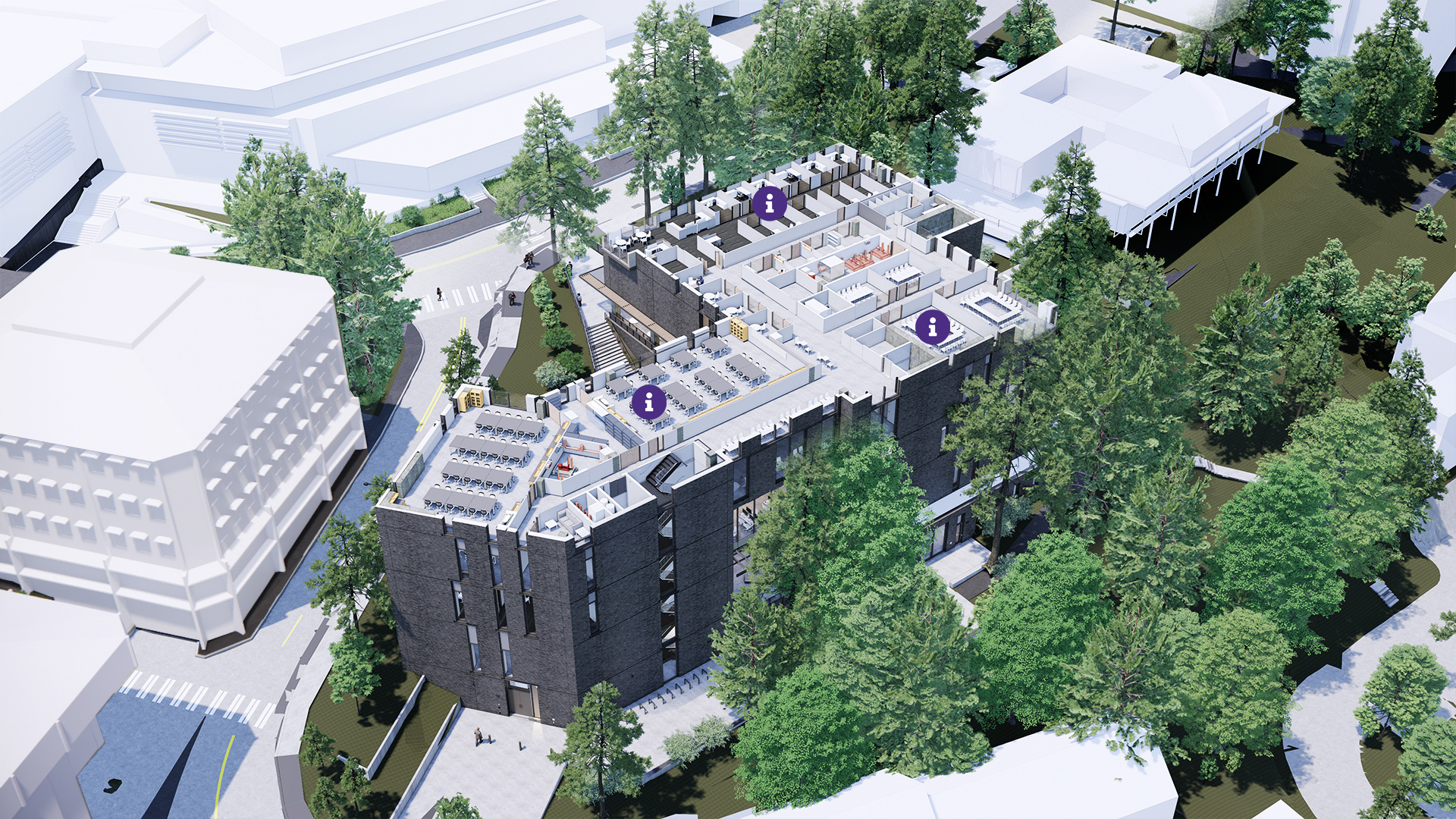 Level 3
Building spaces
Level G2
Project space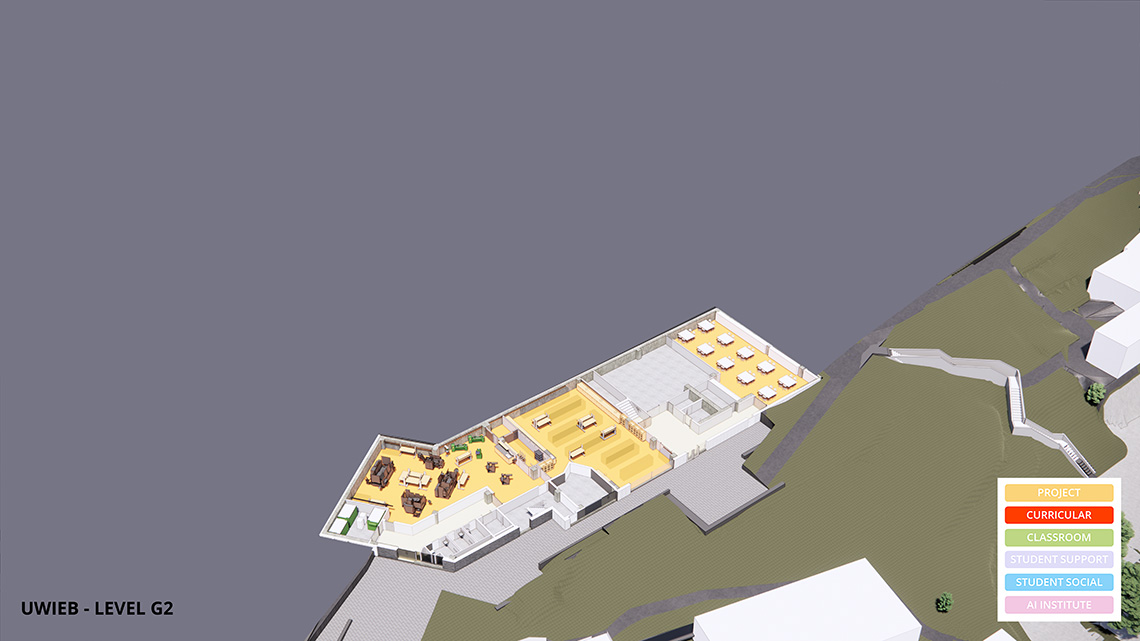 Level G1
Project space and classroom space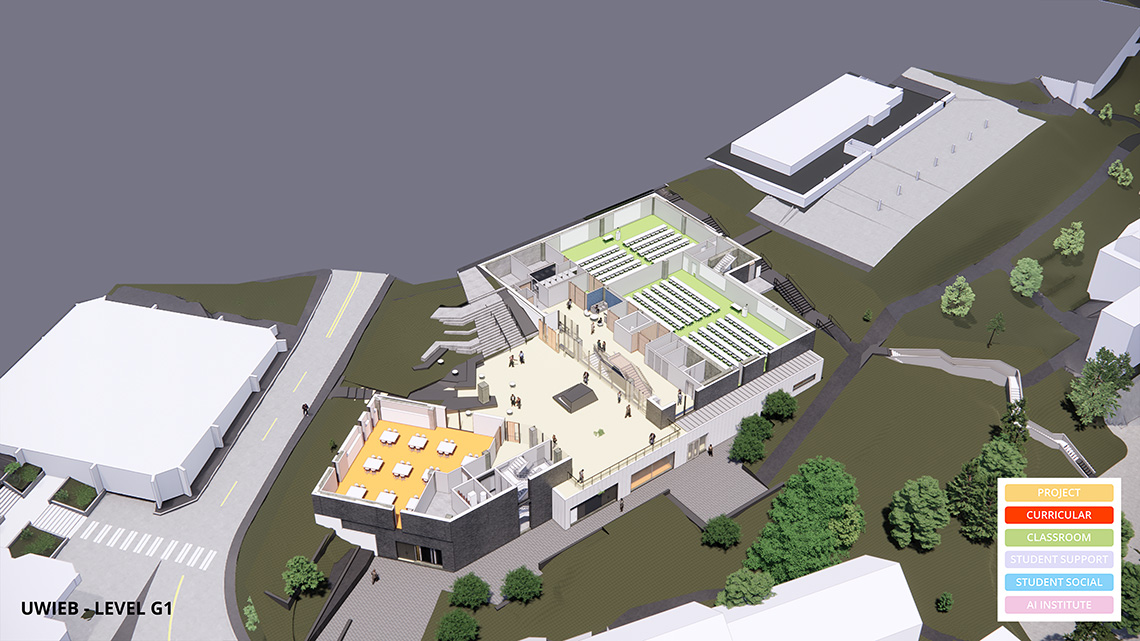 Level 1
Student support space and flexible student spaces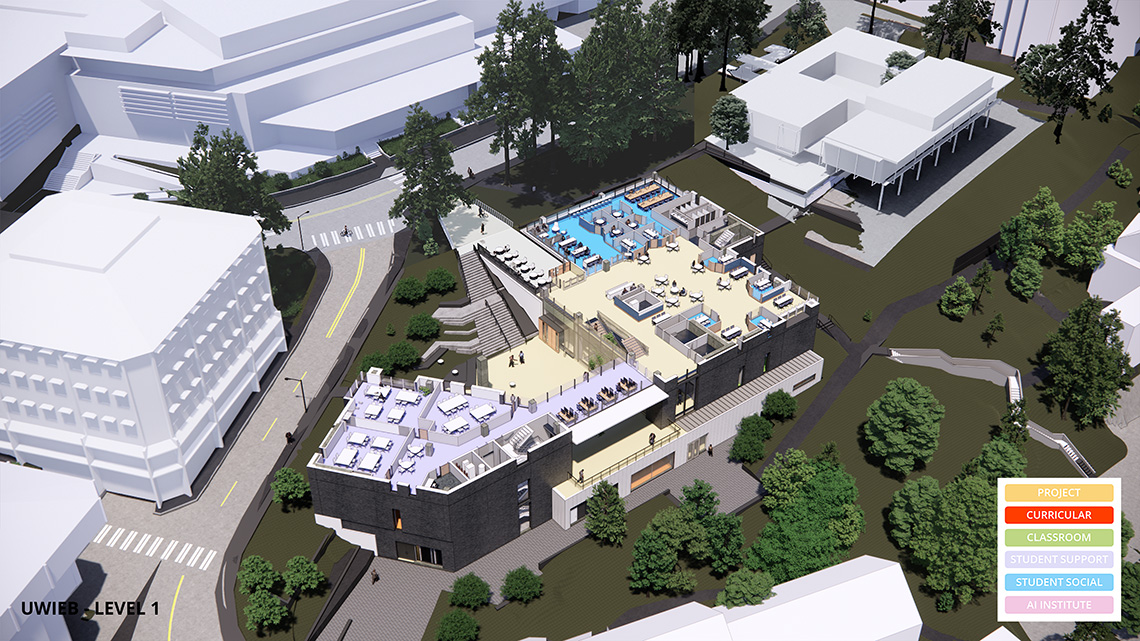 Level 2
Curricular space, classroom space, flexible student spaces and AI Educational Institute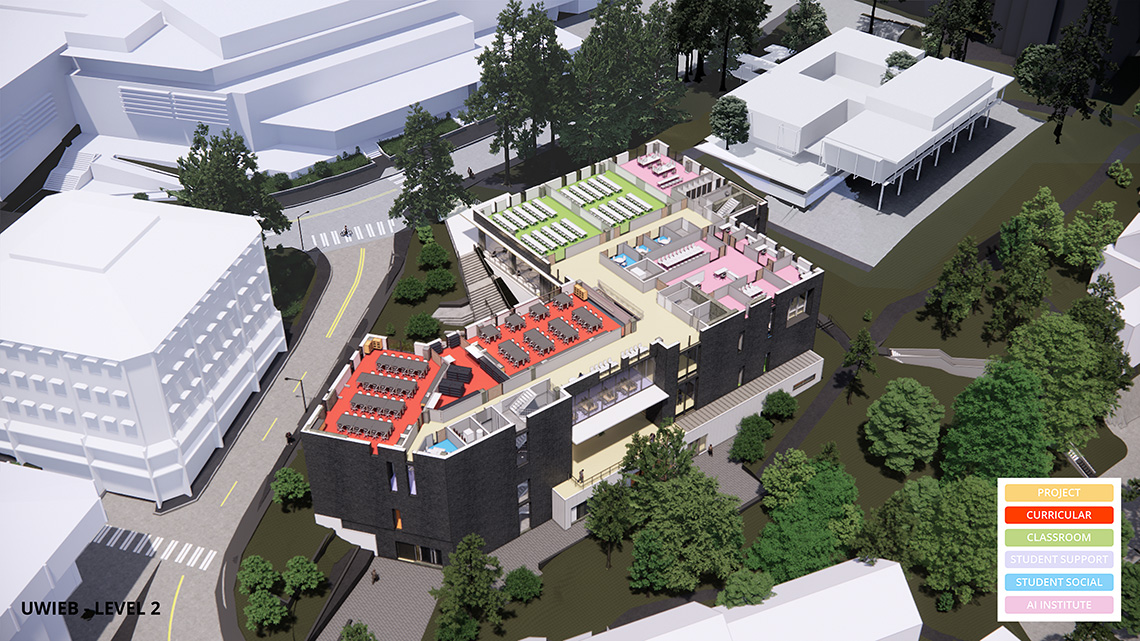 Level 3
Curricular space, student support space and flexible student spaces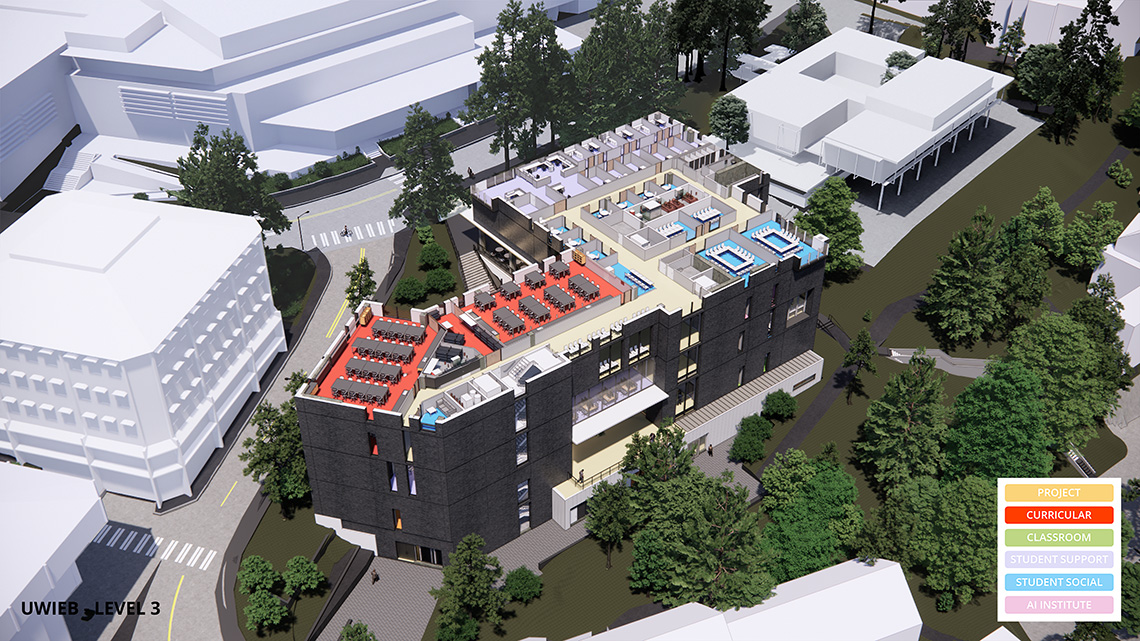 Previous
Next
Project space
Supports hands-on, applied learning with rooms and resources dedicated to the full life-cycle of engineering creation.
Design/ideation spaces provide the initial accommodation for project-based learning activities, such as industry and departmental capstones. Solutions are conceived, designed and modeled in these spaces.
Fabrication space gives students supervised access to the heavy equipment (such as lathes and mills) needed to fabricate components of a design.
Assembly/testing spaces allow students to construct their project designs, putting together (soldering, building and painting) the components they've created in a makerspace-like environment.
Classroom space
Expands active learning space for students across the UW.
Student support space
Particularly focused on engineering students' first year, the IEB will support students' needs for advising, tutoring and other learning support.
The Engineering Academic Center offers tutoring, exam prep and study space for students to hone the skills needed for success in engineering prerequisite courses.
Flexible student spaces
Incorporating student feedback in the building's design, the IEB is intended to provide a welcoming environment that inspires student interaction.
Student lounges: Centrally-located social spaces offer a "home base" for informal gatherings, studying and connecting.
Gathering spaces: Located in nooks off of the lounges, these are functional, student-occupiable work and collaboration spaces equipped with tables and whiteboards.
Affinity offices: These entry-access-protected rooms will be dedicated, assignable spaces for student club and affinity group activities. A place for students in groups such as National Society of Black Engineers, Society of Women Engineers, Society of Hispanic Professional Engineers and more, to meet, organize and consult with faculty advisors, the affinity offices demonstrate the college's commitment to the success of all Engineering students.
Curricular space
Laboratory spaces support project-based learning in engineering fundamentals, and are focused on course requirements for engineering students. These spaces will also be leveraged during non-class times for student teams and capstones use.
AI Educational Institute
The institute will enable the College to advance engineering education in this key area across all departments, as well as cutting-edge research in fundamental artificial intelligence and machine learning.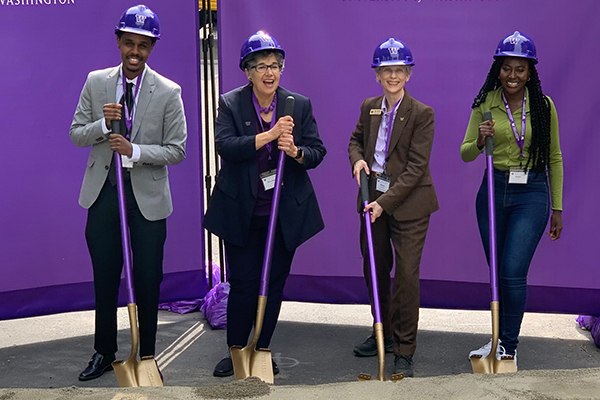 News update | September 15, 2022
IEB groundbreaking
The UW broke ground on the new $102 million Interdisciplinary Engineering Building, supported by public and private investments.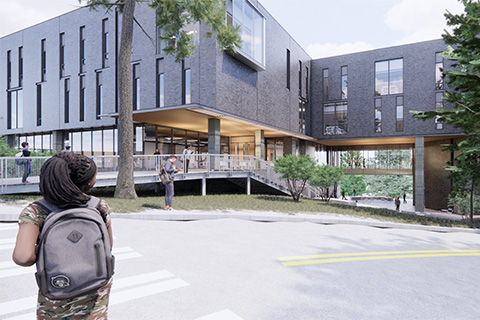 News update | August 4, 2022
Investment in engineering education
The UW will break ground this fall on a new, $90 million Interdisciplinary Engineering Building, thanks in part to a $10 million donation from The Boeing Co. Once complete, the state-of-the-art building will be a leading example of a student-focused learning facility backed by both public and private investments.
Architecture details
Contractor: Hensel Phelps | Architect: KieranTimberlake
All renderings are conceptual and may not represent the final look of the building.