The UW College of Engineering's economic impact on the state of Washington exceeds $594 million annually.
There is a direct link between investment in engineering — degrees and research — and overall economic health. For every dollar of state appropriation invested in the College, an additional $6 is generated in the economy. From our top-flight engineers to our innovative discoveries and inventions, we are contributing to Washington's economic strength and vitality.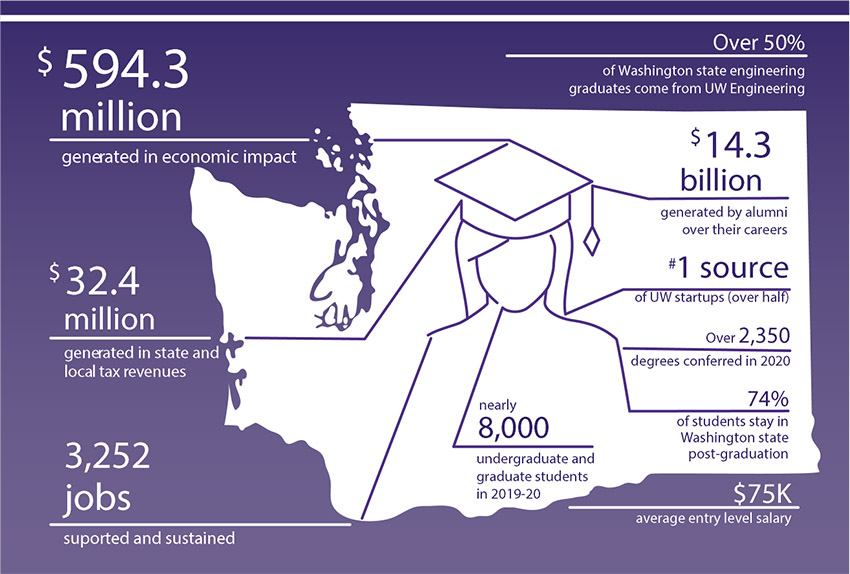 The College generates $594.3 million in annual economic impact for Washington
The College generates $32.4 million in annual state and local tax revenues
College alumni in Washington have generated $14.3 billion over their careers
The College supports and sustains 3,252 Washington jobs
The College is the #1 source of UW startups
Nearly 8,000 undergraduate and graduate students currently enrolled
The College awarded over 2,350 degrees in 2019
74% of UW Engineering students stay in Washington state post-graduation
The average entry level salary of a UW Engineering graduate is $75K
Over 50% of Washington state engineering graduates come from UW Engineering
"The College of Engineering's distinctive strengths in education, innovation, research and entrepreneurship make it a powerful engine of opportunity. We are proud to contribute to our state's communities by advancing engineering education and solutions that deepen our social and economic impact for Washington. We are committed to providing students with the education, training and skills they need to have fulfilling and impactful careers."


Nancy Allbritton, Ph.D., M.D.
Frank & Julie Jungers Dean of Engineering
The economic impact of engineering research
The College's strategically focused research leverages its faculty's unique strengths to develop solutions that address critical issues facing the state of Washington, the nation and the world. Research projects are interdisciplinary as well as collaborative with private industry.
$254.4 million
total annual research impact
2,342
jobs supported by research
$12.3 million
generated in annual state and local taxes
About the study
We engaged Parker Philips, Inc. to measure the College's economic contribution in the state of Washington as a sub-project of the University's Economic Impact Study. This analysis provides a complete assessment of the College's total economic, employment and local and state tax impact and is a point-in-time snapshot from audited FY18 numbers. UW Engineering contributes to the local and statewide economies through its operations, capital projects, and wages, the spending of students off campus and of its visitors.
The impact presented in this analysis is broken down into three categories: direct, indirect and induced. The indirect and induced impacts are commonly referred to as the "multiplier effect." There are many ways to measure the College's impact — this analysis is one.
DIRECT
Impacts generated as a result of student and visitor spending and UW spending on operations, capital expenditures, pay and benefits.
INDIRECT
The increase in demand for goods and services in industry sectors that supply or support the UW and its students, faculty, staff and visitors. Often referred to as the supply chain.
INDUCED
The third wave of impact created as a result of household spending by UW students and employees, and employees of UW suppliers. Induced impacts estimate the effect of increased household income including housing, household goods, entertainment, food, clothing, transportation and other categories of personal spending.