Distinguished Achievement in Industry
Eric B. Denton, P.E., '51 BS & MS Chemical Engineering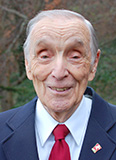 Modern sawmills can credit Eric Denton for bringing the industry into the computer age. His contributions revolutionized the sawmill process, reduced waste and massively increased yield and productivity. A remarkable engineer with vision and conviction, Eric persisted in the face of immense difficulties and brought about major change in a traditional industry. Beginning about 1970, Eric pioneered computer-automation in sawmill centers and created an innovative patent to scan log shapes, long ahead of its time.
Eric began his career of innovation after graduating from the UW and serving time in the U.S. Army. In the midst of his UW years he received an ROTC commission and led a 40-man infantry platoon in Europe. Eric joined Monsanto where he played a key role in developing a Seattle plant that converted pulp mill waste into artificial vanilla, enough to flavor all the ice cream in the country. Following his success at Monsanto, Eric joined Weyerhaeuser where he used his engineering skill and leadership over a 30-year career, to make profound and lasting contributions to company plants around the country.
Tasked with developing system controls for sawmill machine centers, Eric took advantage of emerging computer technology to replace visual scanning of log dimensions. Using primitive PDP-8 mini-computers on chipping head-rigs, with only 4k memory, huge gains were realized in yield. Though originally resistant, mill supervisors eventually drove the efforts to keep the systems operational. Weyerhaeuser's investment of $30,000 for Eric's scanner resulted in close to a million dollar gain per machine each year.
Eric next addressed the issue of visually judging tree-length logs to determine available lumber, called bucking. Eric developed "auto-bucking", a patented system of scanning the shape of full-length logs in a more powerful mini-computer to calculate the optimum sawmill log lengths for the highest value. Today, nearly all mills are equipped with this technology.
Distinguished Achievement in Academia
Simon Sze, '60 MS Electrical Engineering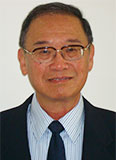 Memory storage in cell phones, digital cameras, GPS devices, and even refrigerators used today are possible because of Simon Sze, co-inventor of the nonvolatile semiconductor memory (NVSM) popular in today's consumer electronics. His contributions to semiconductor physics revolutionized the development of modern electronic systems. His book, "Physics of Semiconductor Devices," is one of the most cited works in contemporary engineering and science publications with over 22,000 citations and has been translated into 6 languages.
Simon has made a profound impact on semiconductor devices, including transport processes in metal-semiconductor contacts, operational principles of microwave and photonic devices and the insulating properties of silicon nitride and silicon dioxide. With co-inventor Dawon Kahng, Simon fabricated the world's first floating-gate NVSM device, able to record and retain data without consuming power. Today, NVSM, has given rise to a large family of memory devices including EEPROM and flash memory. NVSM is one of the most popular embedded-memory and mass-storage applications and can be found in more than 40 billion electronics products.
Simon received his MS in electrical engineering from the University of Washington and his PhD from Stanford. After working at Bell Labs, he went on to faculty positions at National Chiao Tung University (NCTU), Stanford and National Taiwan University. He has consulted or directed at research centers around the globe, and is currently honorary chair professor at NCTU. He has authored or co-authored over 300 articles, and written and edited 16 books. Simon is the recipient of the IEEE J.J. Ebers Award, the Sun Yet-sen Award, National Endowed Chair Professor Award, and the National Science and Technology Prize. He is a life fellow of IEEE, academician of the Academia Sinica, a member of the Chinese Academy of Engineering and a member of the U.S. National Academy of Engineering.
Entrepreneurial Excellence
Randy Kurosky, '88 BS Ceramic Engineering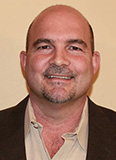 As the co-inventor of two ceramic oxide powder processes and engineer of over 3,000 different metallic oxide compositions, Randy Kurosky is responsible for turning Seattle Specialty Ceramics, a technology transfer startup, into a successful business – Praxair Specialty Ceramics. Today, Praxair is one of the premier international companies in the field of electronic grade specialty ceramics. His efforts have contributed to advancements in materials science engineering with applications in superconductors, solid oxide and molten carbonate fuel cells, oxygen transport membranes, thin film batteries, photovoltaics, catalyst supports and nuclear ceramics.
While a materials science undergrad at the UW, Randy co-invented a patented process, Combustion Spray Pyrolysis (CSP) that earned him a record six publication co-authorships. The CSP process yields fine submicron size ceramic powders capable of being deposited as thin, dense and electrically conductive layers on solid oxide fuel cells that are both durable and long lasting. Solid oxide fuel cells are used in everything from mini power grids to military defense applications.
Randy's career began as a research engineer when his CSP technology was spun out into Seattle Specialty Ceramics, and he eventually was named the company's general manager. He has since overseen the growth of Praxair Specialty Ceramics, including several $1M line expansions and the commercialization of additional R&D products. His technical engineering skill combined with his entrepreneurial instincts has advanced the company. His innovations on the synthesis of solid oxide fuel cell materials have become the industry standard.
Distinguished Service
Daniel J. Evans, '48 BS, '49 MS Civil Engineering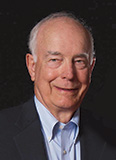 Daniel J. Evans has devoted over sixty years of service to his community, both in and out of political office. Serving an unprecedented three consecutive terms as governor, he advocated tirelessly for higher education and environmental policy. Dan is a veteran of the U.S. Navy, former president of The Evergreen State College and U.S. senator. The citizens of Washington State have benefited from the thread of service that runs through his varied career.
Prior to entering politics, Dan was a successful structural engineer for the City of Seattle, Associated General Contractors, and in private practice. Elected as governor in 1965, Dan's innovative approach to policy, a reflection of his engineering background, secured his reputation as a popular and effective leader. He founded the first state-level Department of Ecology and Washington's community college system. In 1983 Dan was appointed and elected to the U.S. Senate.
Though he chose not to run for political office again, Dan continued to serve his community. He has served on boards for the Northwest Parkinson's Foundation, The Nature Conservancy of Washington, Children's Hospital Foundation, and corporate boards of Costco, Puget Sound Energy, and others. Dan has been a champion of the University of Washington where he served two terms on the Board of Regents. Dan has been a member of the UW Foundation Board, chair of the Husky Stadium Renovation Committee, taught courses at his namesake college, the Evans School, advised on the Creating Futures campaign, served on the College of Engineering's Campaign Executive Committee and is a recipient of the UW Alumnus Summa Laude Dignatus Award. In 2012, Dan and his wife Nancy received the UW Gates Volunteer Service Award. His numerous other awards include the E. Donnall Thomas Medal of Achievement from the Fred Hutchinson Cancer Research Center and the Legacy Award from the Rainier Institute.
Early Career
Brad Fitzpatrick, '02 BS Computer Science & Engineering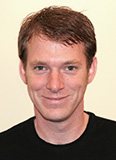 Brad Fitzpatrick is perhaps best known as the creator of LiveJournal, an internet tool that helped popularize blogging in the internet age and one of the earliest social networks. His Memcached technology, created to support LiveJournal's exploding user community, is used today by all major-scale web services including YouTube, Facebook, Twitter, Flickr, Wikipedia and Craigslist.
Brad started programming at the age of 5 and became an entrepreneur by 17 when he founded his first company, Voting Booth (later FreeVote) in high school. Brad created the precursor to LiveJournal before enrolling at the UW. Originally a tool to help him stay connected with friends after leaving for college, his database-driven invention grew into an 8-million strong community. To keep up with the rapid growth of LiveJournal users, Brad created Memcached, software that speeds up data access to back-end servers. His clever program allowed LiveJournal to support a large scale of users without exponentially increasing resources. Today, Memcached is an essential component of practically every major web service, and an example of Brad's impact as a software engineer, designer and innovator. When Brad graduated from the UW, LiveJournal became his full time job before selling the company, by then called Danga Interactive, to Six Apart in 2005. At Six Apart, Brad developed OpenID, an open standard authentication system that allowed users to consolidate their digital identities across different sites. Approximately 9 million sites have integrated OpenID customer support with over 1 billion OpenID-enabled accounts on the internet.
Brad stayed with Six Apart as chief architect until 2007 when he left for Google. At Google, Brad has worked on Social Graph API, Google Profiles, Android Performance and is currently with the Go Programming Language team. He is frequently asked to speak at conferences and user groups. Brad is a widely respected leader in the open-source community, improving software development culture and creating open source projects used by millions of web sites around the world.