Dean's Award
Allen D. Israel, '68 B.S. Mechanical Engineering; '71 MBA; '78 J.D.
Senior Principal, Foster Garvey PC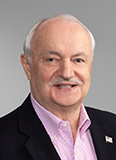 Allen D. Israel is a senior principal at the law firm of Foster Garvey PC, where he has practiced law for over 40 years, primarily in business, and mergers and acquisitions. He has represented clients in a wide variety of endeavors in many industries, including non-profits. He has been recognized by Best Lawyers in America and other publications, including being named Best Lawyers M&A "Lawyer of the Year" in Seattle in 2013.
Allen is a three-time Husky, having earned his B.S. in mechanical engineering in 1968, followed a few years later by an MBA from the Foster School of Business and later by a J.D. from UW School of Law. Allen practiced engineering for one year before moving into business and then his law career. But he credits his UW mechanical engineering education with developing the organizational and problem-solving skills he has applied throughout his career to major complex projects, such as representing Paul G. Allen in his purchase of the Seattle Seahawks and the development of CenturyLink Field and Event Center. Allen also represented Paul Allen in several transformative gifts to the University of Washington, including naming gifts for the Paul G. Allen School of Computer Science & Engineering, the Paul G. Allen Center for Computer Science & Engineering, the Kenneth S. Allen Library, and the Kenneth S. and Faye G. Allen Library Endowment, the latter two gifts honoring Paul's parents.
Throughout his career, Allen has made time to champion and provide leadership to his alma mater and specifically the College of Engineering. Allen served on the College of Engineering Dean's Visiting Committee for almost 25 years through four deans, was the 2017 mechanical engineering graduation speaker, and hosted the ME centennial reunion reception honoring ME classes of the 1960s. Allen currently serves on the board of the University of Washington Foundation representing the Allen School. He has also served on the UW Law School Dean's Advisory Committee and the UWLS Foundation Board.
Distinguished Achievement in Industry
James "Jim" Skaggs, '59 B.S. Mechanical Engineering
CEO and Chairman, Aminex Therapeutics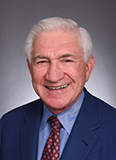 With almost 50 years of experience in corporate leadership, Jim Skaggs has made an impact in industries ranging from electronics and heavy equipment to drug development and space programs. To each of his roles, he has brought a tireless work ethic, negotiation skills and an ability to motivate teams to reach their full potential. Jim has applied his problem-solving acumen, honed in his mechanical engineering education, to help failing companies reverse course and achieve major successes, and to work with start-up companies and make a difference in his community and the world.
After graduating from the UW in 1959, Jim worked as a mechanical engineer and in Minuteman program management as one of the youngest supervisors at The Boeing Company for five years, followed by a major role at NASA in Washington D.C. He quickly rose through the ranks to become one of the seven top executives in Apollo Program Management. He was 32 when the first lunar landing was achieved, 51 years ago, and the youngest person in the U.S. government at this level. He is the only living member of this management team. He was then asked to lead Tracor, a defense electronics company on the brink of bankruptcy located in Austin, Texas. Jim applied his engineering expertise and experience to the role, focusing on the company's technical strengths and targeting strategic acquisitions, all while bringing stakeholders and employees along with his vision. Within four years the company achieved a Fortune 100 'Fastest Growing Companies' award and, within eight years, the company was acquired for $1.4 billion.
Jim's commitment to making an impact is reflected in his work in drug development. In 2009, he joined a struggling company, Aminex Therapeutics Inc., pursuing a promising immunotherapy drug approach that empowers and frees the human immune system to identify and clear cancer. Under Jim's leadership, the company has undergone four successful funding rounds and is now performing well in its Phase 1 human trials. He is an involved member of the UW community, participating as a seminar speaker and keynote speaker at the Department of Mechanical Engineering's commencement ceremony, and by investing in students' success through scholarship support.
Distinguished Achievement in Academia
Jane Grande-Allen, '98 Ph.D. Bioengineering
Professor and Chair, Bioengineering, Rice University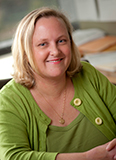 More than five million Americans are diagnosed with heart valve disease each year. Thanks to the work of Jane Grande-Allen, fewer patients need to undergo open-heart surgery. An international leader in heart valve biomechanics and mechanobiology research, Jane has pioneered contributions to heart valve tissue engineering, paving the way for emerging tissue-engineering alternatives to conventional open-heart surgery. Her work encompasses the field of structural defects of the heart, such as valve calcification and loss of elasticity.
Jane is an internationally recognized expert in extracellular matrix in cardiac valves, particularly proteoglycans, using a range of technologies including genetic engineering, 3D tissue culture, and micro- and nanofabrication approaches. Her visionary work revealed the unique role that proteoglycans play in cardiac structure, function and disease biology. Her innovations have been instrumental in collaborative research with clinicians to study heart valves and blood vessels, as well as intestinal wall and lung cancer. The contributions of her research program have enabled advances in regenerative medicine that have impacted the lives of countless patients.
Jane received her Ph.D. in bioengineering from the UW. Following a post-doctoral research fellowship, she joined Rice University as an assistant professor. She was named the Isabel C. Cameron Professor in 2014, served as faculty adviser to the president, and in 2016 was named director of the Institute of Biosciences and BioEngineering and department chair in 2017. In her tenure as chair of the Department of Bioengineering, she has grown the faculty, expanded research and teaching space, revised the undergraduate curriculum and secured more than $24 million in startup package funding to recruit new faculty to Rice. Jane has authored more than 135 publications, and her research program has received more than $10 million in funding from the NSF, NIH and the American Heart Association.
Entrepreneurial Excellence
Greg Newbloom, '11 M.S., '14 Ph.D. Chemical Engineering
Founder and CEO, Membrion, Inc.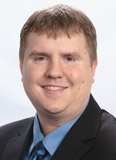 Demonstrating a relentless drive to innovate, Greg Newbloom is behind more than 23 patents and has founded three companies, yet he graduated with his Ph.D. in chemical engineering only five years ago. As the founder, president and CEO of Membrion, a Seattle-based cleantech startup, Greg leads the technology development of molecular filter membranes that can be used for water purification, "flow" batteries and other equipment. His innovation, nanoporous ceramic ion exchange membranes, is designed to lower the cost of water purification and energy storage. Since its founding in 2016, the company has received nearly $10 million in early-stage investments. And Greg's commercialized membranes will help protect the planet — they're estimated to save more than 480 billion gallons of water and more than one million tons of CO2 by 2025.
As a graduate student, Greg worked on several research projects in conductive polymer materials for solar cells and published multiple highly-cited papers while also developing new technologies that led to the formation of start-up companies PolyDrop and Carbon Cultures. These experiences helped Greg understand the challenges of commercializing new technologies and allowed him to sharpen his entrepreneurial skills. Greg has since achieved success in key elements such as grant writing for prototype development, where he secured $1.5 million in non-dilutive NSF funding for his molecular filter membranes. Greg has also received numerous awards for technical accomplishments, including two National Innovation Awards and two Clean Energy Awards from the UW's Clean Energy Institute.
Under Greg's leadership, Membrion has thrived, receiving multiple rounds of start-up funding from private investors, the UW, Amazon Catalyst and CoMotion. Greg successfully advanced the technology from its conception to its first commercial deployment in under four years, a timeframe unheard of in cleantech. As Membrion's CEO, Greg manages almost all aspects of the business, including sales, marketing, finance, HR, fundraising, R&D and scale-up efforts. Membrion is achieving its goals ahead of schedule and under budget thanks to Greg's efforts.
Distinguished Service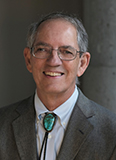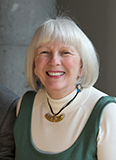 Scott Roberts, '74 Ph.D. Chemical Engineering
Retired Vice President, Royal Dutch Shell
Catherine Roberts
Co-founder, Rutherford BH Yates Museum
As a Ph.D. student in chemical engineering in the 1970s, Scott Roberts accepted an opportunity to conduct research at a field station in Turrialba, Costa Rica. He and his wife Catherine took their infant son on the 5,000+mile drive from UW to Turrialba in a Dodge van full of scientific instruments and materials. As Scott completed his research testing controlled release pesticides, a serious earthquake delayed their return for months, forcing them to seek jobs in tropical forestry with local colleagues. Their time in Central America was transformational for the young couple, spurring a lifelong commitment to service and international relations.
Scott and Catherine share a passion for helping others. Throughout Scott's 35-year-career as an executive in Royal Dutch Shell companies, he led international projects and businesses in roles such as EVP of Manufacturing for Shell Chemicals, London, and president of Shell Mexico, Mexico City. During this time, Scott helped nurture a partnership between Shell and the UW that launched the careers of several faculty members and provided critical instrumentation for a new national biomaterials research center on campus. At the UW, Scott has remained connected to the Department of Chemical Engineering, serving on its advisory board from 2009 to 2018, supporting curriculum improvements and strategic planning. The couple also funded a graduate student fellowship endowment in the department.
In addition to the couple's involvement with the UW, Catherine has been dedicated to community service and activism. She assisted with the UW Free Clinic program in Seattle in the 1970's and was a past chair of the Volunteer Services Executive Board of the Institute of International Education (IIE). Scott and Catherine were leaders in the IIE Student Host Family program, Business for Russia, and Fulbright Student Enrichment programs. More recently, Catherine co-founded the Rutherford B H Yates Museum, Inc., that has saved a collection of six historic structures on 10 archaeology sites, built in 1865 by previously enslaved peoples and their descendants immediately after emancipation in Houston, Texas. The couple also supports the nonprofit Amigos de las Americas in offering youth leadership volunteer opportunities in Latin America. Though Scott and Catherine have contributed to diverse organizations, their service is linked by their commitment to the power of education and multiculturalism.
Early Career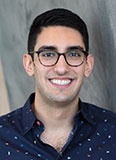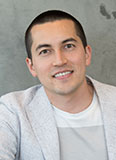 Armon Dadgar, '11 B.S. Computer Science and Engineering
Co-Founder, Co-CTO, HashiCorp
Mitchell Hashimoto,'11 B.S. Computer Science and Engineering
Co-Founder, Co-CTO, HashiCorp
As undergraduates, Armon Dadgar and Mitchell Hashimoto worked on open source software together around their class schedules. They could not have predicted this would one day result in a cloud-computing company valued at almost $2 billion, or that their company would address fundamental challenges faced by organizations worldwide. Cloud computing presents the opportunity for companies to better utilize resources and deploy more software, but new tools, software and organizational practices are needed to realize these benefits. The software written by Armon and Mitchell addresses these needs for the world's largest organizations while remaining free and open source for everyone to learn and benefit from.
Armon and Mitchell share a passion for computer science and an entrepreneurial spirit. In 2012 they founded HashiCorp to work full time to address the challenges and market needs of enterprise-scale cloud adoption and automation. HashiCorp's portfolio offers six open source and commercial tools for multi-cloud infrastructure automation that enable organizations to adopt consistent workflows to provision, secure, connect and run any infrastructure for any application. One of the main differentiating properties of this software is the human-centric design: Armon and Mitchell create software that not only solves the technical challenge at hand, but is also fun to use.
Armon and Mitchell received B.S. degrees in computer science and engineering in 2011. Since graduating, the pair has been featured in Forbes 30 under 30 in Enterprise Technology, and their products undergird the cloud infrastructure for over 100 of the Fortune 500. Behind applications that we use to swipe a credit card, request a rideshare vehicle, or trade stocks on Wall Street is software that Mitchell and Armon designed and built. Though the company was founded less than a decade ago, HashiCorp products are downloaded tens of millions of times annually, and used by tens of thousands of organizations globally.