Assistant Professor, Civil & Environmental Engineering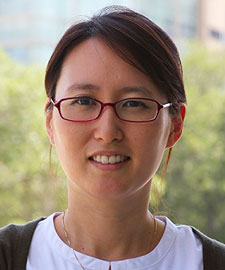 Ph.D., Civil Engineering, Texas A&M University, 2013
M.S., Civil Engineering, Illinois Institute of Technology, 2008
B.S., Architectural Studies, University of Illinois, 2001
Amy Kim joins Civil & Environmental Engineering from Texas A&M University (TAMU) where she recently received her PhD.
Prior to starting her PhD program she worked as a construction engineer for over 8 years. She is LEED AP (BD+C) certified with an interest in reducing energy consumption for the built environment with emerging materials, tools, approaches and technologies.
Her ongoing research interests include investigating construction management issues for transportation projects, particularly with the NCHRP. She is working on a research project investigating long-range strategic issues affecting preservation, maintenance and renewal of highway infrastructure, as well as developing a comprehensive and scalable scoping process to assist transportation agencies to improve on-time and on-budget delivery of highway projects.
Her awards include TAMU's Civil Engineering Teaching Fellowship for Doctoral Candidates, the Urban/Beavers Fellowship, the Williams Brothers Construction Fellowship, the Peter C. Forster Fellowship, and the USGBC Greenbuild International Conference Multimedia Visual Competition Award.