Assistant Professor, Mechanical Engineering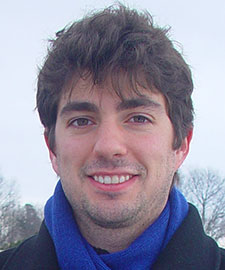 Ph.D. Aerospace Engineering, California Institute of Technology, 2011
M.S. Aerospace Engineering, California Institute of Technology, 2008
B.S. Aerospace Engineering, Georgia Institute of Technology, 2007
Nicholas Boechler joins Mechanical Engineering as an assistant professor. He worked as an affiliate professor of mechanical engineering at the UW since fall of 2012. Prior to coming to UW ME, Nicholas was a postdoctoral associate at MIT and earned his PhD in aeronautics from the California Institute of Technology.
Nicholas' research focuses on macro- and nano- scale structures by exploring their effect on sound wave transmission. He co-authored a study to develop an acoustic diode that can transmit acoustic sound in one direction at controllable frequencies. The control of sound waves using periodic structures at ultra- and hypersonic frequencies expands the range of applications for such structures to include energy harvesting, signal-processing, and biomedical imaging.
He has authored a textbook chapter on nonlinear phononic periodic structures and granular crystals, filed two patents and received awards from the National Science Foundation and Planetary Society.