Cole DeForest
Assistant Professor, Chemical Engineering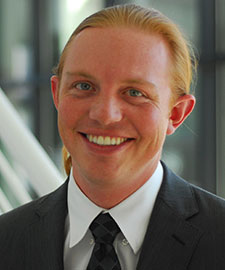 Ph.D. Chemical and Biological Engineering, University of Colorado, Boulder, 2011
M.S. Chemical Engineering, University of Colorado, 2009
B.S.E. Chemical Engineering, Princeton University, 2006
Cole DeForest joins the Department of Chemical Engineering from the California Institute of Technology where he performed his postdoctoral research on user-programmable biomaterials. He received his Ph.D. in chemical engineering from the University of Colorado in 2011. He has authored or co-authored 18 articles in journals such as Nature Materials, Nature Chemistry, and Angewandte Chemie.
Cole's research focuses on novel biomaterials that self-adapt to their environment to create functional human tissue. He is currently developing an engineered protein therapeutic that can program its delivery system with light, offering promising solutions to the treatment of chronic illnesses as well as early stage detection of disease.
Cole's honors include the Biomedical Engineering Society Student Fellow Award in 2013, the DSM Polymer Technology Award in 2011, and the ACS Excellence in Graduate Polymer Research Award in 2010. His research has been supported through fellowships from the NIH and the United States Department of Education.