Dwayne Arola
Associate Professor, Materials Science & Engineering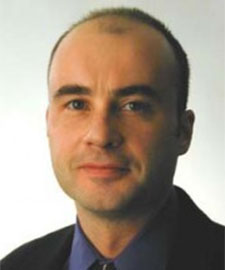 Ph.D. Mechanical Engineering, University of Washington, 1996
M.S. Mechanical Engineering, University of Washington, 1991
B.S. Mechanical Engineering, University of Washington, 1989
Dwayne Arola comes to Materials Science and Engineering from the University of Maryland, Baltimore County as a professor of mechanical engineering. Although new to the UW faculty, he is already a UW alumnus, having received his B.S., M.S. and Ph.D. in mechanical engineering from the UW.
Dwayne's research explores the mechanical behavior of engineering and natural materials with emphasis on understanding their durability. His current studies address biomedical problems related to restorative dentistry and orthopedics, including investigations on the fatigue and fracture behavior of hard tissues, and the influence of aging and other physiological factors. He plans to continue this research at the UW, as well as explore the development of new manufacturing processes that can be applied to advanced engineering materials for defense, space, and biomedical applications.
Dwayne was the recipient of an NSF Career Award, and was honored as a Distinguished Research Fellow while at Maryland.