The Career Center @ Engineering
Welcome to CC@E — the Career Center @ Engineering!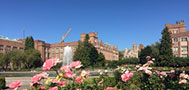 Welcome to Summer Quarter!
All CC@E services during the summer will be provided by APPOINTMENT ONLY between 9am and 4pm; please call our office at 206-221-8423 or e-mail engrhire@uw.edu to make an appointment.
Opened in the Fall of 2015, the CC@E is a branch of the UW Career & Internship Center to assist students in our 10 Engineering departments with a full suite of services. Our programming includes: counseling, exploring careers and seeking positions, guidance in establishing an experience portfolio and resume, networking opportunities, and skill development through a variety of workshops and events. The CC@E also houses the Engineering Internship Program, allowing students and employers to connect for real-world experience prior to graduation. You can read about our center's first-year accomplishments in our Annual Impact Report.
Whether you are a student or employer, engage early with the CC@E to be successful. Our staff has a broad background, ranging from practical engineering experience in industry to career & internship advising within the UW system.
For Students
CC@E assists you throughout your job search process, from resume writing to salary negotiation. Whether you are a pre-engineering student, graduating senior, or graduate student, we offer walk-in advice, appointments and workshops. Learn more: Student Services »
For Employers
CC@E works with the UW Career Center, coordinating job postings, on-campus interviews, and technical talks. Our Engineering Internship Program links you to top students—a steady source of future hires. Learn more: Employer Services »
HuskyJobs
HuskyJobs is a free tool for UW students and alumni to search though hundreds of internships, part- and full-time jobs, volunteer opportunities, and more.
Log in to HuskyJobs to see all jobs, narrow your search, or filter by location, job type, etc. Upload your resume, cover letter, and unofficial transcripts to apply directly for jobs. You'll find up-to-date information about employers and which ones are interviewing on campus.
Calendar
More calendars: All UW Engineering Events | UW Career Center Calendar | UW Events