The Engineering Academic Center (EAC) is a place where white boards are brimming with equations worked over by students to hone the skills they need to succeed in introductory math, physics or chemistry courses.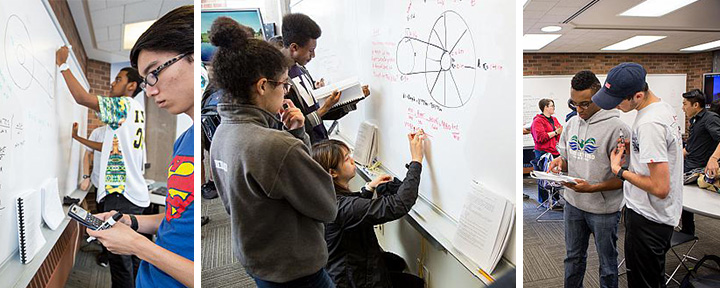 What does the EAC offer?
Tutoring
Through the end of January, our tutoring sessions will be run virtually, Monday through Thursday. To contact a tutor, fill out the EAC Tutor Check-in form, and you will receive access to our tutors' Zoom spaces. You must fill out the form before each virtual session.
Topics Covered: While each of our tutors have their own individual specialties, as a group our tutoring team can assist with:
Math
Science
Engineering Fundamentals

Chem 142/152/162
Phys 12X
Biology 180

AA 210/260
ME 230/123
CEE 220
MSE 170
EE 215
Where: Online via Zoom
When: Monday – Thursday (see tutor schedule for specific times for the current quarter)
Engineers in Gear Study Sessions
Engineers in Gear (EIG) study sessions are at least 2-hour periods the week prior to exams to prepare students for the types of questions that could be asked on their upcoming exams. These sessions are facilitated by EAC staff. Students will have the opportunity to work on the concepts and problems they know they need more practice on for their upcoming exam. There will be an opportunity to review previous exams and work through sample problems. Emphasis is placed on the problem solving strategy for different types of problems. Students are encouraged to time themselves as they work through sample problems to practice the speed they'll need for the exam.
For Winter 2022, the EIG session topics are: AA 210; CEE 220; EE 215; Math 207 and 208; ME 230; MSE 170; and Phys 121.
Winter Quarter Engineers in Gear Schedule
Please sign up for one or more of our virtual EIG reviews for the FIRST session by completing the online Google form here.
It will give you the Zoom links for each session you register for.
Should you lose your Zoom, please contact either Sheldon Levias or Lynne Spencer directly.
Looking forward to seeing you soon!
Session
Math 207
Math 208
Phys 121
AA 210
ME 230
CEE 220
EE 215
MSE 170
1
Date
—
1/31
2/1
1/28
1/31
2/3
1/31
1/26
Time
—
5-7 p.m.
6:30-8:30 p.m.
3:30-5:30 p.m.
5-7 p.m.
7-9 p.m.
6:30-8:30 p.m.
6-8 p.m.
2
Date
2/18
2/18
2/22
2/21
2/21
2/24
2/22
2/23
Time
7-9 p.m.
6-8 p.m.
6:30-8:30 p.m.
3:30-5:30 p.m.
5-7 p.m.
7-9 p.m.
6-8 p.m.
6-8 p.m.
3
Date
3/11
3/10
3/8
3/9
3/15
3/8
3/11
3/13
Time
7-9 p.m.
6-8 p.m.
6:30-8:30 p.m.
3:30-5:30 p.m.
5-7 p.m.
7-9 p.m.
6-8 p.m.
6-8 p.m.
Study Center Resources
Computers
White boards
Study tables
Reference books that have additional problems for math, chemistry, and physics
EAC hours Monday through Thursday from 9:00 a.m. to 6:00 p.m., and Friday from 9:00 a.m. to 5:00 p.m.
To use the study center computers, request an account from the Student Academic Services staff in Loew 014.
EAC Rooms
Loew 207: Whiteboards, computers, reference books, and tutoring
Loew 213 & 215: Workshops, tutoring, whiteboards, and tables