Engineering Academic Center
Winter 2021: Remote tutoring only
Please note that during the winter quarter, EAC will offer all tutoring sessions remotely.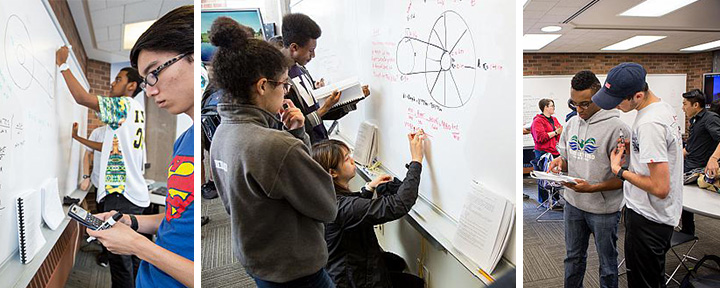 The Engineering Academic Center (EAC) is a place where white boards are brimming with equations worked over by students to hone the skills they need to succeed in introductory math, physics or chemistry courses.
What does the EAC offer?
To see a tutor, fill out the EAC Tutor Check-in form. You must fill out the form before each session.
Study Center Resources

Computers
White boards
Study tables
Reference books that have additional problems for math, chemistry, and physics
Learning facilitators who can provide academic support Monday through Friday from 8:00 a.m. to 5:00 p.m.

Tutoring

Where: Loew 207, 213, and 215
When: Monday - Thursday (see Tutor Schedule for specific times for the current quarter)
Topics Covered: Chemistry 142/152, Physics 12X Series, Math 12X series, Math 307/308 (other topics depend on tutor specialty, see Tutor Schedule)

Workshops

Workshop participants: Usually 10 - 20 students. We especially welcome student populations who are traditionally underrepresented in engineering.
Where: Typically Loew 213, 215, & 019
Topics covered: Chemistry 142/152, Math 12X series, Math 307/308, Physics 121 and 122
For more information: Academic Workshops

Study 'Til U Drop

Scheduled around final exams, these sessions will bring together students enrolled in Academic Workshops and other interested students for a period of study and knowledge sharing. Facilitated by Student Academic Services staff. 
Study session schedule (netid required)
Using study center computers
To use the study center computers, request an account from the Student Academic Services staff in Loew 301.
EAC Rooms
Loew 207: Whiteboards, computers, reference books, and tutoring
Loew 213 & 215: Workshops, tutoring, whiteboards, and tables