WE Rise is dedicated to supporting and advancing women and non-binary students at the College of Engineering, particularly those from racially and ethnically marginalized backgrounds.
32–35%
The percentage of women in Fall 2021 placed in engineering departments from undergraduate to graduate and doctorate levels at the UW.
The program connects cross-geographically with UW Tacoma and UW Bothell and provides targeted supports for students with socioeconomic disadvantages.
WE Rise is a comprehensive program that provides:
Access to mentoring and role models
Networking opportunities
Social support and increased sense of belonging
Gender Bias training
Training, support, and tools for workforce preparation
Core programming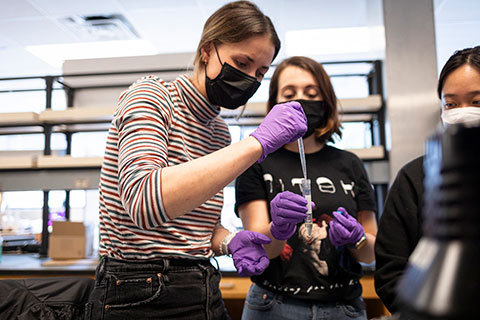 Mentoring
The mentoring program runs through the academic year and is intended for women and non-binary students in the College of Engineering and the Allen School of Computer Science & Engineering.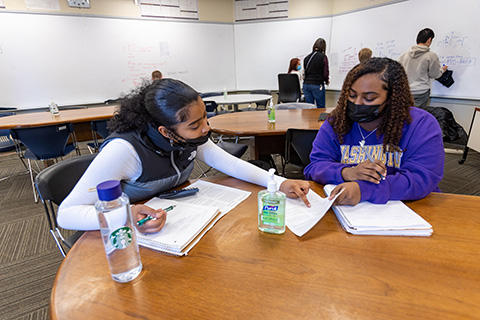 Community of Scholars Tutoring (COST)
WE Rise's tutoring program COST aims to provide positive learning environments and instructional practices to support student success in STEM.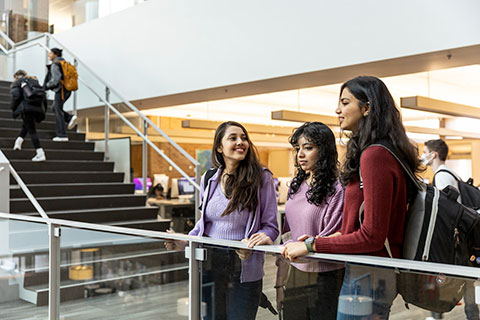 Leadership Academy
The Women's Leadership Academy (WLA) is a nine-week program intended to encourage leadership identity development, foster a supportive community, and provide resources for academic persistence.
Signature events
WE Rise Welcome Event

Fall Quarter

Students are invited to join this community-centered event to kick off the school year and connect with other scholars across the College of Engineering.

WE Rise Annual Conference

Women's History Month — Winter Quarter / March

One of the year's biggest events brings high school, undergraduate, and graduate students together with leaders across the college and industry.

Attendees are able to build their network, connect with new opportunities, and enhance their personal and professional development through various workshop sessions. The conference is attended by more than 200 students from around the region.

WiSE Women of Color (WOC) in STEM Summit

Winter Quarter

The WiSE Women of Color (WOC) in STEM Summit invites high school students to further explore the College of Engineering. Attendees gain insight into engineering career opportunities and support with preparing for an engineering education.

WE Rise Graduation and Thank You Celebration Tea

Spring Quarter

An annual tradition that celebrates and honors WE Rise graduates.
Support WE Rise
Your support empowers the next generation of women and non-binary engineers.