Calendars, Events, & Meetings
Information on several public and internal online CoE calendars.
Descriptions of CoE Conference rooms and how to reserve them.
Event planning checklist and templates for invitations, signage and more.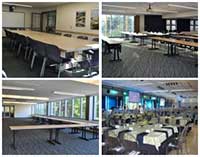 HUB Room Scheduling

HUB Event Services accepts reservations for events and meetings. Read more at Reserve the HUB.