Infrastructure Administration
Information intended to help you and your department develop best practices for space management. Includes links to:
Quick reference - for all buildings

Maintenance Request »
Custodial Work »

Maintenance Emergencies: call 206-685-1411
(5-1411 from a UW landline)
Emergencies include maintenance issues that could cause injury, damage or expense, such as an overflowing toilet, heavily running faucet, etc.
Photo and map indexes of UW Engineering buildings with links to building information. (About Us > Engineering Buildings)
Descriptions of CoE Conference rooms and how to reserve them. (MyCoE > Calendars, Events, & Meetings)
Home page for the Maintenance & Alterations division of UW Facilities Services. Includes FS-Works, the tool for entering work requests.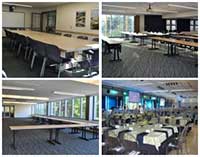 HUB Room Scheduling

HUB Event Services accepts reservations for events and meetings. Read more at Reserve the HUB.