Get Connected
Join the Engineering Community! Attend events, get involved in student organizations and participate in experiential learning opportunities.
Exploration Events Academic Advising Learn from Experience Diversity Programs Mentor Program
UW Engineering Exploration Events
Engineering Welcome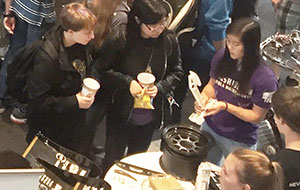 2018 date to be announced
Meet members from student clubs, such as Engineers Without Borders and Society of Women Engineers. Learn what they do and how to get involved.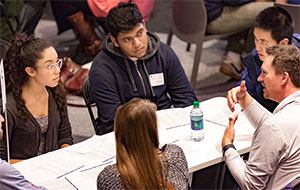 January 2019 date to be announced
A popular event with alumni from companies like Boeing, Amazon and Microsoft. Hear what it's like to be an engineer and ask about engineering fields and careers. Free dinner! More »
Engr. Application Workshops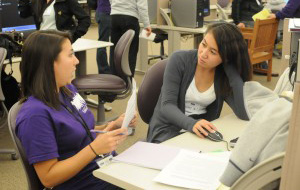 Spring 2018 dates to be announced.
Attend an application workshop to ask questions about the engineering application and get ideas for what to write in your personal statements.

Pre-engineering advisers are available for scheduled appointments, drop-in advising, and group advising sessions. Advisers can help with:
Exploring academic interests
Developing plans for your major
Understanding and completing requirements
Avoiding or overcoming administrative problems
Developing a sense of purpose in your undergraduate education
Learn from Experience

Join one of the dozens of engineering clubs to get to know fellow students and develop key teamwork and leadership skills. Club focuses include:
Clubs that compete in international competitions by designing and building racecars, bridges, canoes and more
UW chapters of professional societies that provide career development and networking opportunities
Service and leadership organizations that promote volunteer projects both local and global
Culture or identity-based organizations to connect with people who share your experiences
Want to study abroad but aren't sure how to fit it into your engineering education? Find information about study abroad opportunities tailored specifically for engineering students, from month-long early fall start programs to year or semester-long exchanges.
It's never too early to start developing an internship or job plan! CC@E provides:
Advice on exploring careers and seeking positions
Guidance in establishing an experience portfolio and resume
Networking opportunities with industry
Skill development workshops and events
CC@E houses the Engineering Internship Program, which helps you gain the real-world work experience employers seek. You may even be able to get credit for participating in an internship.
Experiential learning is a key part of engineering education at the UW. Your capstone project allows you to complete a substantial engineering project from start to finish, often in coordination with an industry partner. You can also take part in undergraduate research opportunities with faculty.
You can even enter your projects in the Buerk Center for Entrepreneurship competitions to gain recognition and funding for further development.

Diversity programs provide financial, social, academic and cultural support for engineering students to help them achieve their potential and dreams.
Provides workshops for help in introductory math, physics and chemistry courses.
Promotes academic excellence, facilitates leadership skills and fosters community. Participate in Workshops and Seminars as a supplement to prerequisite classes.
Provides a specialized curriculum to students admitted to the program, who must be incoming freshman eligible for financial aid.
Builds social connections for women in science and engineering though an annual conference, a first-year academic program, and other events.

The Mentor Program connects students with both peer and alumni mentors. Peer mentors are upper-division engineering students who are ready to answer your questions and talk to you about their experiences studying engineering. Alumni mentors help current engineering students learn from someone who was once in their shoes.
Search the mentor list to find mentors whose interests align with your own. Ask them questions, hear about their experiences and get some friendly advice!