Assistant Professor, Electrical Engineering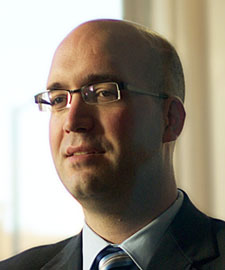 Ph.D. Electrical Engineering, Massachusetts Institute of Technology, 2011
M.S. Electrical Engineering, Massachusetts Institute of Technology, 2006
B.S. EE University of Wisconsin- Madison, 2004
Brandon Pierquet joins Electrical Engineering from Enphase Energy. In his role as senior design engineer at Enphase, he developed grid-tied power converters for distributed solar applications.
His research focuses on the design of electronic systems, specifically in power electronics and their control. This includes applications in smart-grids, photovoltaic systems, electric vehicles, and high-efficiency circuits.
Brandon's honors include a National Defense Science and Engineering Graduate Fellowship, and a NSF Graduate Research Fellowship, Honorable Mention.