Assistant Professor, Computer Science & Engineering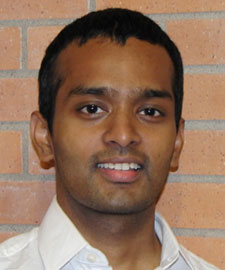 Ph.D. Electrical Engineering and Computer Science, Massachusetts Institute of Technology, 2012
M.S. Electrical Engineering and Computer Science, Massachusetts Institute of Technology, 2008
B.Tech Indian Institute of Technology, Madras, 2006
Shyamnath Gollakota joins Computer Science & Engineering from the Massachusetts Institute of Technology where he recently completed his Ph.D.
His research goal is to design and build new protocols and systems that improve the performance and security of wireless networks. His interdisciplinary approach to system design combines network protocols with physical layer signal transmissions to improve performance. He developed a system that protects medical implants from attacks that could change or spy on a patient's treatment plan.
Shyamnath's honors include the AT&T Best Applied Security Paper Award, the SIGCOMM Best Paper Award (2011 & 2008), the William A. Martin SM Thesis Award and the MIT Presidential Fellowship Award.