Engineering First-year Interest Groups, or E-FIGs, are clusters of courses that all Engineering Undeclared (ENGRUD) students register for in their first quarter at the UW.
Engineering FIGs help students make friends, build academic communities, and connect to an Engineering Peer Educator (EPE).
All E-FIGs include ENGR 101 and GEN ST 199
ENGR 101

A large lecture course on different topics in engineering and the variety of engineering majors that lead to work in those areas

GEN ST 199

A linked, small-size course for discussing topics raised in ENGR 101 session and building community with other ENGRUD students. Engineering Peer Educators (EPEs) facilitate these small discussion sections with a ratio of 20-25 first-year students to one EPE.

Some E-FIGs include additional courses
Additional courses in the EFIG

EFIGS vary; some include one or two additional courses, increasing the connection you have with your student group. When you sign up for an EFIG, you are signing up for all the courses associated with that EFIG.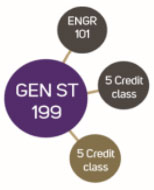 How to register for an E-FIG
Search for an Engineering FIG by going to the UW Search for a FIG page and select "ENGR FIG" in the Type field (on the left sidebar).
Browse the list of E-FIGs for the combination of courses that are the best fit for you.
Select the GEN ST 199 course associated with the E-FIG. When you register for that course, the ENGR 101 and any other courses that are part of that E-FIG will be added to your schedule.
You can read more about the UW Engineering student who will lead your E-FIG on the Meet the Engineering Peer Educators page.