Types of E-FIGs Choosing an E-FIG
Engineering First-year Interest Groups (E-FIGs), are clusters of courses that all engineering undeclared students register for in their first quarter at the UW. E-FIGs help incoming first-year students make friends, build academic communities, and connect to a peer mentor.
All E-FIGs include: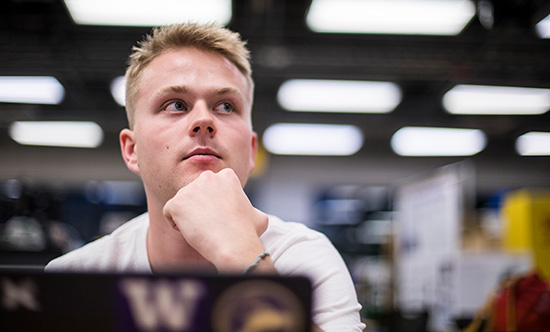 ENGR 101 (1cr): Engineering Exploration
A seminar course that introduces students to the values of the college, the areas of impact as a tool for exploring their interests in engineering, educational planning, and connects students to engaging college faculty and alumni.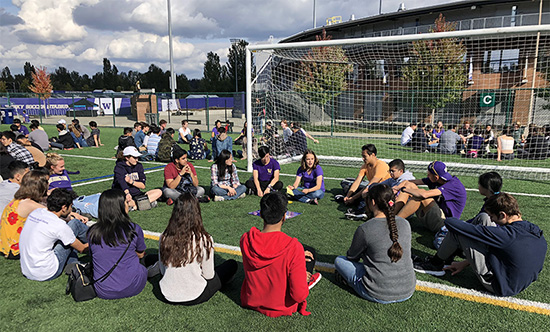 GEN ST 199 (1 cr): University Community
A small, interactive, discussion-based course for students to make meaning of the content shared in ENGR 101, to reflect on their interest in the engineering academic pathways, and to build community with other first-year engineering students. Engineering Peer Educators (EPEs) facilitate these courses with a ratio of 20-25 first-year engineering students to one EPE.
Types of E-FIGs
Standalone E-FIGs
Includes ENGR 101 + GEN ST 199 (2 credits)
Benefits:
Provides flexibility for students to build the rest of their schedules (generally at least 10 more credits) independently.
Good fit for students with advanced credit who may have already satisfied the courses available in clustered options.
May be a good fit for commuters who need more flexibility in their schedules.

Clustered E-FIGs
Includes ENGR 101 + GEN ST 199 + at least one additional course, for example math, chemistry, or English. (5-12 credits)
Benefits:
Built-in ability to form study groups with the small group of students in the GEN ST 199 who will also be in the same clustered course(s).
Can make the UW feel smaller by knowing people across multiple courses.
Flexible options for students to have part of their schedule pre-built (5-7 credits), or up to their entire schedule (12 credits).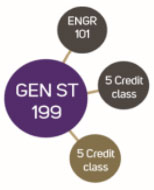 Choosing an E-FIG
Go to the UW Search for a FIG page and select "ENGR FIG" in the Type field (on the left sidebar) to identify the E-FIGs being offered.
Consider the standalone (2 credits) versus clustered (5-12 credits) options by filtering credit amounts on the left sidebar.
Note that the Engineering Peer Educator (EPE) who will be facilitating the GEN ST 199 course is linked to the Meet the Engineering Peer Educators page. Consider selecting an E-FIG that allows you to be connected to an EPE with related identities or interests as you.