As an Engineering Peer Educator, you will gain valuable experience while helping new engineering students succeed in transitioning to college.
Engineering Peer Educators (EPEs) are current engineering students who work with the Engineering Advising staff to develop curriculum and activities for the GEN ST 199: University community component of Engineering First-Year Interest Groups (E-FIGs). All incoming engineering undeclared students take this class in the fall quarter of their first year at the UW. The GEN ST 199 class is facilitated entirely by you, our peer educators.
You, our peer educators, will be facilitating the GEN ST 199 class. Through this experience, you have the opportunity to help incoming engineering undeclared students succeed in their transition to college while enhancing leadership skills that will give you a competitive edge in your career. You will also receive course credit and an award.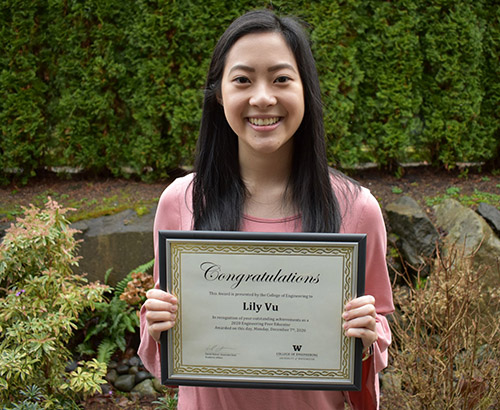 "It has been so fun teaching the GEN ST 199 class weekly and supporting my students in their engineering major exploration process and transition to UW. I've also really enjoyed getting to know all the other EPEs and the engineering advisers. Lastly, I've gained more confidence in public speaking and leadership overall, and I've really improved my communication, time management, and organization skills. If you're someone who is passionate about leadership, mentorship, and networking, I highly recommend applying to be an EPE! It's a really rewarding position and you won't regret it!"

- Lily Vu, 2020 EPE, winner of the 2020 Outstanding Engineering Peer Educator Award
Program description
All students admitted to the College of Engineering through the Direct to College admission process enroll in an Engineering First-year Interest Group (E-FIG) their first autumn quarter. All E-FIGs include ENGR 101 and GEN ST 199.
The autumn-quarter GEN ST 199: University Community classes are composed of groups of 15 to 25 first-year Engineering Undeclared students.
GEN ST 199 is linked to ENGR 101 — a large, lecture-style course designed to introduce students to areas of impact in engineering and the majors offered within the College of Engineering.
As an experienced engineering undergraduate student, an Engineering Peer Educator serves as a facilitator and mentor to first-year Engineering Undeclared students.
GEN ST 199 classes are structured around topics such as major exploration, educational planning, campus resources, academic success strategies, getting involved in student clubs/competition groups, etc.
EPEs tailor activities that help achieve the GEN ST 199 learning outcomes and support new Engineering Undeclared students as they develop confidence in navigating the UW.
Primary responsibilities
Mentor
Welcome new Engineering Undeclared students to UW.
Answer students' questions about UW and the College of Engineering.
Support students' exploration of engineering areas of impact and majors.
Support new students' adjustment to UW; help them feel connected to the College of Engineering community.
Help connect students to university resources.
Share personal experience as an engineering student.
Facilitate
Prepare for GEN ST 199 class meetings.
Personalize the GEN ST 199 lesson plan templates to reflect your teaching style.
Lead meaningful discussions and activities (for example, that help students make meaning out of ENGR 101 content).
Teach new students to utilize academic planning resources such as the engineering major requirement sheets and MyPlan.
Record students' completed assignments and grades using Canvas.
Provide thoughtful feedback on students' assignments.
Track students' class attendance in Canvas.
Collaborate with Engineering Advising staff
Meet weekly with the Program Director, Lead EPE(s) and fellow EPEs for ENGR 498 in spring and fall quarters.
Communicate frequently with the Lead EPE(s) and Program Director about any student issues or class concerns (for example, if a student is not attending GEN ST 199 class).
Serve as a member of the Engineering Peer Educator team
Actively engage in all EPE training and meetings.
Share thoughts and ideas about the GEN ST 199 curriculum in one-on-ones with engineering advisers in spring and autumn.
Build relationships with fellow EPEs.
Utilize fellow EPEs as resources.
Learning outcomes
As a result of serving as Engineering Peer Educators, students will be able to:
Build effective relationships with people who may be different.
Communicate effectively through a variety of modes (email, phone, public speaking).
Develop greater confidence as a leader on campus.
Support new students in their transition to the UW College of Engineering community.
Create an engaging class experience that contributes to Engineering Undeclared students' achievement of the GEN ST 199 learning outcomes.
Value an intentional exploration and discernment process.
Time and course commitments
Attendance at all EPE meetings, trainings, and GEN ST 199 classes is mandatory. Dates are subject to change.
Winter 2024
Attend the EPE Orientation: Wednesday, February 28, 2024, 4:00 p.m. – 7:00 p.m.
Record your "Welcome to UW!" video clip
Meet with your EPE Accountabilibuddy
Spring 2024
Tentative: Participate fully in the EPE Retreat, April 6, 2024
Register and earn CR for ENGR 495: Engineering Leadership. In this class, you will receive training on topics such as transition theory, public speaking, discussion facilitation, lesson plan development and leadership.

Fridays, 3:30 – 4:50 p.m.

Your schedule must accommodate the class times to be able to participate in the program.
EPE check-in 1: individual meeting with Engineering Peer Educator Leadership Team to articulate goals for the year
Summer 2024
Participate in at least one engineering new student advising and orientation virtually over Zoom July & August (~1 hour commitment for each session).
Continue to revise GEN ST 199 lesson plans.
Fall 2024
Attend EPE program pre-quarter training: Monday, September 23rd, 2024 – hold full 8:00 a.m. – 5:00 p.m.
Attend New Husky Welcome Day ("W" photo in Husky Stadium): Sunday, September 22nd, 2024 – hold full 8:00 a.m. – 5:00 p.m.
Teach a section of GEN ST 199. EPEs are responsible for preparing each class session (the curricular framework is provided by the EPE program, but each EPE must prepare personalized lesson plans building on that framework. Much of this will be done during ENGR 498 in spring quarter).
Attend ENGR 498 once a week during autumn quarter in addition to teaching GEN ST 199.

Likely Monday, 3:30 – 4:20 p.m.

EPE check-in 2: individual meeting with Engineering Peer Educator Leadership Team to discuss progress on goals (Oct/Nov)
Complete EPE Final Reflection
Winter 2025
Make contact (in person, phone/text, or email) with each of your students at least once.
Participate in at least one EPE recruitment activity (tabling or info session) in January.
Spring 2025
Make contact (in person, phone/text, or email) with each of your students at least once.
Peer educator qualifications
Enrolled as an undergraduate in the College of Engineering at UW Seattle with an expected graduation date of June 2025 or later.
Passion for helping new students get integrated into the UW College of Engineering community; enthusiasm about the value of the Engineering FIG experience.
Strong organizational and time management skills; demonstrated ability to balance a variety of activities, including academics and extracurricular activities.
Demonstrated involvement on campus or in the community.
Strong interpersonal communication skills: ability to work well with peers, new students, staff; ability to listen and respond to individuals' questions and concerns; ability to help others problem solve and make decisions.
Collaboration skills: be open to learning from and with fellow EPEs and be motivated to tailor/personalize the GEN ST 199 lesson plans with other EPEs.
Public speaking ability: be comfortable presenting in front of an audience of 20–25 people and facilitating discussions.
Commitment: fulfill all responsibilities as an EPE throughout the spring, summer, and autumn quarters of 2024, and maintain contact with Engineering Undeclared cohort during winter and spring 2025.
Good academic standing: have a strong academic record demonstrating effective time management and organization skills.
Program benefits
Due to the support of generous donors, we are now able to provide an anticipated award amount of up to $1,800.
Academic credit hours for Spring 2024 and Autumn 2024.

Spring: ENGR 495: Engineering Leadership (2 credits)
Autumn: ENGR 498 (credits TBD) for continued weekly training and teaching GEN ST 199.