Engineering Design Coaches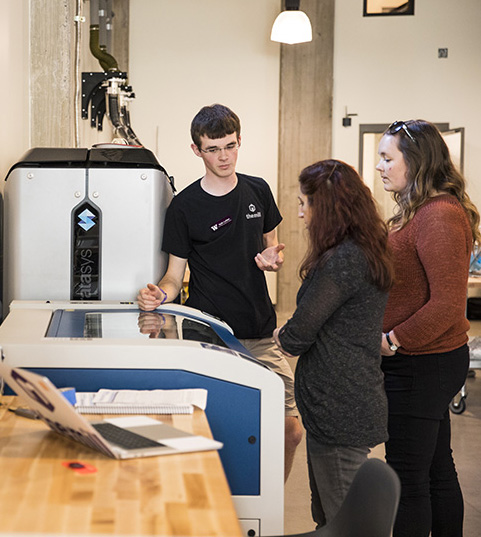 Engineering Design Coaches (EDCs) facilitate the lab sections of ENGR 105: Introduction to Engineering Design. EDCs work with the Instructional Technician of the McCarty Innovation and Learning Lab (MILL) and with TAs to develop the curriculum and activities.
EDCs take ENGR 498: Student Leadership Development in autumn quarter to prepare for facilitating ENGR 105 in winter and/or spring quarter. 
Through this experience, you will:
Help both engineering and non-engineering students explore the fun and possibilities of engineering design
Build leadership and communication skills that will bolster your resume and assist you in your future endeavors
Earn course credit and a scholarship 
About ENGR 105: an intro to engineering design
This course uses a hands-on approach to teach students the fundamental aspects of engineering. Students attend a weekly lecture, build on those skills in a weekly lab, and apply them to a quarter-long project of their own design. The class is offered both winter and spring quarters. 
Most engineering students admitted Direct to College take ENGR 105. The class is also open to non-engineering students. Most students take the class in their first year.
The lab sections meet once a week for three hours. Each section enrolls 10-25 students.
Primary responsibilities: facilitate a weekly lab section
As experienced engineering undergraduate students, EDCs teach and serve as facilitators and mentors to students who are new to the engineering design process.
Facilitate
Prepare for ENGR 105 lab sections by personalizing the ENGR 105 lesson plan templates. The curricular framework is provided by the Instructional Tech and the TAs; you will prepare personalized lesson plans building on that framework. Much of this will be done during ENGR 498 in the fall quarter.
Lead meaningful activities and discussions in class
Teach students how to use makerspace tools such as 3D printers and laser cutters
Record students' participation, attendance, and grades using Canvas
Communicate with TAs and Instructional Technician about any student issues 
Mentor
Guide students through the engineering design process and provide feedback
Empower students to use their creativity and skills in their projects
Support students' exploration of engineering disciplines and applications
Share personal experience as an engineering student
Meet weekly with Instructional Technician, TAs, and fellow EDCs in the fall quarter and in the quarter(s) you serve as an EDC
Serve as a member of the EDC team
Actively engage in all EDC trainings and meetings
Collaborate with Instructional Technician and TAs
Share thoughts and ideas about the ENGR 105 curriculum 
Build relationships with fellow EDCs; consult with and learn from them
Benefits: develop leadership skills, earn course credit and a scholarship
Develop communication and leadership skills
As a result of serving as Engineering Design Coaches, students will be able to:
Build effective relationships with people from varying backgrounds
Communicate effectively through a variety of modes (email, public speaking, Canvas)
Use critical thinking skills to make decisions
Teach others to use makerspace rapid prototyping tools 
Teach the engineering design process 
Communicate the interdisciplinary nature of engineering
Create an engaging class experience
Additional benefits
1-3 variable ENGR 498: Student Leadership Development credit hours (fall quarter)
$500 scholarship for each quarter served as an EDC, with the potential to earn up to $1,000 if serving both winter and spring
Time and course commitments
Attendance at all EDC meetings, trainings, and ENGR 105 lab sections is mandatory. Dates and times are subject to change.
Fall 
Attend the EDC welcome social, held on the Monday before classes begin
Complete ENGR 498 Student Leadership Development, which covers public speaking, discussion facilitation, lesson plan development, makerspace tools, and leadership. Class is held twice a week, 2-3 hours per week. Note: Your schedule must accommodate the class times to be able to participate in the program
Attend a check-in with the instructional technician and TA to articulate your goals
Winter/spring 
Teach one weekly lab section of ENGR 105. Labs are held on Wednesdays and Thursdays, 12:00-2:50 p.m. and 3:00-5:50 p.m., and on Fridays from 9:00-11:50 a.m. Note: You must be able to attend at least one entire lab section in order to participate in a given quarter
Attend weekly meetings with TAs and the Instructional Tech for continued training
Attend an EDC check-in with the instructional technician and TA in January/early February to discuss progress on your goals
Note: Selection for participation in winter and spring quarters is dependent upon class performance and scheduling availability. Participants who perform well in the class and have the needed availability may be eligible to participate for both winter and spring quarters. Participants who perform well in the class, but have scheduling conflicts with lab sections during winter quarter, will be given priority for assignment as an EDC in spring quarter.
Qualifications
Enrolled as an undergraduate in the College of Engineering at UW Seattle through the period of serving as an EDC 
Passion for helping students explore engineering and build projects
Strong organizational and time management skills
Ability to work well with peers, new students, staff; ability to listen and respond to individuals' questions and concerns; ability to help others problem solve and make decisions
A willingness to learn from and work with fellow EDCs and be motivated to tailor/personalize the ENGR 105 lab lesson plans with other EDCs
Be comfortable presenting in front of an audience of up to 25 people and facilitating discussions, or possess the commitment to building these skills
A commitment to fulfilling all responsibilities as an EDC throughout the fall, winter and/or spring quarters
A strong academic record