As an Engineering Ambassador, you'll develop meaningful leadership skills while sharing your passion for engineering with the community.
Engineering Ambassadors (EAs) are undergraduate students in the College of Engineering who represent the College at events and activities on campus and across Washington state. Audiences primarily include prospective students in K-12 schools, Washington state community and technical colleges and community-based organizations.
By serving as an EA you will help inspire future generations of engineering students, earn a scholarship and enhance your leadership skills.
Interested in joining? Contact us at engradv@uw.edu for more information.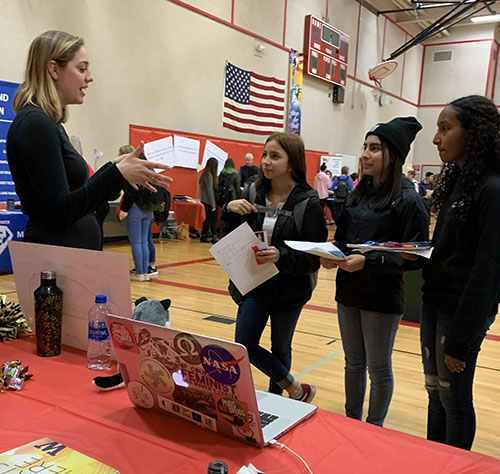 Program description
The UW Engineering Ambassador program seeks to empower our current engineering students to be agents of change, by inspiring future Huskies to pursue STEM careers. Through engaging presentations and interactive activities, EAs share what motivates them to pursue STEM, the types of work engineers do, and the pathway to study engineering at the UW. While EAs reach a wide audience, they are specifically focused on providing outreach to communities historically underrepresented in STEM fields (e.g. African American, Indigenous, Latinx, low-income, women, and first generation populations).
The UW Engineering Ambassador program is part of the National Engineering Ambassador Network (EAN) whose mission is to redefine the conventional ideas surrounding science, technology, engineering and math (STEM). STEM education and work is commonly seen as intimidating, difficult and uninviting. EAN is determined to change the narrative by showing K-14 students and the community how much joy there really is in the world of engineering.
Primary responsibilities
Create materials for outreach, including presentations, activities, etc.
Respond to requests for EA presentations or one-on-one connections with prospective students
Lead presentations and activities
Serve as a CoE representative at CoE signature events
Participate in student panels to share information about opportunities at the UW and CoE
Attend engineering and STEM Fairs
Learning outcomes
As a result of serving as an Engineering Ambassador, students will be able to:
Reflect on their own educational journey
Value the importance of diversity, equity & inclusion in STEM
Communicate effectively through a variety of modes (email, public speaking)
Tailor interactive presentations and activities to the appropriate audience
Develop greater confidence as a leader on campus
Time commitments
Participate in Engineering Ambassador Network training (two weekends in November)
Attend weekly one-hour EA meetings during each quarter (weekdays; typically 5:00-6:00 p.m.)
Volunteer for at least three events each quarter, typically 1-2 hours per event
Complete a background check and 2 online training modules (about 40 minutes) through the Office for Youth Programs Development and Support; this is required for our work with minors
Attend one diversity, equity and inclusion training each year (varies but typically 3 hours)
Serve as a CoE rep/leader at Admitted Student Preview (April) and Transfer Student Preview Day (December)
Attend the EAN Workshop weekend events (detailed TBD)
Attend 2 regular shifts per month (2 hours per shift)
Attend the EA team meetings every week
Create a My College of Engineering presentation
Create 2 outreach presentations quarterly
Present at 2 EA sponsored events
Participate in a sponsored UW event quarterly (i.e. Transfer workshop, prospective student event, UW admissions live chats and panels, etc.)
Engineering Ambassador qualifications
Current undergraduate student in the College of Engineering
Good academic standing; a strong academic record demonstrating effective time management and organization skills
Eager to develop exceptional communication and leadership abilities
Enthusiastic about engineering
Reliable and willing to commit time to an awesome team that serves the outreach goals of the College of Engineering
Program benefits
Develop skills and boost your resume: perfect your elevator pitch and develop leadership, communication and public speaking skills
Build community: welcome and support future members of our community while connecting with your peers across our 12 undergraduate majors
Make a big impact: encourage prospective students to explore STEM, introduce them to the UW and the College of the Engineering and provide them with the tools needed to be successful in their first quarters at UW
Mentorship: receive training and mentorship throughout the program, access ambassador-only career development/networking opportunities and receive letters of recommendation on request
$1,000 scholarship (disbursed quarterly after completion of program requirements)