As an Engineering Ambassador, you'll develop meaningful leadership skills while sharing your passion for engineering with the community.
Engineering Ambassadors (EAs) are undergraduate students in the College of Engineering who represent the College at events and activities on campus and across Washington state. Audiences primarily include prospective students in K-12 schools, Washington state community and technical colleges and community-based organizations.
By serving as an EA you will help inspire future generations of engineering students and enhance your leadership skills.
Interested in joining? Contact us at engradv@uw.edu for more information.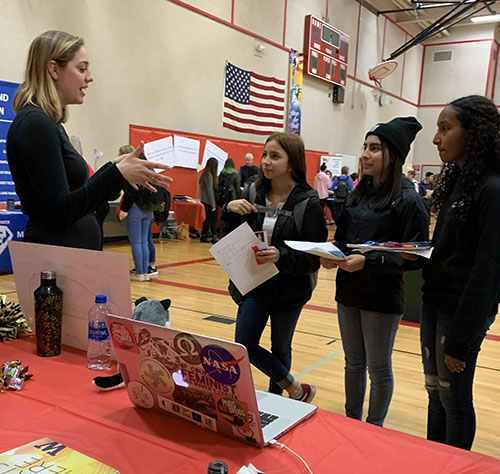 Program description
The Engineering Ambassador (EA) program inspires Washington state communities to explore the ways engineers make a difference in the world. Engineering Ambassadors are undergraduate leaders who conduct outreach and recruitment activities for K-12 youth and Community & Technical College students, focused on increasing access to communities underrepresented in STEM.
We believe that careers in engineering empower diverse teams of problem-solvers to make a meaningful impact. Driven by that belief, Engineering Ambassadors are dedicated to educating future Huskies about pathways to engineering at the University of Washington.
Primary responsibilities
Lead recruitment & outreach activities including presentations, walking tours, campus visits, and more
Serve as a student representative at signature events in the College of Engineering
Participate in student panels and virtual one-on-ones to share information about opportunities at the UW and the College of Engineering
Attend engineering and STEM Fairs to encourage prospective students to apply to UW Engineering
Learning outcomes
As a result of serving as an Engineering Ambassador, students will be able to:
Grow as socially-responsible leaders
Design & facilitate intentional learning experiences
Embody the College of Engineering commitment to engineering excellence
Time commitments
Winter 2024
Attend the ELE Orientation: Wednesday, February 28, 2024, 4:00 p.m. – 7:00 p.m.
Spring 2024
Participate in the ELE Retreat, Saturday, April 6, 2024
Register and earn CR for ENGR 495. In this class, you will receive training on topics such as public speaking, facilitation, lesson plan development and leadership.

Fridays, 3:30 – 4:50 p.m.
Your schedule must accommodate the class times to be able to participate in the program.
Fall-Spring 2024-2025
Attend ELE program pre-quarter training: Monday September 23, 2024, 8:00 a.m. – 5:00 p.m.
Attend weekly one-hour EA meetings (Tuesdays, 5:30-6:30 p.m.)
Attend and contribute to weekly committee meetings
Participate in at least four events each quarter, typically 1-2 hours per event
Engineering Ambassador qualifications
Enrolled as an undergraduate in the College of Engineering at UW Seattle with an expected graduation date of June 2025 or later.
Good academic standing; a strong academic record demonstrating effective time management and organization skills
Eager to develop exceptional communication and leadership abilities
Enthusiastic about engineering
Passion for increasing equitable access to engineering and postsecondary opportunities for communities underrepresented in STEM
Program benefits
Develop skills to contribute to your resumem, including leadership, communication and public speaking
Build community: welcome and support future members of our community while connecting with your peers across all College of Engineering undergraduate majors
Make a big impact: encourage prospective students to explore STEM, introduce them to the UW and the College of Engineering
2 Academic credit hours for Spring 2024 (ENGR 495: Engineering Leadership)
Due to the support of generous donors, we are now able to provide an anticipated award amount of up to $1800.