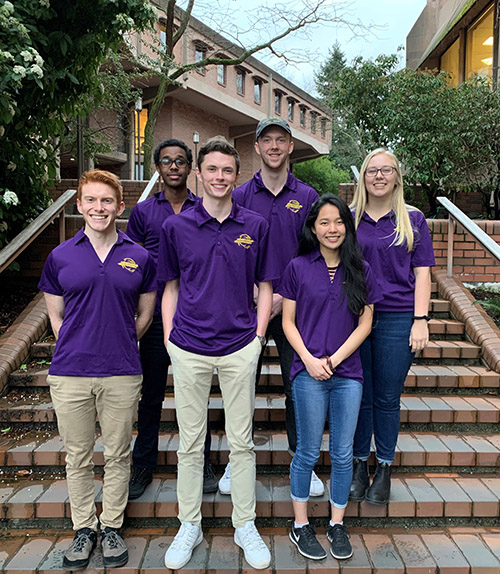 Engineering Ambassadors (EAs) are undergraduate students in the College of Engineering who engage with K-14 students. Through engaging presentations and interactive activities, EAs share what motivates them to pursue STEM, the types of work engineers do, and the pathway to study engineering at the UW. The presentations serve as a bridge between classroom theory and the application of math, science, and communication skills in the engineering field. EA services are offered free of charge.
Educators: Invite the Engineering Ambassadors to your classroom
To request a visit from the Engineering Ambassadors, fill out the Engineering Ambassadors Request Form.
Students: Connect with a Husky Engineering Ambassador
The Engineering Ambassadors represent many majors and areas of expertise. They're excited to share their experiences, from how they chose UW and their major, to tips for navigating the university selection process. Get to know the Ambassadors, then ask them questions via email at engambassador@uw.edu.
You may also request a "Connect with a Husky Engineering Ambassador" virtual meeting. Send an email to engambassador@uw.edu with the following information: Subject line: Connect with a Husky Engineer Request. Body: Your name, hometown, dates/times that you are available (EAs are available M-F, 8:00 a.m. - 6:00 p.m.), and anything that you would like your student ambassador to know about you (please include any academic interests, accessibility requirements, current grade and current school). Please allow up to 3 business days for a response.