College of Engineering Awards
The College of Engineering Awards acknowledge the extraordinary efforts of the college's teaching and research assistants, staff, and faculty members.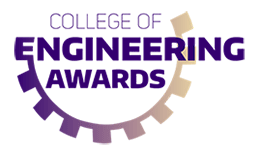 Nominations
During the month of February, students, staff, and faculty members can submit online nominations for these awards. After all nominations have been received, they are reviewed by ad hoc committees who recommend the top candidates to the Dean for the final decision. Award recipients are selected in early May and are notified directly by the Dean.
Awardees and nominees are acknowledged at a college-wide reception at the end of the academic year.
2019 College of Engineering Awards Nominees
Faculty Innovator: Teaching
Julie Kientz (HCDE)
Faculty Innovator: Research
Christine Luscombe (MSE)
Mark Zachry (HCDE)
Su-In Lee (CSE)

Faculty Innovator: Junior
Elizabeth Nance (ChemE)
Cole DeForest (ChemE)
Leah Findlater (HCDE)
Arka Majumdar (ECE)
Student Innovator: Teaching
Alvin Cao (ECE)
Ryan Elliot (ECE)
Kristin Dew (HCDE)
Bao Nguyen Quoc (CEE)
Student Innovator: Research
Bowen Li (BioE)
Zheng Tang (ECE)
Cindy Bennett (HCDE)
Minjoon Seo (CSE)
Staff Innovator: Classified
Jean Ishac (ECE)
Tatyana Galenko (MSE)
Staff Innovator: Professional
Scott Rivers (HCDE)
Kelly Thornton (Collaboration Core)
Elric Bills (Dean's Office)
Suzanne Offen (Collaboration Core)
Dave Drischell (ChemE)
Team Award
Algorithmic Foundations of Data Science Institute: Maryam Fazel (ECE), Sham Kakade (CSE) and Yin Tat Lee (CSE)
Academic Advising Team, HCDE: Pat Reilly, Kathleen Rascon and Alex Llapitan
Paul G. Allen CSE2 Move Team: Tracy Erbeck, Sophie Ostlund, Aaron Timss, Alex Lefort, Adrian Dela Cruz, Stephen Spencer, Rob Prieto, Emma Gebben, Rebekah Hansen, Fred Videon, Mark Murray, Della Welch, Jan Sanislo, Voradesh Yenbut, Nancy Burr, Jason Howe, Dan Boren, and Alex Eckerman