College of Engineering Awards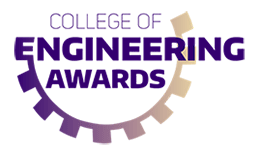 The 2017 College of Engineering Awards will take place on Thursday, May 25 at 3:30 p.m. in the South Ballroom of the Husky Union Building.
Faculty, students and staff are encouraged to attend.
2017 College of Engineering Awardees
Steve Brunton, Mechanical Engineering
Bruce Darling, Electrical Engineering
Suzie Pun, Bioengineering
Sean Munson, Human Centered Design & Engineering
Julian Yamaura, Civil & Environmental Engineering
Kerem Özcan, Human Centered Design & Engineering
Kayla Sprenger, Chemical Engineering
Aditya Vashistha, Paul G. Allen School of Computer Science & Engineering
Keshia Peters, Mechanical Engineering
Adam Swarm, Molecular Engineering & Sciences Institute
2017 College of Engineering Awards Nominees
Faculty Awards
Teaching
Steve Brunton (ME)
Bruce Darling (EE)
Carlos Guestrin (CSE)
Dianne Hendricks (BioE)
James Hermanson (AA)
Christine Luscombe (MSE)
John Sahr (EE)
Alyssa Taylor (BioE)
Linda Wagner (HCDE)
Student Awards
Teaching
Alissa Bleem (BioE)
Ahmad Milyani (EE)
Zachary Neale (MSE)
Kerem Ozcan (HCDE)
Behnoosh Parsa (ME)
Nikita Taparia (ME)
Jonathan Witt (ChemE)
Julian Yamaura (CEE)
Research
Michael Dodd (AA)
Sarah Fox (HCDE)
Heta Kosonen (CEE)
Junwei Li (MSE)
Thomas Pryor (AA)
Kayla Sprenger (ChemE)
Jihoon Suh (HCDE)
Aditya Vashistha (CSE)
Hiromi Yasuda (AA)
Staff Awards
Professional
Raven Alexander (CSE)
Scott Bellman (Do-IT)
Jim Borgford-Parnell (Dean's Office)
Sonya Cunningham (Dean's Office)
Hassan Ghajar (EE)
Jason Howe (CSE)
Allen Lee (HCDE)
Alex Llapitan (HCDE)
Keshia Peters (ME)
Scott Winter (Dean's Office)
J. Sean Yeung (CEE)
Classified
Amanda McCracken (EE)
Adam Swarm (MOIES and CEI)
Chiemi Yamaoka (CSE)
About the Awards
The College of Engineering Awards acknowledge the extraordinary efforts of the college's teaching and research assistants, staff, and faculty members. The categories are:
During the month of February, students, staff, and faculty members can submit online nominations for these awards. After all nominations have been received, they are reviewed by ad hoc committees who recommend the top candidates to the Dean for the final decision. Award recipients are selected in early May and are notified directly by the Dean.
Awardees and nominees are acknowledged at a college-wide reception at the end of the academic year.