Women in Science & Engineering Conference
The WiSE Conference is a celebration of women in engineering. The day of educational and professional enrichment brings university, college and pre-college students together with faculty, administrators, and professionals.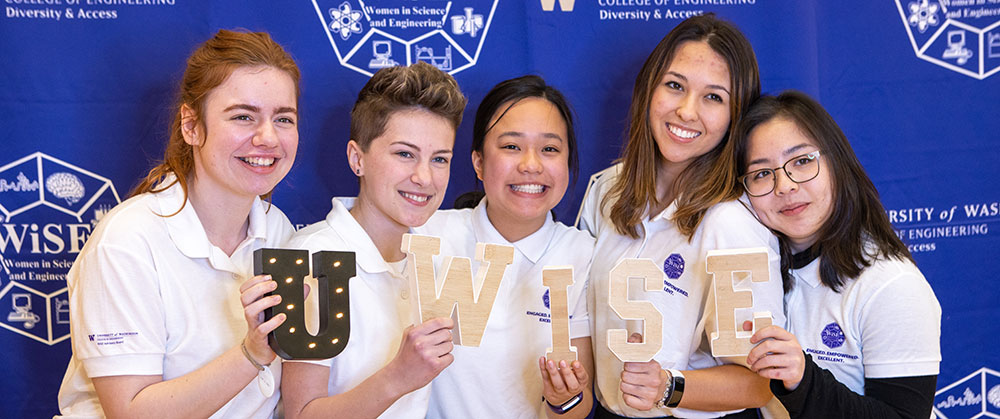 Engaged. Empowered. Excellent.
30th Annual Conference
Saturday, February 27, 2021
9:00 a.m. – 1:30 p.m.
The 2021 WiSE Conference will take place virtually
Schedule at a Glance
Morning
9:00

Welcome and Opening Conference Keynote

Dr. Nancy Albritton
Frank & Julie Jungers Dean of UW Engineering

About Dr. Nancy Albritton

Nancy Allbritton joined the University of Washington as the Frank & Julie Jungers Dean of Engineering in November 2019, where she serves as the chief academic officer of the college and provides leadership to over 279 faculty, 500 staff and more than 8,000 students. The College of Engineering is a top-15 nationally ranked public university program with annual research expenditures exceeding $159 million. Prior to joining the UW, Nancy led the Joint Department of Biomedical Engineering at the University of North Carolina at Chapel Hill and North Carolina State University which spans two universities and three colleges.

Nancy is an international expert on multiplexed single-cell assays, microfabricated platforms for high-content cytometry combined with cell sorting, and microengineered stem-cell-based systems for recapitulating human organ-level function. Four companies have been formed based on her research discoveries: Protein Simple (acquired by Bio-Techne in 2014), Intellego, Cell Microsystems, and Altis Biosystems. Nancy holds an appointment in the UW's Department of Bioengineering. She has been nationally recognized for her research and is a fellow of the American Association for the Advancement of Science, the American Institute for Medical & Biological Engineering and the National Academy of Inventors.

9:50

Workshop Session 1

Workshop themes

Educational Goals and Outreach

Careers in Engineering
Careers in Science
Demystifying Graduate School: MS, PhD and beyond
College 101: Coaching the Transition (Pre-College)

Career Management and Development

Cloudy with a Chance of Career Growth
How to Network for Those Who Hate Networking
Play It to Win: Strategies for Millennials Starting in Corporate America

Inclusion & Cultural Awareness

Black Girl Magic: Managing the Myths and Microaggressions
Unique by Design

Leadership and Self-Management

Alone Among Many: Finding New Community Connections as a Transplant
Managing the Imposter Syndrome
Recruiting Your Personal Board of Directors
Why We're Asking the Wrong Questions for Career Success

10:45

Coffee Break and Tech Talks

Oracle: Integrated Cloud Applications and Platform Services

SalesForce: Cloud-based Software and Customer Relations Management

GLUMAC: Engineers for a sustainable future™ A Tetra Tech Company

The Hidden Side of AI

11:15

Workshop Session 2

Conversations repeated from 9:50 Session 1
Afternoon
12:15

Closing and Final Keynote

Dr. Ershela Sims
South Carolina School of Science and Mathematics Interim President, Senior Vice President for Virtual & Outreach
Women in Engineering ProActive Network, Inc. (WEPAN) Executive Director

About Dr. Ershela Sims

Ershela earned her BSE in Biomedical Engineering from Duke University and PhD in Biomedical Engineering from the University of NC at Chapel Hill. She is a member of several professional associations including the National Society of Black Engineers (NSBE), American Society for Engineering Education (ASEE), and Biomedical Engineering Society (BMES). Dr. Sims is a recipient of the NSBE Dr. Janice A. Lumpkin Educator of the Year Golden Torch Award and co-recipient of the National Science Teachers Association Vernier Technology Award. She also serves on multiple boards including the Clemson General Engineering Advisory Board, the Florence-Darlington Technical College Board of Trustees, and NSBE Healthcare Innovation Special Interest Group.

1:00

2021 WiSE Conference Ends

1:00-1:30

Post Conference Reception
Past WiSE Conferences
---
2021 WiSE Sponsors
Thank you to the following 2021 WiSE Conference sponsor, along with UW Engineering Student Academic Services and Diversity & Access.