STARS - page top logo and photos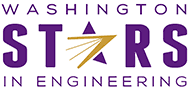 The STARS Program
Washington STate Academic RedShirt (STARS) helps students build skills and support systems to successfully navigate the challenges they will encounter in pursuing engineering degrees.
STARS is a 2-year program with a specialized curriculum designed to build learning skills and academic preparation. STARS students can expect to complete their engineering degrees within five years—only 1 to 2 quarters longer than the average time to earn an engineering degree at UW.
Learn about recent developments in the STARS program on STARS in the Media.
Who should apply?
STARS candidates are:
From economically disadvantaged and educationally underserved backgrounds.
Applicants to the University of Washington as incoming first-year students (in order to participate, applicants must also be admitted to UW).
How the program helps
STARS students who maintain a cumulative GPA of 3.00 or higher and fulfill all program requirements:
Are more likely to obtain degrees in engineering.
Bypass the competitive application process to engineering programs.
Can expect to complete their degrees in 5 years, only 1 or 2 quarters longer than average for engineering degrees.
Skills Building and Support
Engineering programs have among the most demanding curricula at the college level. All students pursuing engineering degrees encounter academic challenges. The STARS program is designed to help participants build the necessary skills and support systems to successfully navigate the challenges they encounter as they pursue engineering degrees. The program provides:
A specialized and individualized first-year curriculum.
Supplemental instruction and advising support in the second year.
A supportive community of peers, faculty, and staff.
Comprehensive and individualized academic advising.
Opportunities for faculty mentorship and research experience.
Access to scholarships and financial aid resources.
Career and professional development opportunities.
Tutoring and instructional support in the Engineering Academic Center.
Admission to an Engineering Department
Upon successfully completing STARS requirements, students are guaranteed admission to a UW engineering department. While the most intensive portion of the STARS program occurs during the first year, students will be expected to meet second-year requirements to maintain departmental admission.
First-Year Requirements
Actively participating in all community-building activities, including Transition Week
Taking all required STARS courses and workshops.
Completing all graded courses with a grade of 2.5 or higher and earning credit in all credit/no credit courses.
Attending at least two academic advising appointments per quarter.
Earning at least a 3.00 cumulative GPA at the end of the year.
Second-Year Requirements
Continuation in the major department is contingent upon successfully completing all second-year requirements, including:
Completing STARS Physics Prep Course (if physics is required for your preferred engineering major).
Taking and receiving credit for supplemental instruction workshops for all engineering pre-requisites. These are one-credit courses that support student success in Calculus I, II and III; Math 307/08; Chemistry I and II; and Physics I and II.
Actively participating in all academic, career, and community-building activities.
Attending at least one academic advising appointment in the Autumn and Spring quarters.
To learn more about the traditional admission process to engineering departments, visit Undergraduate Admissions.
Living on Campus
STARS students are required to live on-campus and in the UW Engineering Living Learning Community for both freshman and sophomore years. Engineering community residents build relationships and a sense of community through attending classes and studying together, participating in industry and networking events, and hanging out in the Area 01 makerspace. STARS is unable to provide financial assistance to help cover the cost of on-campus housing.
More Degrees Earned
The most significant benefit of the STARS program is that it helps students successfully earn an engineering degree. Less than half of entering freshman engineering students at the UW go on to complete their degrees. The success rate is even lower for students from low-income backgrounds. The STARS program is designed to improve these outcomes dramatically.
More Quarters to Complete a Degree?
STARS participants complete their engineering degrees in 5 years—only 1-2 quarters longer than the average time-to-degree of 4.5 years.
Who's Eligible for the STARS Program?
A small number of incoming UW freshmen will be invited to apply to the STARS program. To be eligible, a student must:
For information about eligibility, contact Christopher Crawford at starsapp@uw.edu.
Far-reaching Effects
The STARS program benefits not only the STARS participants; they share the knowledge of resources and opportunities that they gain from STARS with their non-STARS peers from similar backgrounds.
About the "Redshirt" Name
No, not "redshirt" in the Star Trek sense…
In NCAA Division I intercollegiate athletics, a focused and talented athlete will occasionally use the freshman year to train to compete at a high level. The athlete practices with the team but does not compete. After the freshman year, the athlete is eligible to compete for four years. "Athletic redshirt year" is the term for this period of time.
The STARS program is similar: the freshman year is devoted to building skills and support systems necessary for the rigorous academic environment of a university engineering curriculum.
Bowling with the STARS
The first cohort of STARS students at UW invited the second year cohort for some bowling. Watch these future engineers find the angles and adjust rotation speed!
STARS funders
Sponsors
Join us in appreciation for support and current-year funding from these organizations:
To become a sponsor of the STARS Program, contact Sharon Dana, 206-543-6908.