STARS - page top logo and photos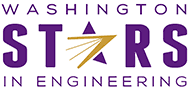 STARS Application
The Washington STate Academic RedShirt (STARS) in Engineering program is a two-year program that supports students who are from economically disadvantaged and educationally underserved backgrounds.
STARS students who maintain a cumulative GPA of 3.00 or higher and fulfill all program requirements:
Are more likely to obtain degrees in engineering.
Bypass the competitive application process to engineering programs.
Can expect to complete their degrees in 5 years, only 1 or 2 quarters longer than average for engineering degrees.
Before you apply, make sure you have familiarized yourself with the STARS program benefits and requirements.
Eligibility
Admission to the STARS program is contingent upon admission to the University of Washington, Seattle.
To be eligible, a student must:
Application Instructions
The application deadline for the STARS program is March 8, 2017.
The application does not have to be completed in one login session. You can save your work at any time and continue working on the application at another time.
Create an account username and password. When you create your account, provide the same email address you provided in your UW application.

You will be required to respond to the following essay prompts. You must adhere to the maximum word count for each prompt as indicated below. Write your essays in a word processing program and paste in your responses to avoid losing your work.

Why are you inspired and motivated to study engineering? Please address, in some depth, the specific nature and extent of your interests in engineering. (500 words max)

The study of engineering requires determination and a willingness to consistently work hard over the course of at least 4-5 years. Please share one or more experiences about a challenging goal that took a long time to achieve. How did you display determination and hard work? Was there a time when you wanted to give up and if so, what did you do? Where did you get help? What did you learn? (500 words max)

Reflect on a time when you challenged a belief or idea. What prompted you to act? Would you make the same decision again? Why or why not? (500 words max)

What are some other important personal qualities that you feel you will bring to the STARS program? Please provide one or more examples where you have demonstrated these qualities. (500 words max)

What one interesting or fun fact would you want future STARS classmates to know about you. (50 words max)
After you apply
Potential STARS participants will be invited to an in-person or Skype interview. Applicants who live within a three-hour drive of Seattle will be expected to interview in-person on the UW campus.
Please note that the STARS admissions process can extend into mid-summer. If you have not heard from us by May 15, do not assume that your application is not still under consideration.
If you are admitted to STARS, you will be asked to complete a Confirmation of Participation Form to formally accept the admission offer.
The 2017 application deadline has passed. Check back for the 2018 deadline.
STARS funders
Sponsors
Join us in appreciation for support and current-year funding from these organizations:
To become a sponsor of the STARS Program, contact Sharon Dana, 206-543-6908.