Program features Accepting admission Your first-year schedule
Welcome to the Engineering Dean's Scholars, a program created to support students who have incredible potential to become excellent engineers.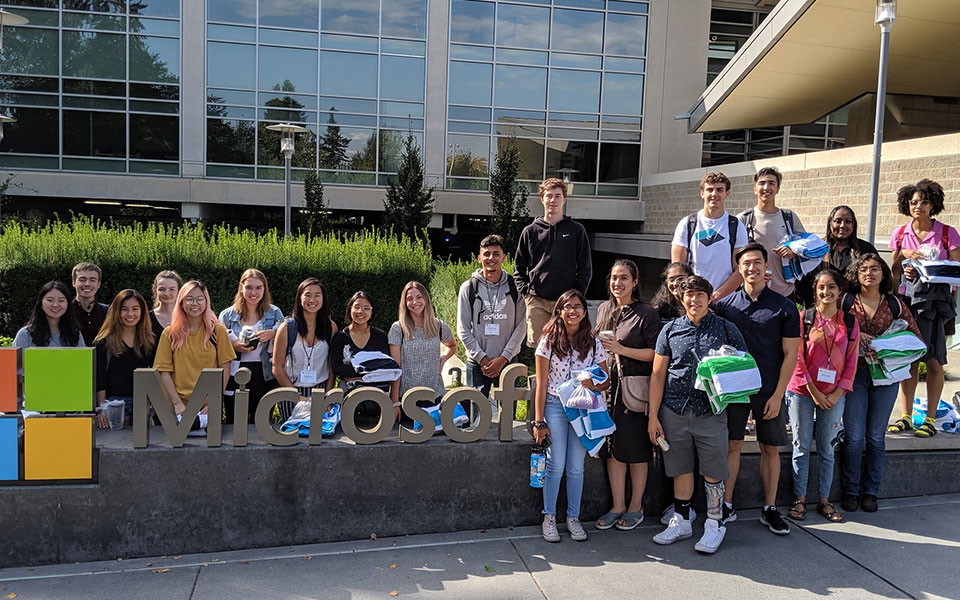 Through holistic programming, you will receive the support and tools needed to transition to life as an engineering student before joining the College and during your first academic year. Through this process, you will learn to navigate the UW, establish yourself on a four-year graduation path and build a network of peers and professionals in the engineering industry.
Diversity, access, equity, inclusion and sovereignty are needed in engineering. As an Engineering Dean's Scholar, you will help broaden the impact of engineering for the betterment of society.
Accepting admission into the program
If selected for the Dean's Scholars program, you will be notified in your offer of admission to the UW and the College of Engineering. When you pay the New Student Enrollment and Orientation Fee (NSEOF) online or request a fee waiver, you accept your offer of admission to the UW, the College of Engineering and the Engineering Dean's Scholars program.
For more information, see the Conditions of Admission included in your mailed offer packet.
Program features
The summer transition program
This part of the program will give you a head start as an engineering student, ensuring that you are set up for success before you even start the academic year. As a result of engaging in the program, you will:
Develop a strong academic foundation

Coursework will focus in math and chemistry, which will be essential to your academic success and to prepare you for the rigor of the engineering curriculum.

Build a support network

You will gain important connections with engineering peers and professionals.

Identify your strengths and work in a team

Facilitated through "Discovering Me" workshops run by the Office of Minority Affairs & Diversity.

Discover engineering

Explore the interdisciplinary nature of engineering by applying engineering principles in UW makerspaces and engineering labs.

Develop friendships

Meet fellow UW students outside the College who are also involved in summer transition programs.
Programming during COVID-19
Due to the COVID-19 pandemic, the summer transition program for Engineering Dean's Scholars 2021 will be held online or as an online/in-person hybrid. The summer transition program for 2021 will be Aug. 22-Sept. 22, Monday-Friday 9:00 a.m.-5:00 p.m. with occasional weekend and evening activities. Leading up to the start of the summer transition program, you will engage in virtual group gatherings on Saturday, June 26 (midafternoon), Saturday, July 17 (midafternoon) and Friday, August 6 (morning) with fellow Engineering Dean's Scholars.
The week before classes start for autumn quarter, you will come to campus for more hands-on activities to help you become familiar with the UW campus. If you are unable to attend in person, you will engage in the activities virtually.
While we anticipate the transition program will be largely held remotely this summer, there will be early arrival housing options if you plan to live on campus during the academic year. Options could include moving on campus for the entirety of the summer transition program or just the week leading into the start of autumn quarter. There are different costs associated with these options. Please work with the Engineering Dean's Scholars Lead, Scott Pinkham, and Student Financial Aid to explore options to fund early move-in.
Holistic academic advising
One of the most significant supports for your educational journey is intentional academic advising that encourages your overall development as a student and future engineering professional. You will be assigned an engineering academic adviser and an adviser within the Office of Minority Affairs & Diversity (OMAD) whom you will meet with each quarter during your first year at the UW.
This advising team will ensure you're connected to all UW resources that can support your success both in and out of the classroom. Your advisers will help you explore engineering majors, create your academic plan, identify clubs and competitions groups to get involved with, explore opportunities for scholarships, navigate your housing plans, etc. Your advisers are excited to get to know you, learn about your specific interests and support your educational journey!
The cohort experience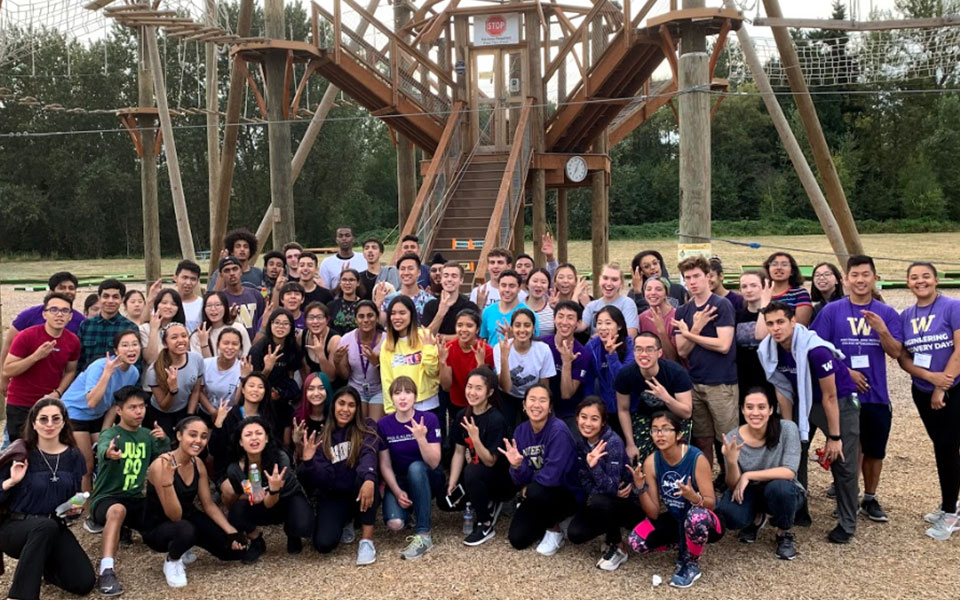 "A cohort is a community, a social and academic family that provides support, inspiration, and educational cohesion..." (from Best Colleges Online). As a Dean's Scholar, you will be a part of a tight-knit cohort of other incoming engineering students. You will take courses together throughout the first year, which will allow you to engage in collaborative study and help you learn to apply concepts through shared knowledge.
In addition, you will attend events outside of the classroom to help you build friendships and a sense of community. Events may include visiting an engineering company, exploring a local Seattle landmark or attending UW events. The cohort experience of the Engineering Dean's Scholars makes the UW feel smaller, provides a home base to explore from and gives a sense of consistency working with people who are sharing a common first year experience.
Your first-year schedule
You will complete a common first year schedule of courses with your Engineering Dean's Scholars cohort. This will ensure you're well-prepared to request placement in an engineering major at the end of your first year and put you on track to complete your engineering degree in four years. These courses will be paired with engineering workshops (ENGR 19Xs) that will provide opportunities for you to practice your skills and will support your success.
The first-year curriculum will meet engineering placement requirements for all engineering departments and count towards graduation requirements. It is acknowledged that you may have credit for some of the listed courses or are pursuing an engineering major that does not require all the courses below. Credits transferred do not always provide an equal nor equitable transition to the rigor and pace of UW courses. By starting with the first calculus course and first general chemistry, you will progress with a strong academic foundation and more confidence in the sequential UW curriculum.
Common first-year schedule
Summer transition program
AUTUMN
WINTER
SPRING
ENGR 201 (3)
MATH 124 (5)
CHEM 142 (5)
ENGR 101 (1)
GEN ST 199 (1)
ENGR 19X (1)
ENGR 19X (1)
ENGR 201 (cont'd.) n/a
MATH 125 (5)
CHEM 152 (5)
ENGL or GEN ED (5)
ENGR 19X (1)
ENGR 19X (1)
MATH 126 (5)
PHYS 121 (5)
ENGL or GEN ED (5)
ENGR 19X (1)
ENGR 19X (1)

ENGR 201 starts in Early Fall Start and continues through autumn quarter. ENGR 19Xs are collaborative academic support courses that correspond with each math, chemistry and physics course.