Diversity & Access Programming
From high school to college graduation, the Office of Diversity & Access helps students achieve their potential and dreams.
The path to becoming an engineer is not easy. Students need encouragement and continuous support to succeed in engineering. The challenge is to bring more voices and minds to engineering to reflect the diversity of our community. Economic, cultural, social, educational, and institutional factors, however, continue to discourage women and underrepresented minorities from pursuing engineering education and rewarding careers in this field.
We offer opportunities and support through a team of dedicated professionals committed to providing all students with an enriched academic experience.
The graduation rate for participants in D&A programs has increased from 82% for students who started in 2007 to 92% for the students who started in 2009 (for graduation within 6 years).
Learn more: K through 12 Outreach | Undergraduate Achievement
K-12 Outreach
Outreach and recruitment programs build the vision of students who otherwise might not consider college, and build the pipeline of talented, diverse students coming in to UW Engineering. They engage students from an early age with science and engineering, generate excitement about college, and support preparation for the rigors of undergraduate study. Combined, these programs reach 7,000 K-12 children annually:
Engineering Discovery Days
An annual event that draws elementary through community college students, their families, and schools to the UW campus for fun, interactive exhibits that demonstrate engineering concepts, research, and contributions to our environment. Learn more about Engineering Discovery Days »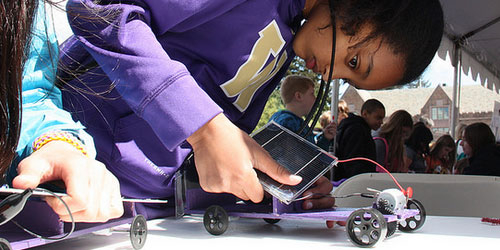 Engineering Discovery Days reaches 7000 K-12 students each year.
Mathematics Academy
A 4-week summer residential program that helps Washington state students develop skills needed for college-level math and engineering courses and explore engineering careers. Learn more about Mathematics Academy »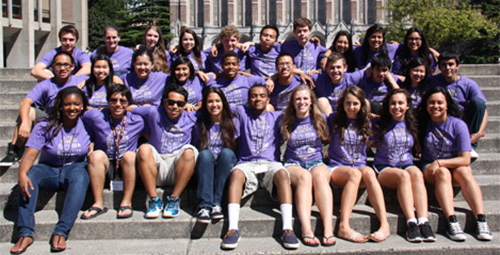 66% of Math Academy participants (out of the last 3 cohorts) attend the UW.
Undergraduate Achievement
Critical to student retention in engineering are services for academic advising and support. Also vital is experiential learning, which influences academic achievement and helps students gain relevant engineering experience. Student societies foster collaboration across disciplines, leadership experience, and a support network of peers. Society members contribute to college-wide recruitment, outreach activities, and serve as ambassadors for various programs.
Engineering Academic Center
A place where white boards are brimming with equations worked over by students to hone the skills they need to succeed in introductory math, physics or chemistry courses. Workshop participants, usually 10 to 20 students, meet twice a week in study groups and form learning communities. Learn more about the Engineering Academic Center »

Underrepresented students engaged in the EAC graduate with STEM degrees at a 60% higher rate than their peers.
Academic Advisers
Advisers encourage students to explore their academic interests, develop plans for their major, and engage in student communities and experiential learning opportunities. Engineering advisers are available by appointment and during drop-in hours Learn more about Academic Advising »
Washington STate Academic RedShirt - (STARS)
Provides high achieving students eligible for financial aid with a first-year curriculum designed to build learning skills, academic preparation, and career awareness. STARS students graduate in five years, bypass the competitive application process to engineering, and are more likely to obtain degrees in engineering. Learn more about Washington STate Academic RedShirt in Engineering »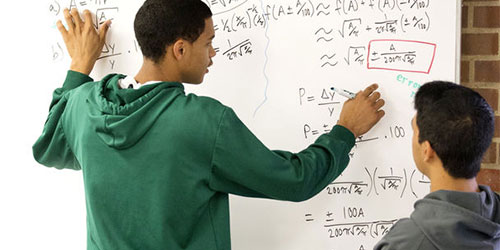 In the first three years of the program, 80% of STARS students were retained in engineering.
Women in Science & Engineering (WiSE)
Women in Science & Engineering brings pre-college, undergraduate, and graduate students together with faculty, administrators, and professional women for engaging presentations and networking events. Simply put, WiSE works: 25% of Bachelor's degrees awarded in engineering disciplines at the UW in 2014-15 went to women, compared to the national average of 20 percent. Learn more about WiSE »

Simply put, WiSE works: 30.3% of Bachelor's degrees awarded in engineering disciplines at the UW in 2018-19 went to women, compared to the national average of 21.9%.
Minority Scholars Engineering Program (MSEP)
An array of summer transition programs, co-enrollment courses, advising, scholarships, academic support, and advocacy for students from underrepresented communities. Learn more about Minority Scholars Engineering Program »