SEEEDS Program - Early Enrichment in Engineering for Dean's Scholars
SEEDS 2020 will be held online

For the health and safety of participants, SEEEDS 2020 will be held online. The time commitment has been reduced as noted below. Some SEEEDS activities will be held during the autumn quarter in accordance with health and safety guidelines.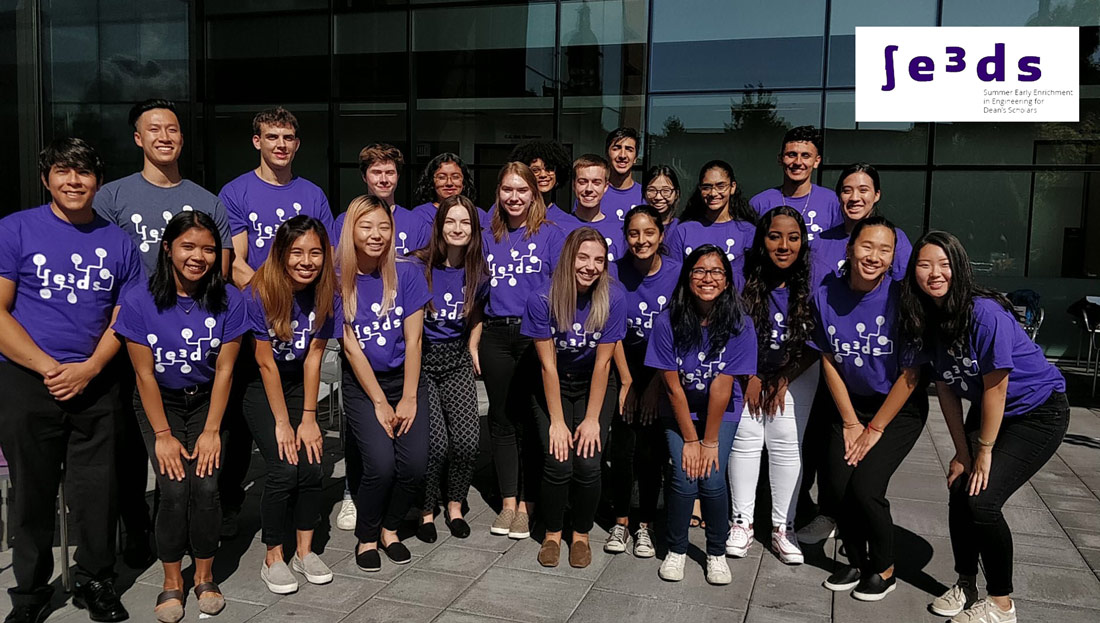 Program duration: August 23 - September 18, 2020

Time commitment: Monday - Friday | 9:00 a.m. to 10:30 a.m. and 11:00 a.m. to 12:30 p.m. with occasional weekend and evening activities

Priority application deadline: April 24, 2020 

Program cost: FREE

 
What is SEEEDS?
Open to select students, the program welcomes students to live in on campus, attend classes in Loew Hall, and eat at student dining locations on the Seattle campus. SEEEDS students gain an academic edge needed for success in UW Engineering and the opportunity to learn from faculty, students and staff. Plus, by arriving on campus before move-in day, students get a head start on learning to navigate the campus! Through the Summer Early Enrichment in Engineering for Dean's Scholars (SEEEDS), experience:
A multi-week transition program for new Direct to College Students
An opportunity to experience the UW prior to the start of the autumn quarter
A chance to engage with College of Engineering students, faculty and staff
A gateway to academic success
Eligibility
This program is for new Direct to College admits for Autumn 2020. Please note: Direct to computer science admits and STARS students are not eligible to participate in SEEEDS as they will have their own transition programs.
Why SEEEDS?
Get a head start on how to navigate the UW and the greater Seattle area
Sharpen your math and chemistry skills
Earn 3 diversity credits through ENGR 201
Establish a support network with peers and professionals
Develop skills to compete for selective programs and scholarships
Program Activities
Take math, chemistry and academic success skill courses to prepare for the rigor of University-level course work
Attend engaging, informative sessions by the UW Office of Minority Affairs & Diversity, the UW Instructional Center, the Center for Learning & Undergraduate Enrichment, and others who can help you adjust to the UW
Apply engineering principles in UW maker spaces or departmental labs
Challenge yourself with team building activities
Tour local companies seeking to diversify their engineering workforce
Interact with other diversity transition programs
Hear from 2019 SEEEDS Alumni
Testimonials
"It was a great opportunity to learn basic concepts in chemistry before the classes start. It taught me what to expect in terms of quality and speed. It was very helpful."
"It was a great opportunity to get a glimpse into what college math level was like, and to have the time to change my courses accordingly."
"Overall, SEEEDS was a great experience because I got to develop a small community before fall classes started. Developing a community of people in such a large campus is extremely important, and that is one of my biggest takeaways from SEEEDS. I know what my resources are now, and I know what I need to do to be successful in engineering at UW."
"SEEEDS is a great way to jump start your academic career at UW, and I highly recommend that new students take advantage of this amazing opportunity. Join SEEEDS!"