The Trend in Engineering - Autumn 2015
Autumn 2015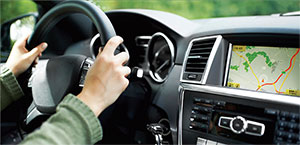 Years ago, the Security and Privacy Research Lab first exposed weaknesses in car computer systems and demonstrated that hackers could remotely control a vehicle. Staying one step ahead of the next cybersecurity challenge, the lab's co-leaders Yoshi Kohno's and Franziska Roesner's current interests include augmented reality technologies that take computer-generated graphics, sound, and videos and project them into a real-world setting. Read more »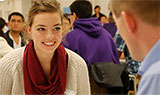 Among the top 50 U.S. engineering schools, the UW has the highest percentage of women in tenure-track engineering faculty positions: 22.4 percent. It's no accident. LEAD is a UW-created workshop that helps create equitable, inclusive environments that work well for all faculty members and is now being developed as an online toolkit that other universities can use. Read more »
The new Career Center @ Engineering (CC@E) is a branch of the UW Career Center to help engineering students develop lifelong career strategy skills. Read more »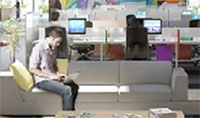 The UW and China's Tsinghua University have created a a new model for international collaboration in higher education with the launch of the Global Innovation Exchange (GIX). As part of GIX, Microsoft has awarded a $10 million gift to kickstart a campaign to build a second Computer Science & Engineering building on the UW campus. Read more »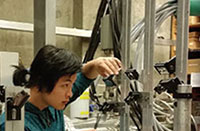 With a $5.3 million U.S. Department of Energy grant, UW researchers will scale up their Sheared Flow Stabilized Z-Pinch device in the hopes of achieving a sustainable fusion reaction. Another group of researchers has released new guidelines to make makerspaces accessible to people with disabilities. The effort is part of a broader NSF-funded AccessEngineering initiative. Read more »
From online shopping and "smart" devices to driverless cars and personal robots, technology continues to improve our lives in extraordinary ways. These same technologies leave a trail sharing who we are, where we go and what we consume. Learn about exciting technological advances and myriad hazards, seen and unseen, of our ever-more connected world at this year's Engineering Lecture Series.
All lectures are free and are held in Kane Hall at 7:30 p.m. Registration is required.

Franziska Roesner, Assistant Professor, Computer Science & Engineering
As our world becomes more computerized and interconnected, we find ourselves increasingly at risk of security breaches and invasions of digital privacy. Recent studies at the UW explored how advertisers, social media sites, and others invisibly track your browsing, and how smartphone applications are able to access your camera, location, and other sensitive information in ways you may not expect. Learn about improved systems, currently being developed at the UW, that make web browsing safer and smart phones better match people's expectations.

Dieter Fox, Professor, Computer Science & Engineering and Director of the UW Robotics and State Estimation Lab
Robots have become increasingly smarter, cheaper and more effective. Much of this progress came about because of the introduction of small, inexpensive video cameras that are commonly used in gaming applications like Microsoft Kinect. These cameras provide color and depth information that enable robots to see and interact with the world in 3D. Join us to learn more about how robots are learning to perform 3D mapping, recognize and manipulate objects, and track human movement and poses.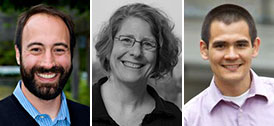 Ryan Calo, Assistant Professor, School of Law & Co-Director, UW Tech Policy Lab
Batya Friedman, Professor, Information School & Co-Director, UW Tech Policy Lab
Tadayoshi Kohno, Short-Dooley Professor, Computer Science & Engineering & Co-Director, UW Tech Policy Lab
Engineering innovations drive changes in how people interact, socialize, conduct business, raise their children, and care for the elderly.  New technologies emerge and enter the marketplace at an incredibly rapid rate, and bring with them benefits and risks. Policy, society's regulator, hastens afterward.   What does it mean to innovate responsibly, particularly with respect to privacy and security?  Join us for a presentation and panel discussion with the UW Tech Policy Lab, an interdisciplinary center uniquely positioned to address these issues.