College News
COLLEGE NEWS

UW and Tsinghua University create groundbreaking partnership with launch of the Global Innovation Exchange
In June, the UW announced the development of the Global Innovation Exchange (GIX), a new model for international collaboration in higher education. GIX is part of the UW's Innovation Imperative and is backed by a $40 million commitment from Microsoft. Microsoft's support of GIX reflects the company's broader commitment to championing engineering. Based in a new facility in the Seattle area, this is the first time a Chinese research university has established a physical presence in the U.S.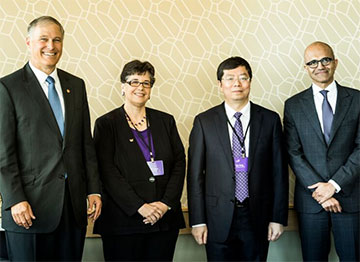 GIX is designed to offer students a holistic, project-based learning environment with a global perspective. Starting in fall 2016, the institute's signature 15-month master's degree in technology innovation will link students and professionals, academia and industry, and experts and entrepreneurs. Together, they will work on real-world technological and design challenges such as mobile health, sustainable development and advanced cloud computing. Within a decade, more than 3,000 learners will be working alongside world-class faculty and industry mentors through GIX.
Engineering faculty from multiple disciplines have partnered across campus and led the development of GIX. GIX will build upon our deep and long-standing contributions to tech innovation in a leading-edge experiment to educate students for a new kind of world.
Microsoft dedicates $10M gift to new UW Computer Science & Engineering building
As part of GIX, Microsoft awarded a $10 million gift to kick-start a campaign to build a second Computer Science & Engineering (CSE) building on the UW campus.
"This is an investment in students who will become the innovators and creators of tomorrow," Brad Smith, Microsoft General Counsel and Executive Vice President said. "We hope this first corporate commitment to a new UW CSE building inspires others — individual donors, companies and those in state government — to support a project vital to the future of our state."
Microsoft's gift represents the first corporate commitment to a public-private partnership to assemble $110 million in funding to construct a new 130,000-square-foot CSE building. The new facility will provide the space to enable the UW to double the number of computer science degrees it awards annually, from 300 to 600 — an important step in closing a large "workforce gap" in computer science in the state.
Nominate an Exceptional Engineer for a Diamond Award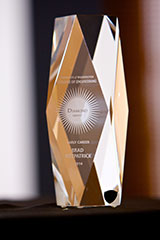 The Diamond Awards honor outstanding alumni and friends who have made significant contributions to the field of engineering. If you know an engineer who deserves recognition, we want to hear from you! Take time to nominate an engineer to join the distinguished ranks of Diamond Award honorees. Deadline for nominations is Friday, October 16, 2015.