The Campaign for Engineering Quarterly Report
Together, Toward a Boundless Future
Follow our fundraising progress throughout the Campaign for Engineering.
Issue 11 | July 2018
From the Dean

I'm pleased to announce that in FY2018, gifts to the College increased by an astonishing 39 percent, leading to our most successful year yet: $75.6M. While much of this is attributed to philanthropy toward the new Bill & Melinda Gates Center for Computer Science & Engineering, the support is also broadly based across the College, from scholarships for our incoming cohort of freshmen, to research awards for our innovative faculty, to sustaining our effective student programs. Thank you for all you've done to move the college forward!
Among other recent highlights, in May at our annual Diamond Awards event, we honored alumni and friends including Dennis Muilenburg, Jud Virden, Tami Bond, Aaron Feaver, Irene Peden and Kurtis Heimerl. Also in May, approximately 930 incoming freshmen accepted our offer of Direct to College (DTC) admission—far surpassing our target of 700-800 for this inaugural cohort.
Currently, we are preparing provide these students with a superb educational experience. This includes continuing to ramp up our Campaign for Students, with its focus on scholarships, student programs and new/upgraded facilities in which we will be able to expand to educate more students while keeping the quality we're known for. Thanks to all of you who are supporting our efforts to provide a leading-edge education with your time and philanthropy.
Mike Bragg, Ph.D.
Frank & Julie Jungers Dean of Engineering
Giving Spotlight: Rao and Usha Varanasi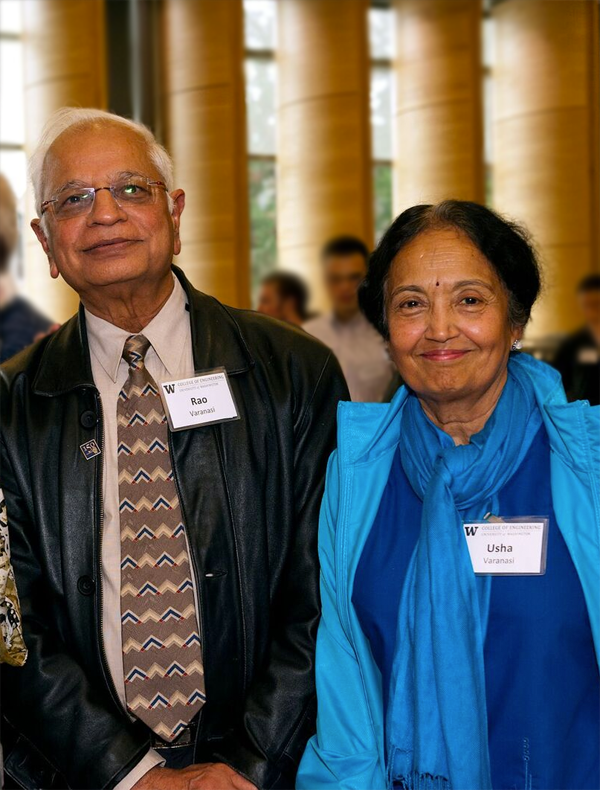 In late 2017, S. Rao (Ph.D. '68, Aeronautics & Astronautics) and Usha (Ph.D. '68, Organic Chemistry) Varanasi made a significant estate commitment to the UW. This planned gift enhances the legacy they have already created across the university with various endowments to support graduate students.
Rao and Usha, who met as master's students at CalTech before earning their doctorates at the UW, benefitted greatly from the educational opportunities they received from great institutions in the U.S., Rao explains. He adds, "Since the gift of education is eternal, it's a joy for us to be able to give back to the country and the community some of the benefits we enjoyed."
Initially, their giving focused on their home departments, where they established endowed fellowships. Over time, however, their scope broadened to supporting a variety of units to "promote an interdisciplinary approach, and provide opportunities for under-represented communities," Usha says. "We want to provide seeds of imagination and incentives to students to open up new interdisciplinary careers, because as the planet is changing, we need more global thinking."
The Varanasis' support of and involvement with the UW goes far beyond their generous philanthropy; following distinguished careers at Boeing (Rao) and NOAA's Fisheries Northwest Science Center (Usha), they are now both affiliate professors at the UW, and are very active as volunteers in the College of Engineering and the College of the Environment.
Student Group Spotlight: EcoCAR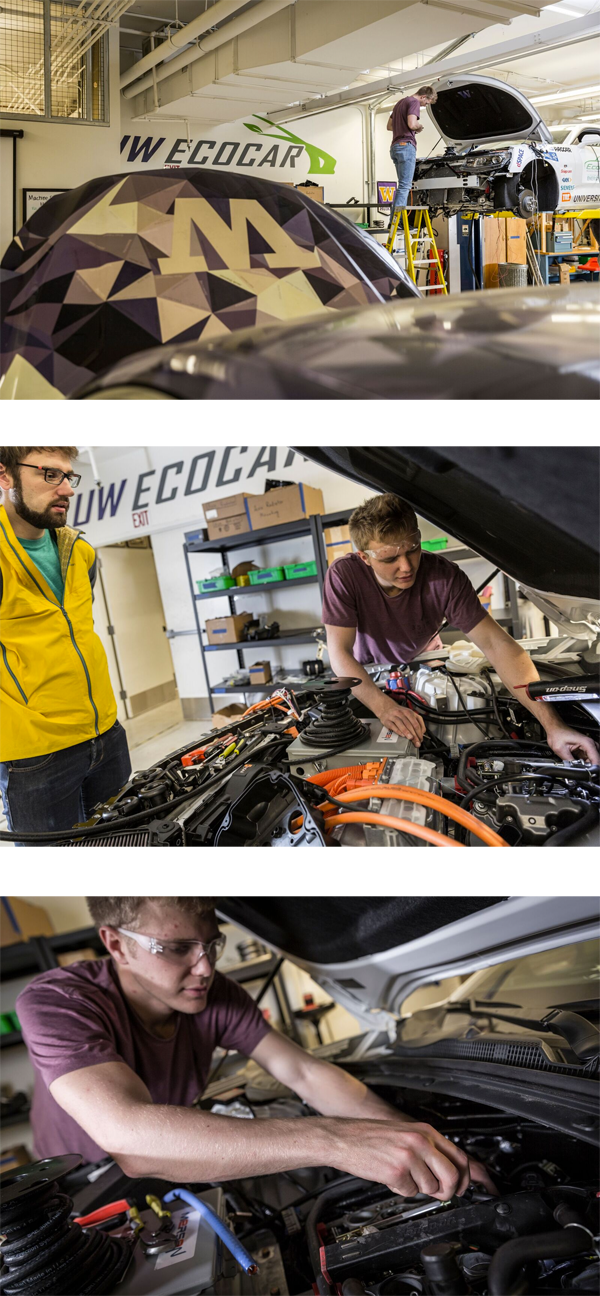 For EcoCAR 3, part of the U.S. Department of Energy's Advanced Vehicle technology Competition series, universities across North America formed teams to redesign a Chevrolet Camaro to reduce energy consumption and emissions while maintaining production readiness.
The UW EcoCAR team comprises students from many different disciplines, both within engineering and across the UW. For EcoCAR3, teams worked together for four years on their reimagined "green muscle-car," culminating in a multi-city competition at which vehicles are evaluated by industry leaders and talent recruiters. This spring, the UW team received the 1st place Siemens PLM Software Excellence Award for their technologically complex vehicle architecture and design.
EcoCAR participation complements the knowledge our students gain in the classroom with opportunities for team members to hone their engineering abilities and develop marketing, public speaking and teamwork skills. Says Electrical Team lead Dylan Day, "EcoCAR provides us with a community of fellow students with shared goals — a place where we can apply our technical skills to a relevant, real-world issue."
By the Numbers
Fundraising progress as of July 19, 2018.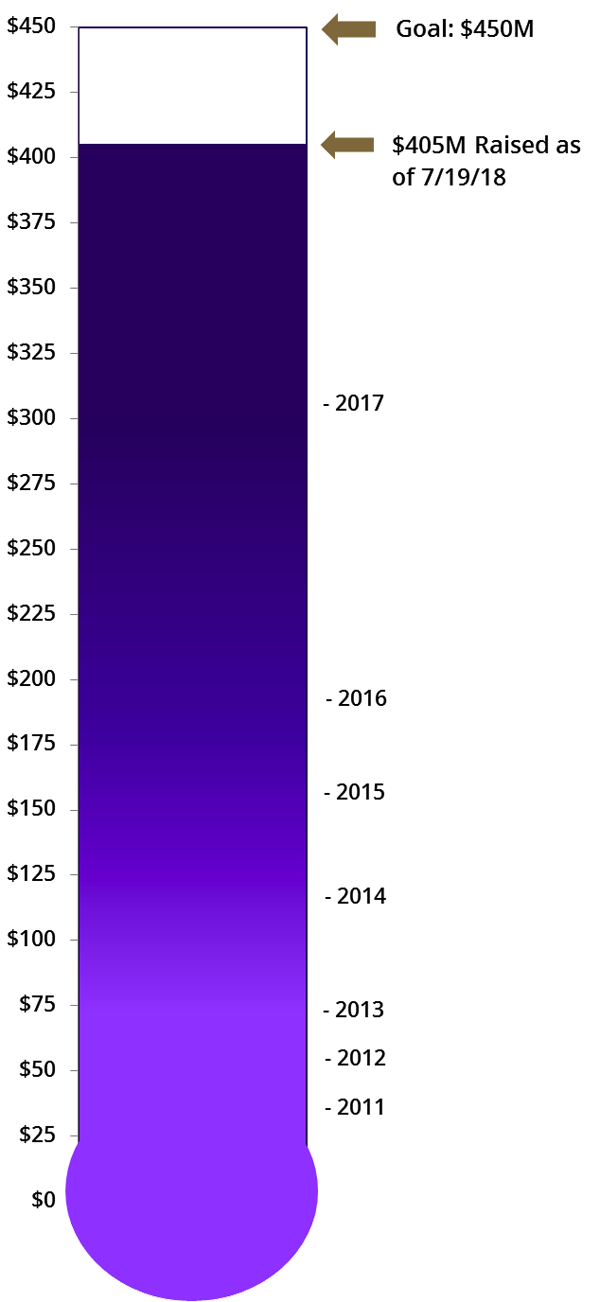 Theme
Campaign
Goal
Raised as of
01/06/18
Percent
to Goal
Student Support
$50M
$47M
94%
Faculty Support &
Research
$177M
$154M
87%
Program Support for
Faculty & Students
$60M
$50M
83%
Capital
$85M

$78M

92%

Excellence (Other)
$78M

$76M

97%

TOTAL
$450M

$405M

90%

Transforming the Student Experience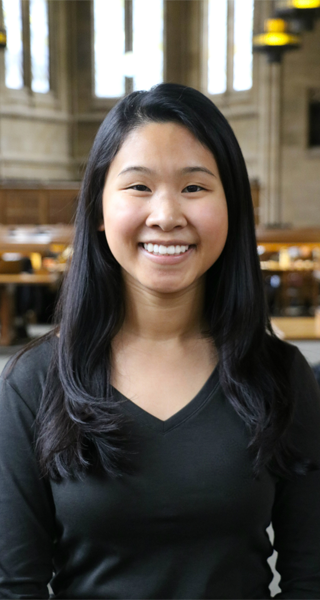 Marcella Li, BS Civil & Environmental Engineering, '20
Recipient of the Boeing Civil Engineering Scholarship
"My parents immigrated to Seattle from rural China 25 years ago. Now, they work labor-intensive jobs to support me and my two older sisters. With the help of several scholarships, including the Boeing scholarship, my parents don't have to worry about paying for my tuition, and I love being able to give them that peace of mind.
"The Boeing scholarship has been more than just financially beneficial. Receiving a scholarship like this, and from Boeing no less, brings about a sense of accomplishment and self-worth. Last summer I had the amazing opportunity to be a Boeing engineering intern with 777X Flight Deck Design. That hands-on experience, along with this scholarship, has really re-affirmed for me that engineering is the right choice." – Marcella Li