The Campaign for Engineering Quarterly Report
Together, Toward a Boundless Future
Follow our fundraising progress throughout the Campaign for Engineering.
Issue 7 | July 2017
From the Dean

This has been an amazing year, which took us from 57% to 95% of our campaign goal! Graduation has come and gone, and the Engineering campus is quieter with fewer students around, but we're as busy as ever behind the scenes, preparing to implement Direct to College admission.
In support of the expected 700+ new first-year students who will be entering the college via this program in 2018 — as well as for students in their second, third and fourth years — we are ramping up the Campaign for Students, which will be a major fundraising focus for the remaining three years of the Be Boundless campaign. We look forward to engaging you in this initiative, which will include support for student scholarships and fellowships, program support and facilities renovations and new construction.
It was wonderful to see many of you at the Diamond Awards ceremony in May. As always, I was awed by the achievements of our honorees; I take great pride in building on UW Engineering's legacy of offering an outstanding education that prepares students for similar successes. As our volunteers, all of you are critical to this endeavor, and we are grateful for your commitment to the college.
Enjoy the rest of the summer!
Mike Bragg, Ph.D.
Frank & Julie Jungers Dean of Engineering
Giving Spotlight: Milton and Delia Zeutschel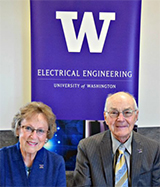 This year, the Department of Electrical Engineering strengthened its entrepreneurial legacy with a generous endowment from alumnus Milton "Milt" Zeutschel (BSEE '60) and UW College of Education alumna Delia Zeutschel (BA '58), which establishes the Milton and Delia Zeutschel Professorship in Entrepreneurial Excellence and supports the growth of the Engineering Entrepreneurial Capstone program (ENGINE). Mentored by engineering professionals, students in the ENGINE program work on cutting-edge, industry-sponsored projects while developing entrepreneurial skills.
Milt gained the technical skills to become an entrepreneur while at the UW; over the course of his career, he founded five companies. For Milt, ENGINE enables critical real-world readiness for students. For Delia, her time studying at the UW laid the foundation for her work as a teacher, and the ENGINE program supports her passion for promoting and sharing education.
"Having a program that gives engineering students an opportunity to connect early on with industry professionals gives them important lessons in not only entrepreneurship, but in working in the real world."  — Milt Zeutschel
"Endowing the ENGINE program was important to me as a witness to Milt's achievements. I've had the joy of seeing him work hard and find success. Inviting others into this process is very special to me."  — Delia Zeutschel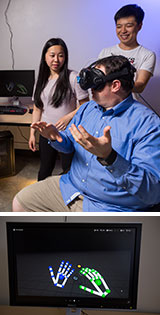 Established

1974

The Department of Human Centered Design & Engineering (HCDE) brings together engineering, design and social science to improve interactions between people and technology. Our research is advancing the study and practice of design to improve cognition, behavior or participation among individuals, groups, organizations and communities of people. The HCDE approach is interdisciplinary and sociotechnical: we draw on a wide range of disciplinary traditions as we investigate people's practices and meanings related to technology.

Chair

Highlights

HCDE has 200 undergraduate students and 215 graduate students. More than 60% of our students are women, as are more than half of our faculty.
HCDE is a core member of the University's Design, Use, Build (DUB) alliance—one of the most vibrant communities for human-computer interaction and design research and education in the world.
Our success is grounded in our faculty, who come from fields as diverse as sociology, computer science, linguistics and public policy.
In faculty-led, directed research groups, HCDE students get hands-on experience with a wide range of research projects—from studying how families use technology to collecting data on communication usage in disaster scenarios.
By the Numbers
Fundraising progress as of July 22, 2017.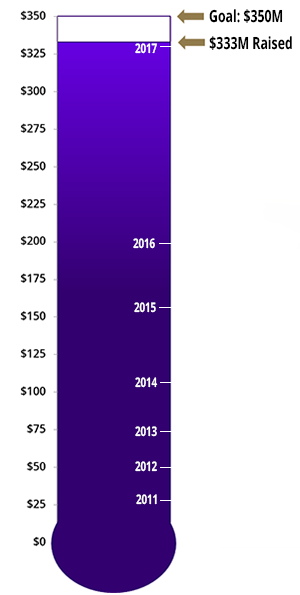 | Theme | Campaign Goal | Raised as of 7/17/17 | Percent to Goal |
| --- | --- | --- | --- |
| Student Support | $50M | $33M | 66% |
| Faculty Support & Research | $145M | $134M | 92% |
| Program Support for Faculty & Students | $55M | $44M | 80% |
| Capital | $80M | $62M | 78% |
| Excellence (Other) | $20M | $60M | 300% |
| TOTAL | $350M | $333M | 95% |
Transforming the Student Experience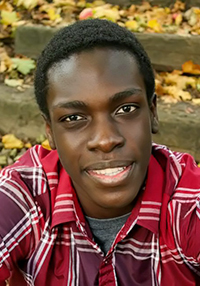 Brian Illa, BS HCDE '18
Recipient of the Donna M. Sakson Endowed Scholarship for Excellence through Diversity
"As an immigrant to the U.S., I have lived my life in two cultures. On one side, I have my Kenyan culture which I hold closest to my heart. I am continually driven to represent my culture to my peers as well as my community and show that my heritage and the heritage of other minorities are not only important socially, but in the classroom as well. And then on the other side is my American culture which I have cultivated over the past 16 years.
"Given my experience as a minority student at UW, this scholarship is a true blessing in that it speaks to how I identify myself within the campus community. And receiving the Sakson Diversity Scholarship eased some of the financial stress that is unavoidable when you are a low income student, allowing me to put more focus on my education and future career."
 — Brian Illa