Wayne Quinton: Inventor, Bioengineering Pioneer and Entrepreneur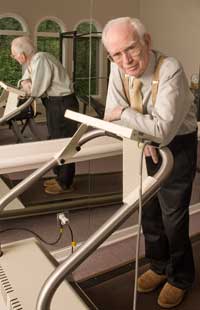 Wayne Quinton on a light-weight cardiac treadmill.
Wayne Quinton's road to successful entrepreneurship covers all the classic mileposts: recognizes unmet need, tinkers in garage workshop, builds a better mousetrap, takes big risk by quitting secure job, establishes own company, and turns it into an industry leader. Reading only the milepost signs, though, misses the how Quinton transformed the landscape and the lives of millions of passengers along the way.
The company he founded, Quinton Instruments, became a pioneering innovator in medical devices ranging from treadmills to cardiac diagnostic equipment. Founded in 1959 and surely one of the Seattle area's earliest biotech firms, it employed about 700 people at its prime and brought in $100 million annually in sales when he sold the company in 1984. Quinton ranks high among UW alumni (ME '59) in visionary leadership, impact on the local economy, and broad benefit to society.
Early Mileposts
Quinton's road trip began modestly in Rigby, Idaho, a small farming community. His innate curiosity and mechanical ability manifested early. During high school he equipped the family Buick with a small snowplow and learned to repair the equipment in his mother's dry cleaning shop.
"Never let lack of knowledge and resources keep you from doing something that needs to be done."
During two years of college, first in Utah and then in Montana, he took math and engineering classes, then returned to Rigby to help with his mother's business. By December 1941, the nation's plunge into World War II and Boeing's scouring of Idaho for technical talent forever changed his life course. Hired as a draftsman, Quinton worked first on the B-29 bomber team, later in the tool-planning group, and eventually landed amidst physicists and theoretical mathematicians who were developing Boeing's first guided missile.
Such excellent on-the-job training paved the way to an electronics technician position at the UW in 1949, where he developed heat-measuring equipment for an Arctic study. In 1950 Life magazine named him one of the nation's "25 Top Young Scientists," a prescient selection considering he had not yet earned even an undergraduate degree.
A Right Turn into Medicine
Two years later, the UW Medical School established an instrument shop and hired Quinton to keep critical instruments in good working order and to develop new tools and materials needed by physicians and surgeons. He claims he was "totally unqualified" for the position, but one of his favorite mottos is "Never let lack of knowledge and resources keep you from doing to something that needs to be done."
He studied up on anatomy and physiology and spent a lot of time talking with physicians, often probing them with "why" questions. His new work rekindled an early interest in medicine sparked by his father's heart condition, and set the course that would lead to his groundbreaking innovations and entrepreneurship.
Whenever a physician wanted a new tool to improve diagnosis and treatment, he found a way to design and fabricate it. Examples include a bubble oxygenator used for the first open-heart surgery in the Northwest, a flexible gastrointestinal device for real-time diagnosis during GI tract biopsies, and most famously, a shunt that enabled long-term kidney dialysis and a cardiac treadmill linked to a heart monitor and computer for automated stress testing.

The U-shaped Teflon shunt designed in 1960 by Wayne Quinton and UW physician Belding Scribner revolutionized treatment of end-stage kidney disease by allowing long-term dialysis that greatly extended patient's lives.
End-stage kidney disease was always fatal until UW renal specialist Dr. Belding Scriber and Quinton collaborated in 1960 to design a U-shaped tube made of Teflon, a flexible new material. An artery and a vein could be linked with this tube, and the shunt device kept in place indefinitely to permit regular and long-term cleansing of the blood by a dialysis machine. This revolutionary but simple device and follow-on advances have extended the lives and improved the quality of life for millions of people around the world.
"A spectacular failure is more important than a mediocre success."
His invention of the lightweight, automated cardiac treadmill achieved even wider impact. In 1953 a UW cardiologist wanted a design suitable for a medical setting, one smaller and less noisy that the early models of that time. He built a device with a redesigned belt and smaller, quieter motor — the first used to test heart patients. Medical colleagues describe him as someone who would persistently "worry at a problem until he solved it," with broad knowledge in electronics, chemistry, physics, and materials who "had a design in his head and knew exactly what he wanted, and could go into the shop and make it himself if he wanted to."
Big Risk, Big Reward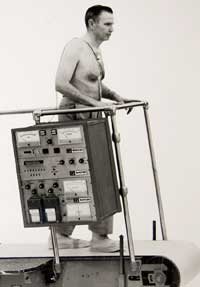 Wayne Quinton on an early prototype for a treadmill.
During his 10 years as instrument shop head, Quinton earned his ME degree and extend his design work into the weekends and evenings in his garage shop. In 1959, degree in hand at age 38, he took a big risk by quitting his UW position and launching his own company focused on devices the UW declined to license, including the lightweight treadmill. It set the standards for the industry and evolved into a popular equipment line used around the world in gyms, fitness centers, and homes, helping tens of millions of people stay fit and improve their health.
Quinton took his own medicine, using his treadmill daily and maintaining the conditioning to run 19 marathons. Another favorite Quinton motto is "A spectacular failure is more important than a mediocre success." His failures, if any, are forgotten, and his successes endure as spectacular.
The College of Engineering presented Quinton with the 2009 Diamond Award for Entrepreneurship and the UW bestowed upon him its highest honor for a graduate — the Alumnus Summa Laude Dignatus award. His prolific work and "singular role in marrying the fields of engineering and medicine" enabled UW physicians to achieve stunning medical advances and pioneered the field of bioengineering. His company also contributed significantly to Seattle's emerging biotech sector and to the economy through direct job creation and the cascading effects on the fitness industry and other health care sectors. Quinton passed away in 2015, but his groundbreaking contributions are not forgotten.