By Leah Pistorius and Chelsea Yates
Photos courtesy of Meal Matchup

Image
"If you had a million dollars, what kind of tech project would you create for social good?"
When this question was posed to Madison Holbrook, '18, in a human centered design and engineering (HCDE) class taught by lecturer Irini Spyridakis, she knew exactly what she'd do: use technology to reduce hunger and food waste.
"I thought, 'There has to be a way to use engineering to help.'" – Madison Holbrook, '18.

"I was raised in a food-minded community in eastern Washington — my mother runs our family ranch, and my dad and brother manage a mobile catering service that provides food to emergency responders during disaster events," the former HCDE major and STARS student explains. "Through community and family I learned the importance of not wasting food."
Food waste contributes to several social problems, ranging from hunger and malnutrition to environmental and economic concerns. In the U.S. alone, it is estimated that 30-40% of food goes uneaten.
Holbrook noticed a major disconnect between food going to waste on campus and people in need.
"I thought, 'There has to be a way to use engineering to help,'" she says.
For her class project she proposed a website that would pair UW dining halls with local shelters to coordinate food donations.
"When she presented her idea, we all agreed it made so much sense," says Spyridakis. "She'd come up with a way to make an impact starting right here on campus."
Spyridakis encouraged Holbrook to take the concept further, and together they wrote a proposal to the UW Campus Sustainability Fund. Their project was awarded $21,000 to support the creation of a website to connect excess dining hall food with local non-profit agencies that could distribute it to people in need.
From classroom to kitchens
Over the past year, Holbrook and Spyridakis have led an interdisciplinary research group to develop the concept into a fully-functional web platform.
Their team — which has grown to include 33 students from HCDE, the Information School, and the Paul G. Allen School of Computer Science and Engineering — designed the interface for and with the help of three stakeholder groups: UW dining halls, local shelters and student volunteers.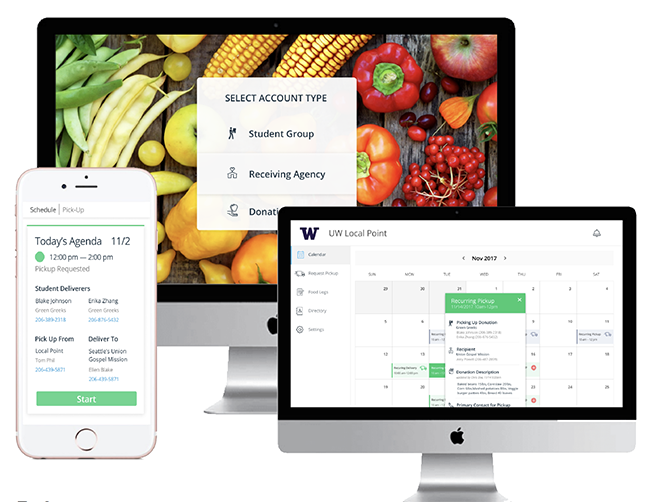 Their web platform, mealmatchup.org, works like this: Food providers log food donations and request pickups online. Food transporters then schedule drivers for pickup and deliveries. Since it's important to ensure that food donations meets required state guidelines, the transporters are trained in food handling and safety and use the website to document proof-of-pickup and delivery, track food temperatures and navigate pickup and drop-off locations. Receiving agencies use the interface to understand what will be arriving, when, how much and who will be delivering it.
To launch the project, team members invested time building relationships and deepening their understanding of stakeholder needs and concerns. On campus they worked closely with UW Housing & Food Services administrators and dining hall managers. They also interviewed managers at more than 50 local homeless shelters, food banks and soup kitchens.
Through that assessment, key priorities emerged.
"We learned that we needed to create a logistics-focused platform that was clear and easy-to-use so all parties could understand each other's needs and roles," Holbrook explains. "Some campus dining halls already had donation systems in place, so rather than replace them we focused on how we could enhance them."
Timing, storage and transportation presented the biggest challenges for both the providers and receivers.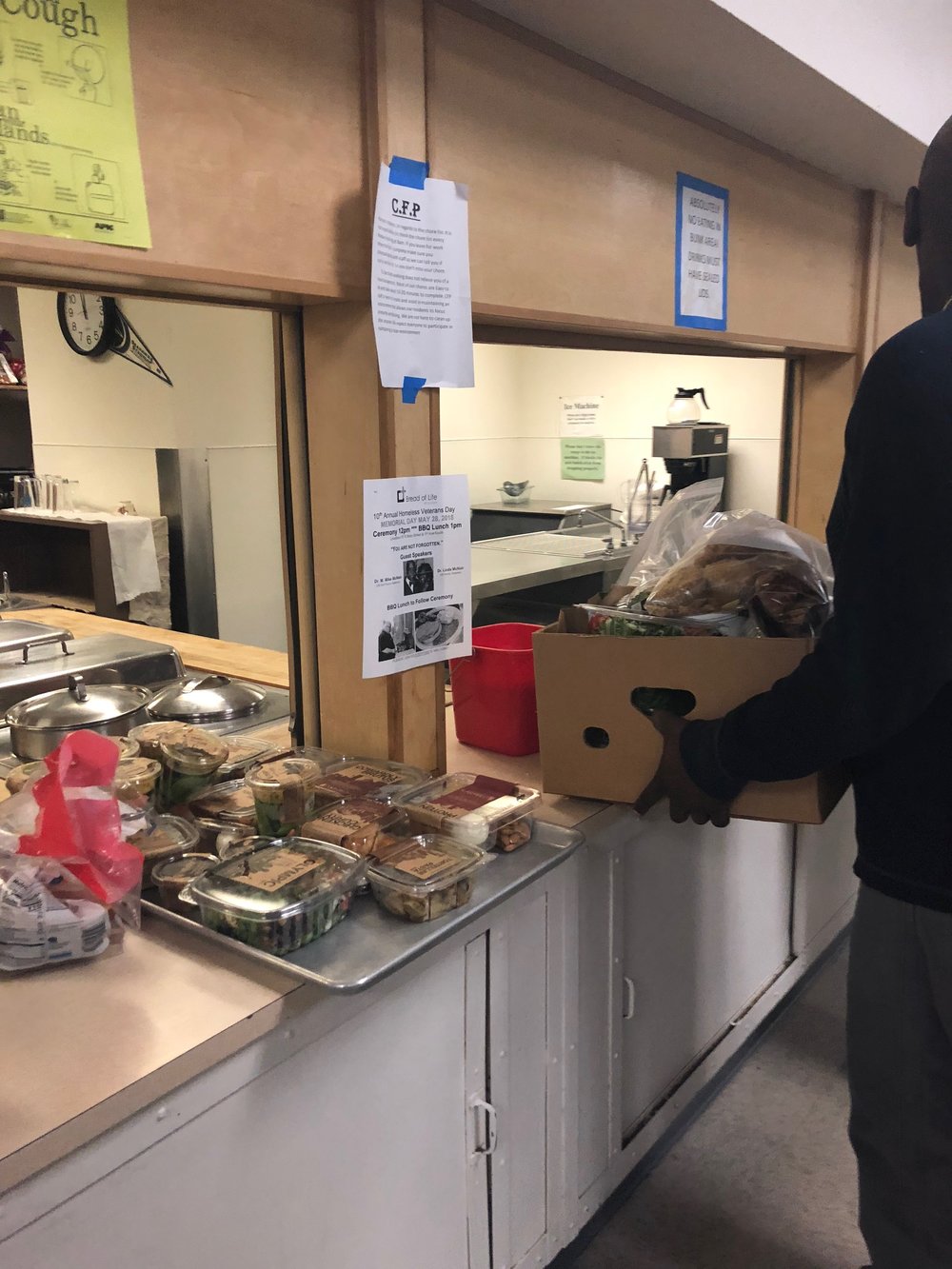 "Dining halls can't necessarily send their staff to deliver food, and shelters can't always rely on volunteers to regularly pick up food," Holbrook says.
For help with food transportation, Holbrook and Spyridakis reached out to UW Carlson Leadership & Public Service Center staff and Green Greeks, a student group committed to sustainability.
"Through Green Greeks and the Carlson Center's Service Learning program — in which students can earn course credit for participating in service activities — students agreed to organize and deliver food to area shelters from campus," says Spyridakis. "This arrangement has given the project a much-needed framework for managing and communicating transportation and has introduced our team to some wonderful new partners."
Piloting and next steps
The team piloted Meal Matchup in May 2018 with UW dining halls Local Point, The 8 and District Market and shelters Union Gospel Mission and Compass Housing Alliance.
"That experience was so valuable," Holbrook says. "We accomplished all of the goals we set for the pilot and successfully problem-solved a few unexpected hurdles, such as how to adapt when a partner organization experiences management or staff turnover."
Team members are continuing their outreach efforts and have recently presented their work at international conferences. This fall they will fine-tune their web platform, which they've designed to be open-source so that other institutions can use it to create their own food recovery systems.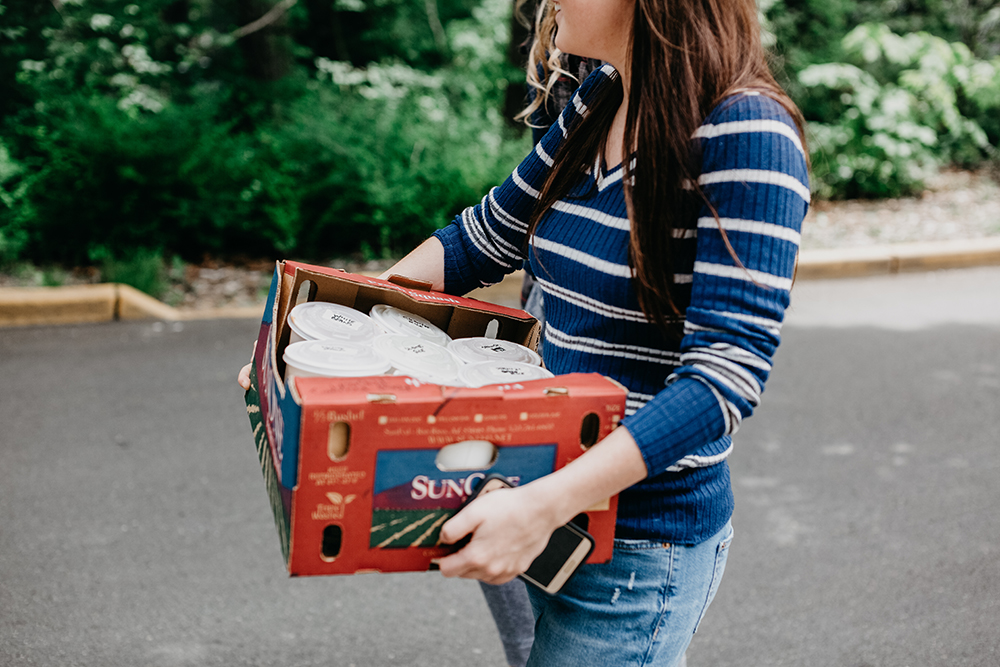 "Our goal is that the program will be adaptable, self-sustaining and fully student-run," says Spyridakis, who will continue to supervise the project.
Holbrook is now working as a user experience designer for Hewlett-Packard, and she plans to stay involved with the project as a consultant. She is excited to see campus interest in Meal Matchup grow and to help new students step into leadership roles.
"The best part of this project is knowing you can dream up an idea, communicate it, find interested people, and develop something that will actually make a difference," she says. "For a long time, it was just pen and paper, meetings and designing, but now that Meal Matchup exists, we are able to connect food that would otherwise be wasted with people who can use it. It feels great."
Visit Meal Matchup to learn more and get involved.
Originally published August 17, 2018