Student Experience
THE STUDENT EXPERIENCE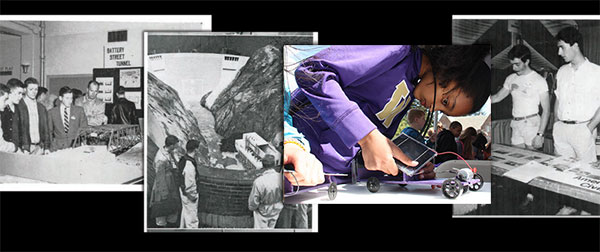 From Curling Irons to 3D Printing,

Discovery Days Celebrates 100th Anniversary
By M. Sharon Baker
The chance to see cutting-edge technology at work — curling irons and electric powered cooking — drew hundreds to the UW campus for an open house more than 100 years ago. Denny Hall was so crowded that they had to turn people away, according to early reports.
That success inspired what's now known as Engineering Discovery Days, a two-day event staged in more than 15 buildings and labs around campus. This year's event marked its 100th anniversary.
Thousands crowded Engineering Discovery Days exhibits earlier this month to see technology that is just as futuristic as curling irons were a century ago; only now, they are coming to see 3-D printers and Google Glass in action.
"The opportunity to experience the University of Washington's engineering departments in approachable, hands-on ways, imprints future possibilities and helps parents, teachers, and students envision the path taken to become an engineer," said April Yantis, a 7th grade literature teacher at Olympic Middle School in the Shelton School District.
Yantis brings about 250 rural students to Discovery Days each year, providing them with a unique opportunity for students who don't usually have access to the UW. She started the annual trip three years ago after noticing the success a neighboring district had when it connected the middle school marching band with the UW's marching band, an annual visit that increased that district's eventual attendance at the UW from a single student to many.
She likes that the outdoor engineering exhibits are easy to access, and offer quick displays and demonstrations that kids love. She makes it a point to show students at least two demonstrations inside a laboratory in different engineering buildings. "These set the stage, creating a fuller understanding of the equipment, work groups, and settings for students," she said.
When students visit those labs, they find faculty members like Eric Chudler, a UW research associate professor of bioengineering. He likes sharing his love of neural engineering with younger students and seeing their eyes light up when they learn something new. "When we demonstrated our muscle-controlled arm wrestling game, many found it incredible to learn that their bodies could generate electricity and then you could use that electricity to do things," said Chudler, who is also the executive director of the Center for Sensorimotor Neural Engineering.
At Discovery Days, he also likes dispelling scientific myths. The brain scientist is often asked whether humans can use more than 10 percent of their brains: "Despite what Hollywood tells us in movies like Limitless or more recently, Lucy, we really use 100 percent of our brains." While young students are often disappointed to learn this, the question opens the door for a larger conversation and new understanding for the students, Chudler said.
Meeting professors and research students in their environments makes science and engineering less intimidating. "If students see themselves on campus, imagine themselves in the classes, and become comfortable considering projects and coursework they haven't even imagined, we have a chance to interest students in highly technical careers," Yantis said. And that's probably the goal organizers and faculty had when they created the event back in spring 1914.

Mechanical engineering students team "FireBee" a double winner at the Alaska Airlines Environmental Innovation Challenge
On April 2 a group of 22 student teams from seven colleges and universities across the state of Washington, gathered at the Seattle Center to pitch their innovations in clean technology, renewable energy and water resource management. Throughout the afternoon these innovative and entrepreneurial students demonstrated their prototypes and fielded questions on everything from technology issues to market viability from a room full of 160+ judges and another 100 guests.
A team of three mechanical engineering undergraduate students took home both the $15,000 Grand Prize and the $5,000 Clean Energy Prize for their idea, FireBee. FireBee is a portable thermoelectric generator that turns cooking fires into personal power stations, creating an alternative energy source for people around the world who live off the grid.