College News
COLLEGE NEWS

UW-led team wins $10M EPA grant for air pollution research
To help address the nation's pressing need for better air quality, the U.S. Environmental Protection Agency has awarded a UW-led research team a five-year, $10 million grant.
The grant will be used to create the Center for Air, Climate and Energy Solutions. Civil and environmental engineering professor Julian Marshall will co-lead the center in collaboration with researchers from Carnegie Mellon University, the University of Minnesota and several other universities.
The center's researchers will explore which pollutants are most damaging to people's health, as well as current levels and sources of pollution. The team will also provide guidance to the EPA on how air pollution emissions and concentrations are anticipated to change in the future and will evaluate strategies for reducing air pollution.
"A critical step for improving air pollution is understanding the contributions from specific sources, such as cars, ships, agriculture and power plants," Marshall said. "Our research will provide critical tools and information for understanding people's exposure to air pollution and what steps would reduce those exposures."
The researchers will use a new approach combining air pollution research with the related areas of climate change and energy usage. Since air pollution and climate change are largely caused by the combustion of fossil fuels, this integrated approach will address commonalities and encourage solutions that will positively impact all three areas.
Nominate an exceptional engineer for a 2017 Diamond Award
The Diamond Awards honor outstanding alumni and friends who have made significant contributions to the field of engineering. If you know an engineer who deserves to be recognized among the distinguished ranks of Diamond Award honorees, please nominate him or her by October 17, 2016.
Motorsports racing team takes second place at Formula SAE competition
The UW Formula Motorsports team won second place out of more than 100 teams at this summer's Formula SAE competition stateside challenge in Lincoln, Nebraska. Competition was close: First and second place were separated by a mere .5 points in their final scores, out of 1,000 points total.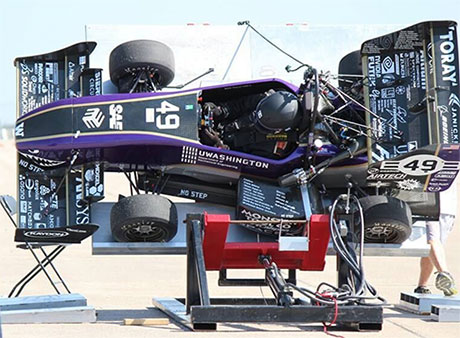 Formula SAE competitions challenge teams of undergraduate and graduate students to design and compete small, formula-style competition vehicles. Teams spend eight to twelve months designing, building and preparing their vehicles before the challenge.
The UW's team includes students from across the College of Engineering and is housed in the Department of Mechanical Engineering.