THE STUDENT EXPERIENCE

UW LEADs nation in female engineering faculty
Among the nation's top 50 engineering schools, the UW has the highest percentage of women in tenure-track engineering faculty positions: 22.4 percent. Nationally, the figure is 14.5 percent, and that gap didn't grow by accident. Over the past 14 years, the UW has worked on everything from highlighting how unconscious bias can affect hiring practices, to ensuring junior faculty feel comfortable extending tenure clocks to have children, to providing leadership support.
The UW chose early on to focus on one thing that can have an outsized influence on faculty members' well-being — especially for women and other underrepresented groups in STEM disciplines. They created Leadership Excellence for Academic Diversity (LEAD) workshops to help department chairs acquire skills to create equitable and inclusive environments that work well for all faculty members.
Now, the UW is developing an online toolkit — called LEAD-it-Yourself! — that other universities can use to design and host their own department-focused workshops. The UW's original campus workshops grew out of a 2001 NSF ADVANCE Institutional Transformation Grant awarded to advance female STEM faculty and help create a diverse and supportive climate for all STEM faculty. These workshops continue today on the UW campus. Since the first grant, the UW has seen a 78 percent increase in the number of tenured or tenure-track women faculty in all ADVANCE departments, including an 100 percent increase in engineering departments and a 59 percent increase in science and math departments.
New Career Center @ Engineering to Connect Students and Employers
Opening to students this September, the new Career Center @ Engineering (CC@E) is designed to help students develop lifelong career strategy skills. The center will function as a single entry point for employers seeking to hire engineering professionals. The center aims to improve visibility and responsiveness to students and companies and will coordinate on-campus recruiting, including interviews, information sessions, and job postings. The CC@E provides leadership, resources and networks to link employers with highly qualified candidates across the broad range of the University's engineering disciplines. The CC@E will also partner with companies to help develop an individualized campus recruiting strategy.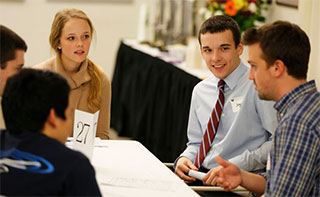 Center staff will coach and prepare students in areas of career strategy and successful job search techniques, including writing and tailoring a resume, how to build and sustain a professional network, and how to conduct an excellent job interview. Staff will also work with students to help them concisely communicate about talents, strengths, values, transferable skills, and experiences in ways that align with various industries and engineering career options. The CC@E will house the Engineering Internship Program (formerly known as "co-op"). This program will provide students an opportunity to enhance their engineering curriculum through practical application, make professional networking connections and potentially gain academic credit.
"The Career Center @ Engineering is an important initiative for the college — one that promises to enrich our students' educational experience and deepen our industry partnerships. Our students develop strong technical skills in the classroom. This center will expand opportunities for experience based learning. This will allow our students to enter the workforce with confidence and, at the same time, meet the needs of industry," said Mike Bragg, Frank & Julie Jungers Dean, College of Engineering.
The center was formed as a branch of the UW Career Center and will be housed in the College of Engineering in Loew Hall.