The Trend in Engineering - Autumn 2014
Autumn 2014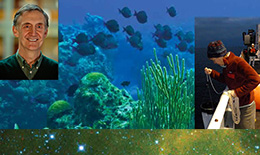 "Big data" can be a big problem. In one UW lab, research instruments analyze 15,000 marine microorganisms per second and generate 15 gigabytes of data daily. Across campus, a telescope maps the night sky, producing 100 petabytes of data in 10 years. The eScience Institute aims to connect researchers with experts in large-scale data management, analysis, and visualization. Read more »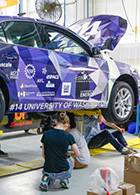 The UW's Advanced Vehicle Works team was recognized with 10 awards overall for turning a Chevrolet Malibu into a highly efficient hybrid vehicle running on electric grid energy and biodiesel. During the three-year EcoCAR2 challenge, 16 student teams spent the first year designing their cars, the second year implementing the designs, and the third year refining those designs and testing the car. Read more »

Four College of Engineering faculty members are taking on new leadership roles: David McDonald joins Human Centered Design & Engineering as chair, Linda Ng Boyle will lead Industrial & Systems Engineering as its new Chair, Vikram Jandhyala was named vice provost for innovation of UW's Center for Commercialization, and John Sahr was named interim chair of Electrical Engineering in place of Jandhyala. Read more »
Engineering the Heart: From Cell Therapy to Computer Technology
The 2014 Engineering Lecture Series explores how engineers are improving cardiac medical care by growing heart cells that beat, improving blood coagulation, and wirelessly powering pacemakers. Join us for an expert look at the treatments of the not-so-distant future from the engineers and doctors advancing health care technology.
All lectures are free and are held in Kane Hall at 7:00 p.m. Registration is required.

Charles Murry, Professor of Pathology, Cardiology and Bioengineering
Heart attack can lead to heart failure when scar tissue forms instead of new muscle. Charles Murry leads research that merges engineering technology, stem cells, and medicine to regenerate heart muscle. The team has shared a breakthrough that brings us closer to addressing this major public health concern.

Nate Sniadecki, Associate Professor, Mechanical Engineering
Nathan White, Adjunct Assistant Professor, Bioengineering
Our cardiovascular system depends on active cells that stretch, contract and twitch to keep our bodies healthy. By studying the biomechanics of these cells, mechanical engineers and physicians at the UW are finding lifesaving solutions that improve blood clotting to help us heal from traumatic injuries.
Joshua Smith, Associate Professor, Computer Science & Engineering and Electrical Engineering
Lifesaving, implanted medical devices rely on batteries that must be surgically replaced every few years and cables extending out of the body. Learn about emerging wireless technologies that may improve the quality of life for many individuals.