College News
College News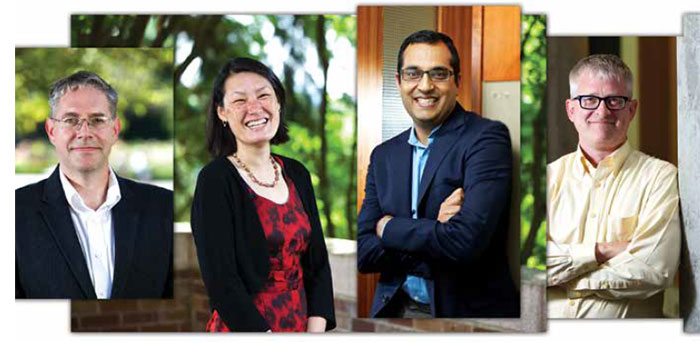 Engineering leaders on the move
Human Centered Design & Engineering welcomes David McDonald as chair
David McDonald comes to HCDE from the UW's Information School and brings a breadth of experience as a leader, educator, and researcher. David's research interests span computer supported cooperative work, human-computer interaction, and social computing. Currently, David has ongoing projects studying mass interaction in Wikipedia and other online communities. While at the iSchool, David spent two years as a program officer at NSF in the Computer & Information Science & Engineering Directorate, Information & Intelligent Systems Division, and Computing and Network Systems.
Linda Ng Boyle to lead Industrial & Systems Engineering
A respected national leader in the field of transportation safety, Linda Ng Boyle directs the Human Factors and Statistical Modeling Lab and serves as the associate director of research and on the board of directors of the Pacific Northwest Transportation Consortium. Linda's research centers on driving behavior, crash countermeasures, crash and safety analysis, and statistical modeling. Prior to joining the UW in 2009, Linda was an associate professor at the University of Iowa and a senior researcher at the U.S. Department of Transportation. She chairs the Transportation Research Board (TRB) Committee on Statistical Methods and also serves on the TRB Committee on Simulation and Measurement of Vehicle and Operator Performance.
Vikram Jandhyala named vice provost for innovation of UW's Center for Commercialization
Vikram Jandhyala, an electrical engineering professor and an inaugural Center for Commercialization entrepreneurial faculty fellow, was appointed to the new position of Vice Provost for Innovation. Prior to joining the UW, he worked in the electronic design software industry. Vikram chaired Electrical Engineering from 2011 until earlier this year. Working with his students, he founded Physware (now Nimbic Inc.) in 2006, a venture-backed cloud-based simulation software company that was acquired by Mentor Graphics this year. His current research interests are social and organizational networks, computational science and big data, electronic design automation, technology entrepreneurship and educational innovation.
John Sahr named interim chair of Electrical Engineering
As the college begins a chair search for Electrical Engineering, John Sahr has stepped in to lead the department during this interim period. John brings a depth of leadership experience to this role. He is currently the UW's associate dean of undergraduate academic affairs overseeing the Office of Educational Assessment, Classroom Support Services, the Teaching Academy and the Robinson Center for Young Scholars. In the EE department, John has been graduate program coordinator and most recently the associate department chair managing infrastructure and advancement.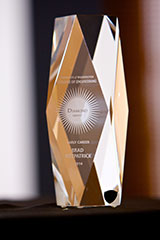 Nominate an Exceptional Engineer for a Diamond Award
The Diamond Awards honor outstanding alumni and friends who have made significant contributions to the field of engineering. If you know an engineer who deserves recognition, we want to hear from you! Take time to nominate an engineer to join the distinguished ranks of Diamond Award honorees. Deadline for nominations is Friday, October 10. www.engr.uw.edu/da