The Student Experience
The Student Experience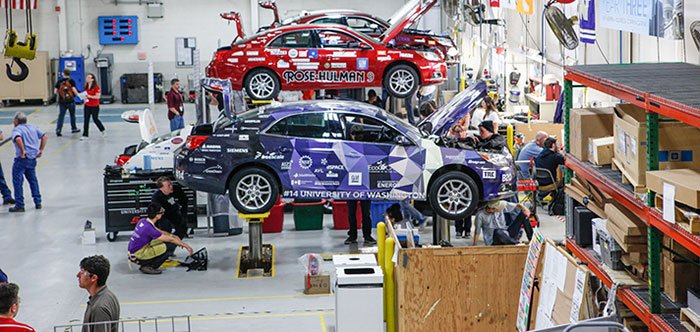 UW students' electric-hybrid car

takes 2nd in international competition
By Doree Armstrong
The UW's Advanced Vehicle Works team took on more experienced competitors and won second place in the international EcoCAR2 competition this summer. The team was recognized for turning a Chevrolet Malibu into a highly efficient hybrid vehicle running on electric grid energy and biodiesel.
The UW competed against 14 other teams from the U.S. and two from Canada in the three-year competition, sponsored by the U.S. Department of Energy and General Motors Co. Teams spent the first year designing their car, the second year implementing the designs, and the third year refining those designs and testing the car against a variety of benchmarks.

"This was a big surprise because this was our first time doing an advanced vehicle competition," said Kate Kitto, the team's communications manager, a sophomore in communications. "Ohio State, this year's winner, has been doing this kind of thing for 30 years and we've been doing it for only three years so we were really happy to get second place. We're just building the foundation for the program."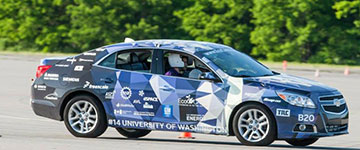 The UW team's Malibu has a biodiesel engine that powers the front wheels, while the back end's 250-horsepower electric motor uses a 400-pound battery pack. The car can travel 48 miles on one electric charge before switching to the biodiesel engine.
The vehicle design is called Parallel-Through-the-Road Plug-in Hybrid, which means the front and back wheels are not connected through a drive train. "Hypothetically, if you cut the car in half the front could operate itself and the back could operate itself," Kitto said.
Team members spent a week in Detroit testing out their car at GM's Milford Proving Ground, and then traveled to Washington, D.C., to give technical presentations to panels of judges.
In addition to second place overall, the team won another nine awards, including best 0-60 mph time (6.95 seconds), lowest greenhouse gas emissions and lowest energy consumption.
The UW team has about 45 team members, majoring in engineering, business, communications and graphic design.
The team received $25,000 in seed money from the competition organizers, which the UW's Department of Mechanical Engineering matched. With additional money from donors and thousands of hours of labor, Kitto said, the team estimates the Chevy Malibu has cost about $800,000 to develop.
"They give you three years to build a hybrid car while we're all going to school, working, and doing other things," Kitto said. "A lot of the engineers this spring were working 70 to 80 hours a week on the car in addition to going to school. We're really proud of the car we built." The team has been selected to participate in EcoCAR3, which begins this fall and requires reworking a Chevrolet Camaro. That competition will last four years to give teams more time to work on implementation and testing.