The Trend in Engineering - Autumn 2012
Autumn 2012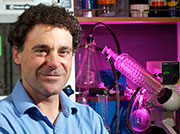 Could the University of Washington be at the center of the next digital revolution? College of Engineering Dean Matt O'Donnell thinks so, a conviction that's behind the recent launch of the university's Molecular Engineering and Sciences (MolES) Institute, one of the first such programs in the country. Read more »

A UW lab has been working for over a decade on fusion energy, harnessing the energy-generating mechanism of the sun. But in a twist of scientific discovery, on the way the researchers found a potential solution to a looming problem in the electronics industry. Read more »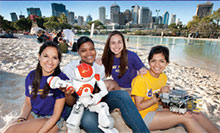 Elise Groves is proud to continue her family's engineering legacy. Following in her father's and grandfather's footsteps is rewarding, but it has also been a journey to find equal footing. As the first woman in her family to pursue engineering, she couldn't always look to them for role models. Read more »
Engineering Molecules: Tiny Solutions for Big Problems
Join us for three fascinating and timely lectures that explore the emerging field of molecular engineering that builds from the bottom up and aims high, promising new ways to diagnose disease earlier and treat it more precisely, and inexpensive and practical ways to harness clean sources of energy.
All lectures are free and are held in Kane Hall at 7:00 p.m. Registration is required.

Matt O'Donnell, Frank & Julie Jungers Dean of Engineering
Dean of UW engineering Matt O'Donnell shares how molecular engineering will reshape the economy, education, and our very relationship with the physical world.

Hugh Hillhouse Rehnberg, Chair Professor, Chemical Engineering
Christine Luscombe, Associate Professor, Materials Science & Engineering
Hugh Hillhouse and Christine Luscombe hope to make solar cell manufacturing simpler and more reliable while adhering to green and inexpensive manufacturing methods. Hear them describe how molecular engineering has the potential to make solar technology accessible to all.

Suzie Pun, Robert F. Rushmer Associate Professor, Bioengineering
Patrick Stayton, Director, Molecular Engineering & Sciences Institute, Washington Research Foundation Endowed Professor, Bioengineering
Imagine delivering cancer drugs directly to tumor cells, without harming the healthy cells that surround them. Or even pinpointing cancer cells before they form tumors at all. Patrick Stayton and Suzie Pun describe how molecular engineers are devising ways to deliver drugs to cells more precisely, and visualize the human body in minute detail.