Cassady Glass Hastings, the College's Director of New Programs & Innovation, sheds light on the differences between traditional and professional degrees and what's on the horizon for engineering professional programs.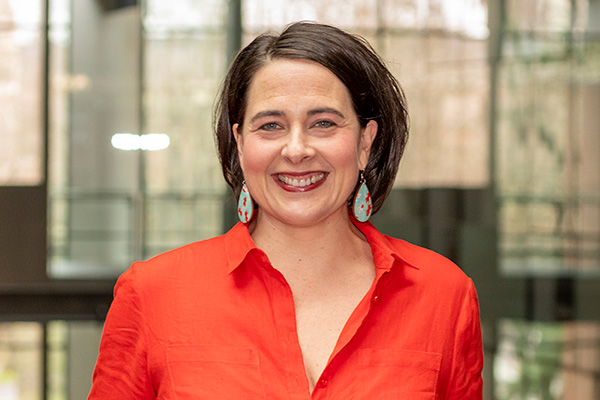 Master's or Ph.D.? Research or professional program? Master's or certificate program? There are many options for those interested in advancing their engineering education beyond a bachelor's degree. The challenge can be deciding which is the best fit.
We recently sat down with Cassady Glass Hastings, the College's Director of New Programs & Innovation, to talk about the range of opportunities for continuing engineering education. Since joining the College last spring, Glass Hastings has been working with campus and industry partners to expand and develop new engineering graduate programs, including professional master's programs, certificate programs, short courses and workshops.
Here, she shares advice on what to consider when exploring options and what's on the horizon for engineering professional programs at the UW.
Generally speaking, what's the difference between a traditional master's degree and a professional master's degree?
Traditional master's programs tend to be research-focused. They generally follow a more traditional academic framework: students enroll full-time and are on campus for classes. Because these students are often engaged in collaborative research with faculty, courses in traditional master's programs tend to meet during the day on weekdays. These programs are a good choice for those interested in deepening research skills or developing specialized technical expertise in an area of study. They're also the foundation for doctoral programs. They tend to take two or more years to complete.
Professional master's programs, sometimes called "applied" master's programs, are a good option for students who want to gain practical or technical skills and don't intend to pursue doctoral study. These programs are ideal for those looking to upskill, and they prepare students to enter the job market, apply for a promotion or make a career change. These programs are often tailored to accommodate the schedule of working professionals; many classes are offered online or in a hybrid format, and most classes are held in the evenings or on weekends. Professional master's programs require similar credits for completion as traditional master's programs, and most allow part-time enrollment. They typically take one to two years to complete, depending on whether the student enrolls part time or full time.
Do you need a bachelor's degree in engineering to enroll in engineering master's programs at the UW?
Yes, you do need a bachelor's degree to apply to our master's degree programs, but it doesn't necessarily have to be in engineering. Many programs look for candidates with science, technology, engineering and math (STEM) backgrounds and accept other bachelor of science degrees in their admission requirements. Since master's programs have different requirements, it's best to consult the programs directly.
What are certificate programs? How do they differ from master's programs?
Certificate programs focus on a specific topic and can be thought of as an abbreviated course of study. A few examples are machine learning, engineering leadership and earthquake engineering. Generally less expensive and less of a time commitment than master's programs, they're usually completed in a year or less.
Like professional master's programs, certificate programs are designed with working professionals in mind, so they're frequently offered as evening or online courses. In the College of Engineering, credits from these types of programs can often be applied to a degree program, so if you complete a certificate and then decide you want to apply to a professional master's program, your certificate credits could count toward it.
Will the College be expanding its engineering professional program options in the near feature?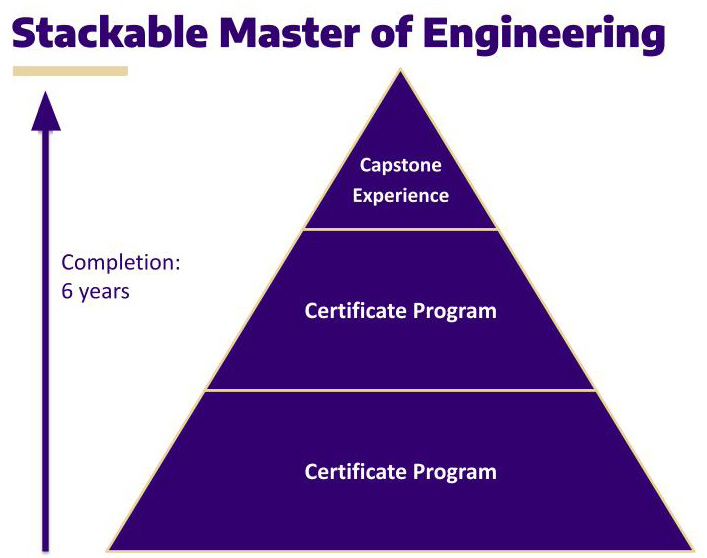 We are developing an abundance of new programs! Over the next few years, we will increase our certificate program offerings to more than a dozen options. In the next year, the College also plans to launch stackable master's programs. These programs allow students to "stack" multiple certificate programs and then complete a capstone project to earn a master's degree. The goal of these programs is to increase access to advanced engineering education by giving students the opportunity to complete their education in smaller, but meaningful — and credentialed — components. Stackable programs also allow learning opportunities to grow in parallel to the learner's professional journey.
And this spring we're expanding opportunities for College of Engineering faculty to create customized workshops for our industry partners. While we currently offer 14 professional master's programs and more than eight certificate programs, we know that sometimes the upskilling needs of an employee or an organization are very specific. So we've been working with industry partners statewide to provide on-the-job training and workshops for employees who don't necessarily need an advanced degree but could benefit from access to cutting-edge technology and related skills development. Employers who invest in these workshops benefit from increased productivity, and employees gain skills that give them a competitive technical edge while learning collaboratively with their colleagues.
Any other advice for people considering continuing their engineering education?
I hope the decision of whether, and how, to continue your engineering education isn't a one-time decision. Solving pressing engineering problems requires evolving knowledge and skills. The College of Engineering believes in lifelong learning; this is central to the UW's mission as a public institution.
My goal is to work with our expert faculty and industry partners to create learning opportunities of all different types so learners at every point in their engineering careers can increase their technical expertise, transferable skills and opportunity to make a positive impact. I hope undergraduates leave the College of Engineering knowing (and believing!) that they are never done with their learning journey, and I hope current professionals are aware of the range of opportunities for them to gain the knowledge and skills to advance their careers today and tomorrow.
Originally published January 10, 2023