Discovery Days Logo Header

Engineering Discovery Days Program and Exhibits
Scores of hands-on exhibits and attractions were led by UW engineering faculty, students, and staff throughout the 2-day event. The 2017 exhibits and attractions ran:
Friday, April 21 from 9:00 a.m. - 2:00 p.m.
Saturday, April 22 from 10:00 a.m. - 2:00 p.m.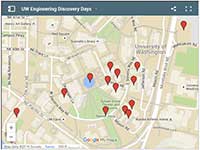 Also see our interactive map of Discovery Days exhibit and parking areas.
---
Join us in appreciation for support and current-year funding from these organizations:



   


To become an Engineering Discovery Days sponsor, contact
Sharon Dana at (206) 543-6908.