Professor, Mechanical Engineering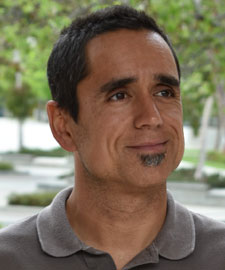 Ph.D. Aerospace Engineering, E.T.S. de Ingenieros Aeronauticos, 2005
M.Sc Aerospace Engineering, E.T.S. de Ingenieros Aeronauticos, 2003
B.Sc. Aerospace Engineering, E.T.S. de Ingenieros Aeronauticos, 2000
Juan Carlos del Álamo joins the UW from UC San Diego, where he was a joint professor in mechanical and aerospace engineering and the Institution for Engineering in Medicine. After completing his Ph.D., Juan Carlos investigated experimental cell mechanics and cardiovascular flows as a postdoctoral research associate at Harvard University School of Public Health and as a Fulbright Postdoctoral Fellow at UCSD.
His research focuses on the mechanical behavior of living soft matter such as eukaryotic cells and soft-bodied animals. He is developing non-invasive methods to image intraventricular flow, with hopes to translate the research into a clinical setting. His work has applications in clinical interventions and cardiac device implantation like bi-ventricular pacemakers and ventricular assist devices, and has potential to predict the risk of intracardiac blood clot formation and stroke.
He is a recipient of the U.S. Geographical Survey Director's Award for Exemplary Service to the Nation, the William W. Parmley Award from the American College of Cardiology and the NSF CAREER Award.