A Bridge to Engineering,
A Bridge to Achievement
By Sandy Marvinney

Each year as fall quarter starts, most UW freshmen are feeling excited, scared, eager, and overwhelmed. Most probably settle down within a month, but imagine being the first in a family to attend college, or coming from a small high school, or being a student of color and wondering if you will fit in. Worries about being prepared and magnified feelings of pressure to succeed add to stress.
For students from disadvantaged and underrepresented groups with hopes to major in one of the STEM (science, technology, engineering, and math) fields, UW Engineering extends a helping hand — one with a long history. Only seven minority students earned engineering degrees in 1981. That's when the college set a goal to bump up those numbers by reaching out to populations underrepresented in STEM. Over the decades, more than 4,000 students have taken advantage of a steadily expanding array of academic support services through what evolved into the Minority Scholars Engineering Program (MSEP).
"Now more than 50 underrepresented minority students are earning undergraduate and graduate degrees in engineering and computer science each year," said Eve Riskin, professor of electrical engineering and associate dean for academic services. "That's progress, but we want these numbers to grow more quickly. The good news is that we give these students the confidence and boost they need to succeed in their engineering courses. Then they go out and do great work and serve as role models for the next generation of students."
One example is alumnus Bill Fishburn (BSAA '93), a senior program manager of a product development team at Intel. When growing up in Spokane he was one of just a handful of students of color in his school. He started his engineering studies at the University of Minnesota–Duluth, but the financial burden of out-of-state tuition eventually prompted a transfer.
His immersion into tougher engineering course work at the UW was aided by participation in STEM Bridge, then a two-week program that helped incoming first-year and transfer students make a smooth transition to the university.
"Bridge provided a great introduction to the UW and an instant community of science and engineering majors who looked like me," Fishburn said. "I found a group of study partners and tutoring help when I had to retake a linear algebra class in which I earned only a C- at Minnesota."
Like hundreds of students before and following him, he turned to Dave Prince in the Engineering Academic Center for coaching to "get over the hump." After receiving his BSAA, Fishburn earned an MS in mechanical engineering with a Management of Technology certificate at UC Berkeley.
Bridging the Gap
Today STEM Bridge is a four-week program run by MSEP and the university's Louis Stokes Alliance for Minority Participation (LSAMP) program. During Early Fall Start, about 40 students live together in a dorm and take Bridge math courses designed to prepare them for the rigors of university-level work. They also get a peek into STEM professions and a taste of research through hands-on projects in engineering and science labs. They engage with the campus community from day one and learn about resources offered through MSEP, LSAMP and the Office of Minority Affairs and Diversity (OMA&D).
Garfield High School grad Cezanne Camacho enrolled in fall 2009 with admission to the UW Honors Program and freshman admission to the EE program. If only smarts, high SAT scores, and a knack for building robots ensured a successful undergraduate experience, the story would end here. But majoring in engineering can be a tough road, even for the best students.
The challenges are magnified for women and students such as Camacho, whose family heritage is half Mexican. In one of her classes this year she was the only woman, and at times she felt pressure (mostly internal) to prove her capability. She has risen above it all and this year is president of Tau Beta Pi, the engineering honor society.
"The Engineering Bridge program was huge for me," Camacho said. "It gave me a community of peers and a strong network of mentors and advisers."
The Bridge program can spark passions that powerfully shape an academic and career pathway. That was true for Camacho, who was fascinated with circuitry and thought a career designing robotic prosthetic arms would be her thing. Through Bridge she was connected with EE and CSE Assistant Professor Georg Seelig's lab, which explores how biological organisms process information and also engineers complex biochemical networks to program cellular behavior.
"In our Bridge project we modified an e-coli bacteria gene to alter its resistance to antibiotics," Camacho said. "Professor Seelig explained that a cell is like a complex circuit and you can program biological signals for therapy applications such as smart drug delivery. His work was stunning and more exciting than anything I had conceived of before."
Through grant and scholarship support, she continued working in Seelig's lab and as a junior and senior she was a lab mentor to Bridge students and sophomores. In 2011 her presentation on a new way to isolate DNA strands from bacteria won a best student presentation award at Caltech's DNA 17 conference.
"STEM Bridge is a great example of the impact collaborative programs can have on our students," said Sheila Edwards Lange, UW Vice President/Vice Provost, Minority Affairs and Diversity. "This intensive program exposes them to the academic rigors of college life, while providing critical resources and support. It also aims to foster student enthusiasm in the STEM disciplines."
Enthusiasm Sparks Mentoring
While undergrads both Fishburn and Camacho engaged with MSEP-affiliated programs that strengthen support networks. Both valued the experience so much that they are giving back as mentors. During his senior year at UW Fishburn was president of the Society of Hispanic Professional Engineers (SHPE). He returns to campus annually to talk with current SHPE students, and he has also participated in STEM Bridge Alumni Night, which offers freshmen insights about academic and career options, an exchange Fishburn finds both vitalizing and fun.
As a successful professional he is eager to encourage more young people of minority backgrounds to consider an engineering career. The disparity of underrepresented minorities and women in STEM disciplines is becoming an increasing issue in the US. African-Americans, Latinos, and American Indians make up 34 percent of the population aged 18 to 24, but earn only 12 percent of engineering undergraduate degrees. Women comprise about 46 percent of the US labor force but just 10.8 percent of engineers.
"Every employer should strive for a workforce that reflects population diversity, for social equity and because it is good for business. More perspectives at the table increase the likelihood of innovation and design of a better product," Fishburn said.
Camacho's participation in Women in Science and Engineering (WiSE) and PEERS (Promoting Equity in Engineering Education) provided added inspiration and encouragement and she has evolved from mentee to mentor, sharing her experiences and offering guidance to others. Among her Student and Academic Services mentors she especially singles out Professor Riskin, also an electrical engineer.
"I want to be Eve Riskin," she said with a laugh. "I may become a professor just because I want to be a role model like her."
Cezanne Camacho will soon cross another bridge. The electrical engineering senior will receive her diploma and embark on doctoral work at Stanford University with a goal to improve drug delivery technologies and targeted treatments for cancer. One bridge leads to another in a world of opportunity.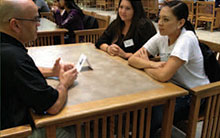 Interested in MSEP? Consider these opportunities:
Volunteer at the STEM Bridge Alumni Night
Professionals speak with students about their career path to engineering.
Give to the MSEP Fund
This fund contributes to transition and retention programming for underrepresented minority students.
To learn more, contact: Joseph Sherman.