Campus News
CAMPUS NEWS Boeing, UW open research lab on campus
by Michelle Ma
Boeing engineers and scientists have brought their projects to the UW, opening a new research center on campus that will initially focus on advanced assembly and manufacturing technologies.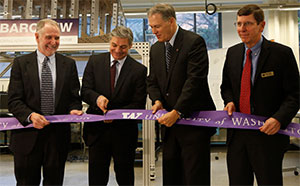 The Boeing Advanced Research Center, located in the Department of Mechanical Engineering, and affectionately known as BARC, will let students and faculty members work collaboratively with Boeing engineers. Four initial projects focused on automation, robotics, and aircraft assembly are underway.
The center is the brainchild of Jim Buttrick, a Boeing engineer and the center's associate director, and UW professors Per Reinhall and Joseph Garbini. Buttrick saw a good opportunity for students to gain practical experience and Boeing to benefit from more researchers.
Up to eight Boeing engineers kept their full-time positions in the company and moved to the UW lab space as affiliate instructors. Eight graduate students and six faculty members have joined the BARC team.
Each project involves making airplane assembly and manufacturing more efficient, automated and streamlined, and is important to Boeing's product development. Actual airplane parts as well as smaller replicas will live in the UW lab space as the projects develop.
One project is designed to make it easier for mechanics to build the insides of airplane wings–shallow, narrow spaces where it is physically hard to work. Miniature robots or remotely operated vehicles could be programmed to go inside these small spaces and place nuts on bolts, seal seams and inspect the inside of the wing to make sure extra debris is removed. A creative solution to this challenging job could improve quality and consistency on each airplane model, Buttrick said.
Other projects include automating the riveting of fuselages and predicting the final, full-sized shape of certain aircraft structures.
The center's leaders plan to grow the number of projects at the UW and involve more students and faculty members, particularly in composites research.
RESEARCH BREAKTHROUGHS
"Millennium Falcon" to monitor effects of tidal, wave energy on marine habitat
by Michelle Ma

Researchers building a new underwater robot they've dubbed the "Millennium Falcon" certainly have reason to believe it will live up to its name.
The robot will deploy instruments to gather information in unprecedented detail about how marine life interacts with underwater equipment used to harvest wave and tidal energy. Researchers don't fully understand how animals and fish will be affected by ocean energy equipment. This instrument seeks to identify potential risks.
"This is the first attempt at a 'plug-and-socket' instrumentation package in the marine energy field. If successful, it will change the way industry views the viability of environmental research and development," said Brian Polagye, assistant professor of mechanical engineering and one of the project's leaders.
The UW team tested the robot underwater for the first time in January on campus. Researchers will continue testing in Puget Sound. They hope the tool will be useful for pilot tidal-and wave-energy projects and eventually in large-scale, commercial renewable-energy projects.
The instrument package has a stereo camera to collect photos and video; a sonar system; hydrophones to hear marine mammal activity; sensors to gauge water quality and speed; a click detector to listen for whales, dolphins and porpoises; and even a device to detect fish tags. A fiber-optic cable connection back to shore allows for real-time monitoring and control.
The breadth of sensors and various conditions this instrument can measure is unprecedented. The tool can attach to most types of underwater infrastructure allowing researchers to deploy the instrument far offshore and recover it quickly at a relatively low cost. "It could be a first step toward a standardized 'science port' for marine energy projects," Polagye said.