A Home Base for Students
The Student Experience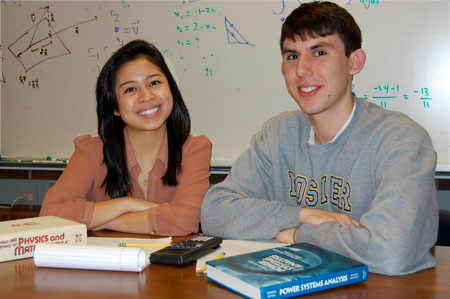 A

Home Base

for Students
By Sandy Marvinney
IN THE COUNTDOWN TO AN EXAM or project deadline, you will find Tomas Martinez studying in the Engineering Academic Center (EAC) in Loew Hall, sometimes until 3am. For the electrical engineering senior, it's a quiet, inviting refuge compared to the hubbub in Odegaard Library.
For Sirena Merfalen, a junior majoring in industrial and systems engineering, the center is a community that has made a huge university seem smaller. She stops in frequently to do homework, assist other students, or get problem-solving help.
As an entering freshman and the first member of his family to attend college, alumnus James Bland (BSEE '96) needed support cracking the UW codes — how to register, what's a blue book. He found that and more at the center, including a study partner and life partner. Sally Bland (BS chemistry, '97) remembers the center as "home base" — where she no longer felt lost. The center helped them solidify their knowledge, shine as students, and contributed to launching careers at Intel.
For more than 30 years, the Minority Scholars Engineering Program (MSEP) has sustained a learning community that has served more than 1,500 underrepresented minority and women students who enroll at the UW to major in science, technology, engineering and mathematics, the STEM disciplines. MSEP programs, open to all UW students, are a vital bridge to smooth the transition from high school to the rigors of university coursework. Beyond freshman year, the programs and support network help students stay on track in meeting pre-engineering requirements and graduating in STEM disciplines, critical goals for the UW and our nation's science and technology sectors. A key introduction to the university experience is STEM BRIDGE (sidebar).
Convergence in the EAC
In the MSEP network, all roads converge in the Engineering Academic Center, three spacious classrooms on the second floor of Loew Hall, open to students 24 hours a day. Here students attend twice-weekly MSEP collaborative workshops in math, chemistry, and physics. They form learning communities, meet informally for study sessions, and as juniors and seniors help tutor other students and maintain their "home base." Statistics show that underrepresented students engaged in the EAC graduate with STEM degrees at a 60% higher rate than their peers.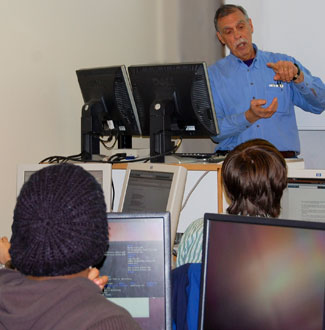 If the center is the heart of the MSEP program, its soul for nearly 25 years has been instructor David Prince, whose vision for encouraging students to achieve high levels of excellence has guided growth of the center and its programs. For his deep impact on student success, the UW in 2011 honored Prince with the James D. Clowes Award for Advancement of Learning Communities. He is the first staff member to receive this honor.
"First-year calculus was a weed-out class for about 300 students, so it was impossible to get sufficient help from the teaching assistants," Merfalen said. "EAC workshops and tutoring were critical to me. Before midterms Dave holds all-day Saturday 'Math Till You Drop' problem-solving sessions. They gave me the tools to do well in my courses and built the foundation for my future success in engineering."
To James and Sally Bland, Prince's passion for teaching and commitment to students were constants. "He was always supportive and always ready to listen to our frustrations and offer guidance. He was like a father," James said. "Without Dave and the center, I would not have made it through the UW," Sally noted. "As a freshman I was withdrawn and timid. In my sophomore year Dave challenged me to let go of my insecurities and teach chemistry workshops. When I graduated I was a transformed person. His mentoring made a huge difference in my life and in learning the people skills to be successful in my career."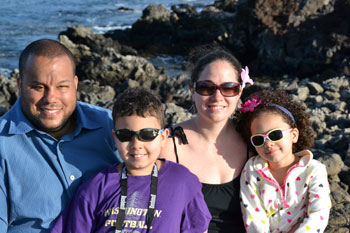 James and Sally Bland with their children
 
An Inspired Gift
After hearing of Prince's award and student testimonials, an engineering alumnus (who wishes anonymity) donated $500,000 to establish a fund so the EAC can sustain programs and support student excellence for generations to come. Funding also improved the study center environment with new white boards, comfortable study tables and chairs, and carpeting. The fund also allowed for the creation of an Engineering Leadership Scholarship program for students who have assumed leadership roles in tutoring and mentoring. Another key vision is a new part-time instructor who teaches the chemistry workshops.
The donor allocated $150,000 in 1:1 matching funds to encourage other alumni and friends to contribute to an endowment that will grow over time to meet expanding student needs. As admission to engineering programs becomes increasingly competitive, extra support for underrepresented students will ensure they continue to shine as the bar rises and the college maintains diversity in enrollment.
"For many first-generation college students, the university is a huge culture shock, and these students especially need extra support. As a kid who came from a low-income background myself, and failed at math in my early schooling, I have a deep feeling for students who don't get it," Prince said. "I know what stands in their way and what it takes to succeed, and I can't wait to get to work every day to help these students crack the code. I really care about their success, and most students know that in a sense they are my kids."
Excellence Perpetuated
Martinez and Merfalen are proof the center is succeeding in its mission. Martinez developed a passion for teaching through tutoring students in the EAC. This summer he will volunteer as an English teacher in a rural area of Vietnam. After graduating in 2013 he plans to teach math with the Teach for America program and then work in power engineering.
Merfalen hopes to divide her summer between a STEM study abroad program in Australia and an internship at Boeing's Auburn plant. She loves industrial and systems engineering and is considering graduate school or an industry position.
The Blands are sterling examples of success among past generations of MSEP students. James went on to earn a master's degree and a law degree and is based at Intel's Portland center where he manages an eBusiness group. Sally worked in Intel's research and development unit for 10 years and now devotes her time to raising their son and daughter. Their son is excelling at math, thanks to tips from Prince about teaching children "the language of math," even as toddlers.
With the new endowment and alumni support, such success stories will perpetuate generation after generation.
Bridging High School and the UW
STEM BRIDGE annually helps 40 students from underrepresented groups smoothly transition to university-level science, technology, engineering, and mathematics work. The four-week summer program for incoming freshmen includes:
a 3-credit mathematics course
introduction to scientific gateway courses and research
exploration of STEM majors, careers, and opportunities
community building and resource networks
experience living in a residence hall
STEM BRIDGE is a partnership of the College of Engineering and the UW Louis Stokes Alliance for Minority Participation (LSAMP).
For current programs that assist with the transition to college, please see UW's First Year Programs website.