Feature Story

UW Engineering's Professional Programs
Kristen Bengtson's Global Systems Training Widens Her Career Pathway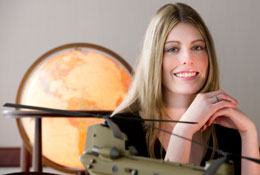 Kristen Bengtson fell in love with "space stuff" at age 4 when she saw astronaut Sally Ride on Sesame Street. She started flying lessons at 15, earned her pilot's license at 17, and is a certified flight instructor. A Boeing engineer since 2004, she has worked in a military unit, with a 737 team, Boeing Research and Technology, and the 787 program. While working full-time she completed the Global Integrated Systems and Engineering (GISE) certificate program, and in 2010 earned her master's degree in industrial and systems engineering. Her training and skill sets drew attention of program managers, who recruited her for special projects that quickly broadened her experience.
"I like to see the big picture in everything," Bengtson said. "The GISE program trains you how to analyze and manage projects from a systems, global, and multicultural perspective. Boeing's customers and suppliers are worldwide, so this course was relevant to my work and my career goal to move into a management position."
Bengtson now works at Boeing's Defense Systems Unit in Philadelphia with a team developing a strategy and business model for contracting with universities for engineering services. Boeing builds helicopters there, and now Bengtson has set her sights on learning their design process.
More about Bengtson »
More about the GISE program »
Jack Peng Is an Expert in the Age of Composites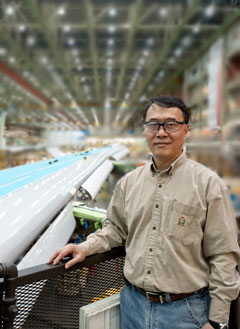 "My baby" is how Jack Peng thinks of the Boeing X-37B orbital test vehicle, which took its first flight in 2010. He helped redesign the carbon-carbon hot structure control surfaces structure while working for an aerospace contractor in Houston. Over 14 years as a specialist in aerospace composite structural design, analysis, and testing, he compiled an impressive pedigree of high-profile projects — the Delta IV rocket, Space Shuttle, and International Space Station.
The Boeing Company recruited him to Everett in late 2006 to work on composite wing components for the new 747-8, its largest plane yet. Even given his long experience and doctoral degree, Peng promptly signed up for three rigorous composite courses in a certificate program jointly sponsored by UW Engineering and Boeing Learning, Training, and Development.
"The courses teach the theory behind composites, so you are more confident in everything you do," Peng said. "I would learn something in class and apply it the next day at work."
With the March 20 first flight of the 747-8 Intercontinental passenger model, Jack Peng now has a big new baby.
More about Peng »
More about the Aeronautics & Astronautics graduate program »
Michael Hansen Stays on Top of Change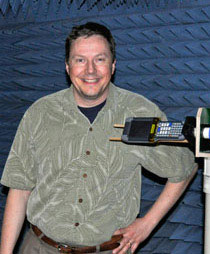 Why would a successful telecommunications engineer with nearly 30 years of experience go back to school? Michael Hansen says it's "all about change." Not changing fields or employer — he has a terrific job at Intermec Technologies, world innovator and leader in bar code applications.
"The most exciting thing about my field is change," Hansen said. "Social media, wireless communications, and smart products are driving technology. I need to stay on top of developments, especially because my role at Intermec is to introduce new technology into the wireless unit."
Hansen chose Electrical Engineering's Professional Master's Program because he had reached the classic "fork in the road" for senior engineers — go into program management or dive deeper into the technical side. Although already on a management track, he chose the latter. "The push point for me is that as a leader you need to keep up with technology and academic advances so you can make good decisions," he said.
Now finishing year two in the three-year program, Hansen describes the UW faculty as "top notch." Next year under Professor Sumit Roy he will do an optional thesis project with practical application to his work. And the future?
"With a master's degree I will have the ability to take on an even more challenging role and the increasing responsibility that goes with it," Hansen said.
More about Hansen »
More about the Electrical Engineering Professional Master's program »
Steve Rabin's Game Is Artificial Intelligence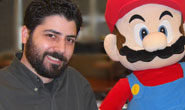 Steve Rabin played his first video game at age 8; by age 17 he was working part-time in phone support for Nintendo of America, a job he held while a computer science and engineering major at UW. It's no surprise he launched his career at a series of startup game companies, but by 1999 he was back at Nintendo, where he is a principal software engineer and an expert on artificial intelligence, researching and developing tools for the Wii, DS, and next-generation games.
"One reason I returned to UW for a master's degree is that most of the people writing the books and articles I was editing had advanced degrees, so I thought my education should be on par with them, and I also wanted to expand my skills to further my work at Nintendo," Rabin said. "A business course focused on the software industry and managing technical staff was especially helpful to my supervisory role."
A course on human-computer interfaces benefitted his work developing tools for developers and a profiler for the 3DS hand-held system. Before he even finished the PMP program, Rabin was invited to teach courses in the UW Game Development Certificate Program and at the DigiPen Institute of Technology.
More about Rabin »
More about the Master of Computer Science & Engineering program »