Innovators and Drum Rolls
Student Teams Win Big with Clever Solutions to Tough Problems
Low-cost ultrasound system wins Gates grant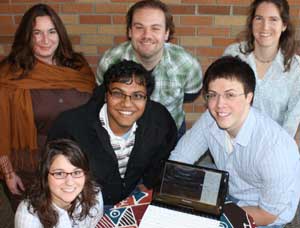 Back Row (L–R): Professor Beth Kolko (HCDE), Waylon Brunette (doctoral student, advisor), and Ruth Anderson (CSE lecturer); Front Row: students Alexis Hope (HCDE), Pratik Prasad (CSE), and Wayne Gerard (CSE).
A low-cost ultrasound system developed by students was one of just 65 projects among 2,400 research teams from 16 countries to win a Bill & Melinda Gates Foundation $100,000 Grand Challenges Explorations grant, which encourage scientists to explore bold and largely unproven ways to improve health in developing countries. Several students recently visited Uganda to visit rural health clinics and receive feedback on system use.
The portable, durable, and easy-to-use device features an ultrasound probe that connects via a USB port to a netbook with a touch-sensitive screen. The interdisciplinary team included students from computer science and engineering and human centered design and engineering, public health, and other disciplines. Key faculty advisors are Professor Beth Kolko, HCDE, and Dr. Robert Nathan, assistant professor of radiology.
Read more: UW News article | UW Change
Clean water for the world's poorest regions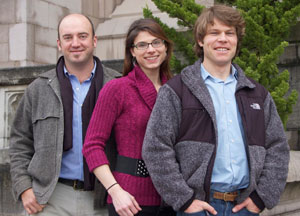 New Entrepreneurs: Cofounders of PotaVida (L–R) Tyler Davis, doctoral student at The Evans School; Jacqueline Linnes (BioE PhD '10), and Charlie Matlack, EE doctoral student.
Clean drinking water is as precious as gold to more than a billion people living in poor, undeveloped regions. Disinfecting water in clear plastic bottles left in the sun is a simple concept and an old one, but it's hard to know when the water is safe to drink. A team of bioengineering and electrical and chemical engineering students solved that problem by developing an electronic sensor that monitors the clarity of the water and stops blinking when particles are no longer floating around.
In a competition hosted by a Boston company and sponsored by a Bolivian nonprofit that promotes solar disinfection (SODIS), the team won a Rockefeller Foundation prize of $40,000. Several of the students have established PotaVida, a nonprofit company to further develop, manufacture, and market the inexpensive device either to users or to nonprofits that promote solar disinfection. The team also recently won second place and $5,000 in the 2011 UW Environmental Innovation Challenge (next story).
Read more: UW Today | PotaVida website
Team captures grand prize for Voltaic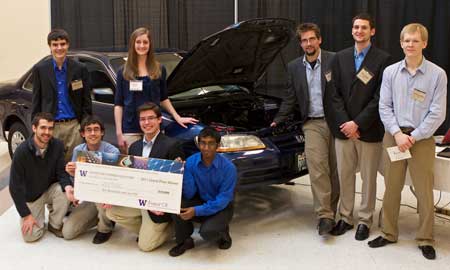 The Voltaic team, based in Mechanical Engineering, after winning the grand prize at the Environmental Innovation Challenge.
A team of undergraduates from Engineering and other UW programs drove away with the grand prize and $10,000 at the 3rd annual UW Environmental Innovation Challenge held at Seattle Center Exhibition Hall. They created an electric vehicle modular drive train that can replace drive trains of gas-powered engines and can be customized to fit inside any car. The team installed one in a Honda Accord to demonstrate its capabilities.
The Voltaic team, based in Mechanical Engineering, bested 16 other finalist teams from the UW, WSU, WWU, and SPU. Voltaic is a company the students established to market their system to car manufacturers in the U.S., China, and India. Sponsors of the EIC competition are the Foster School of Business, the colleges of Engineering and the Environment, and the UW Center for Commercialization.
Read more: CoE News